Written by Bronte Mullins
Hey there!
My name is Bronte. I am a first year nursing student studying online based out of Charles Sturt's Wagga Wagga campus. This is not my first degree – I have graduated from a Bachelor of Business (Management, Marketing and Digital Media) and also a Graduate Certificate in Ethics and Legal Studies.
Life doesn't always go to plan
Why a third degree you ask? Great question!
At the end of graduating from my business degree in 2018 my father passed away suddenly and as you could imagine I was a little lost. I threw myself into working and getting that 'perfect job'. I ended up being a Contracts Administrator for a Project Management firm in Wagga. I worked at the firm for three years. As I came out of the grief stages (it never really goes away but you get my gist) I realised business wasn't for me and I wanted to be able to give back to my community like so many people did with my family when my dad passed.
Alumni third time around
So yep, here we are going around for a third time. Some would call me a seasoned regular on Wagga campus.
One word I use to describe university is stress. At the start of my studies, I thought that university would be fun all the time, less stress, doing what I wanted and when I wanted. To a degree, yes this is correct, but what I was not prepared for was the stress that comes with it. In my second year I was diagnosed with anxiety and had no idea what I needed to do to assist with my stress levels.
Overcoming adversity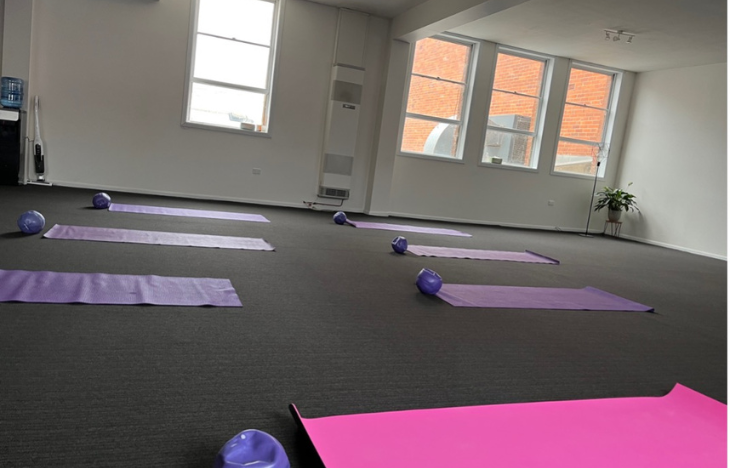 Along my journey of finding activities that would relieve stress I found a love for yoga. I would attend yoga sessions once a week with a local teacher who I am now great friends with. Yoga taught me the fundamentals of breathing properly, taking time out for yourself and just how important movement is for the mind and body. Pilates and yoga are great to help relax, stretch and incorporate some mindfulness into your day. Pilates can help create those endorphins and get the heart pumping!
Before I started my nursing studies, I was looking for something to be able to help people with their stress levels and be able to meet new people too. As a student, especially an online student, it is sometimes difficult to meet new people and make friends. I had been doing pilates online and thought I would have a go at teaching people with the aim to make my pilates classes all-inclusive for everyone – no matter how old, whether they have done yoga or pilates before. I also wanted to make the space safe for anyone who is anxious, has a mental health illness, struggles with confidence and overall, just a safe and fun environment for people to enjoy.
You should try it too… here's how
This year I have launched Breathing with Bronte (Breathe with B for short) teaching pilates classes for all. As a student I love to destress and either start or end my day with Ppilates, especially if I have been sitting at my desk all day working on an assignment or at a lecture. Currently for the school Term 4 I am teaching a Tuesday morning class which is a great way to get up and exercise and then you are ready to smash your university study out during the day. I also hold sessions outside in nature to help everyone step away from their computers and enjoy the sunshine which provides amazing benefits.
For everyone studying being able to manage stress levels and fit exercise into your study schedule is so important. I would highly recommend pilates to help with stress and energy levels.
Find out more about this student's start up here…
Want to hear another student's voice?