Written by Meg Seis
We are coming to the end of the first half of Session 1. You have likely settled into study and are ready to take on some extra commitments.
Maybe the awesome events and activities held across all our campuses are draining the bank account faster than you had hoped and you're after a boost in funds?
Searching for jobs is an overwhelming task at times and can take a lot of work so let me give you a resource that will take a lot of this pressure away.
Introducing… your Charles Sturt Jobs Board
The Charles Sturt Jobs Board operates in a similar way to public jobs boards, except that employers have approached Charles Sturt to advertise positions specifically to students.
It includes roles for current students with hours and work flexible to suit a study timetable as well as graduate roles to get you started in the workforce and anything in between.
It is also the platform that the uni uses to advertise Student Casual roles if you are interested in a position with Charles Sturt whilst you are studying.
This has helped me and a number of my friends to all obtain employment in the past so it's definitely a tried and tested go-to!
The platform is operated by a worldwide employment website so there's a huge range of jobs that get advertised on this board from all over the place, in any different field of work imaginable.
It is truly great.
Let's take a dive in and see what it's all about step by step so you can jump on and get job hunting!
Finding the Jobs Board
Select:
"Your career" in the Student Portal
"Finding a job"
"Current student and graduate jobs board"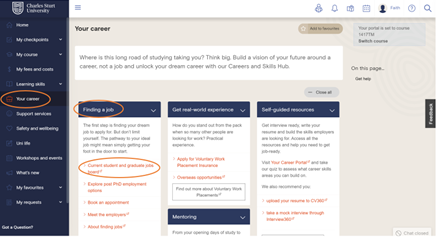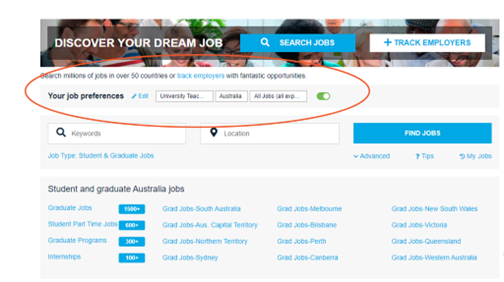 Otherwise you can follow this link which will take you straight to the jobs board.
Putting in the details
Once you are inside you can set up job preference settings including
Job titles
Desired location
Type of employment (grad roles, internships, volunteer positions, casual work, etc.).
This allows you to receive job alerts when positions that meet your criteria are advertised and reduces the number of ads to scroll through to find the job for you.
You can select for student positions as well – any position with a star next to it indicates that employers have asked to advertise the position to students!
Top tip: when setting up the job alerts, always use the advanced search options. It is better to get a few good jobs advertised than to be inundated with hundreds of jobs that are unsuitable because the search criteria lack focus.
Be succinct with your selection so you can get the most out of the search tool and let it do the work for you! If you start to get too many jobs through, change your search criteria rather than ignoring the email alerts!
It's that easy!
It is that simple – follow the links, select your criteria, start scrolling and find a job that suits you! I hope you find it as easy to use as I did.
I have had great success with the Jobs Board in the past and found it a really easy and efficient method to see what jobs are around that might suit my schedule.
Last year I was notified when the Charles Sturt Sustainability Team was looking for someone to fill their Sustainability Advisor role. I applied through their easy application process and was successful in receiving the job.
As that has now ended, I am actively using the jobs board to see what's out there for my next job.
Happy job hunting!
Want to hear another student voice?