Interviewed & written by Greta Porter
We continue the Humans of Charles Sturt series by sitting down with our first student driven piece, Cooper Wielozynski…
Having recently made the big move from the rural town of Broken Hill to Bathurst, Cooper is full of passion and drive in reaching his goals and giving back to his local community.
After being inspired by many incredible teachers back home in Broken Hill, Cooper successfully enrolled in a Bachelor of Education (K-12) and begins his journey in becoming a teacher right here at Charles Sturt University in Bathurst this year.
Here's everything you need to know about Cooper as a Human of Charles Sturt, from what's inspired him to what he can't live without and everything in between.
---
What is your name and what are you studying?
'My name is Cooper Wielozynski and I am currently studying a Bachelor of Education (K-12) specialising in PDHPE. I am from a rural outback town called Broken Hill and I have moved to the Charles Sturt University, Bathurst Campus.'
What do you love most about studying and your course?
'I have only been studying at Charles Sturt for four weeks now, but the thing that I love the most about studying a Bachelor of Education (K-12) PDHPE so far is meeting new people and learning new skills and acquiring knowledge.
It also provides me with the chance to set and achieve goals. It allows me to challenge myself and what I know so that I can improve from where I started. I am able to expand opportunities in my career and build networks and connections that will help me with my studies and in the future.'
What does your typical day look like?
'I start my day off with an early morning walk or run around Mount Panorama, before coming back and getting ready for my day ahead. I will normally then have lectures, tutorials, or practical lessons. Occasionally, I might get a message or a call from a local school to come in and work for the day, as I work as a School Learning Support Officer (SLSO) casually.
After my classes, I will have some lunch and have a break. In the afternoon, I will do a couple of hours of study and then I will do another walk or run of Mount Panorama. This time once I get to the top I sit on the grass and watch the sunset and reflect on my day and what has gotten me to where I am, also who has gotten me here.
Once back at my on-campus accommodation, I have a shower and cook dinner. Afterwards, I might read a book, listen to music, watch a movie, or do some study. I try to prepare for the next day before getting ready to go to bed.'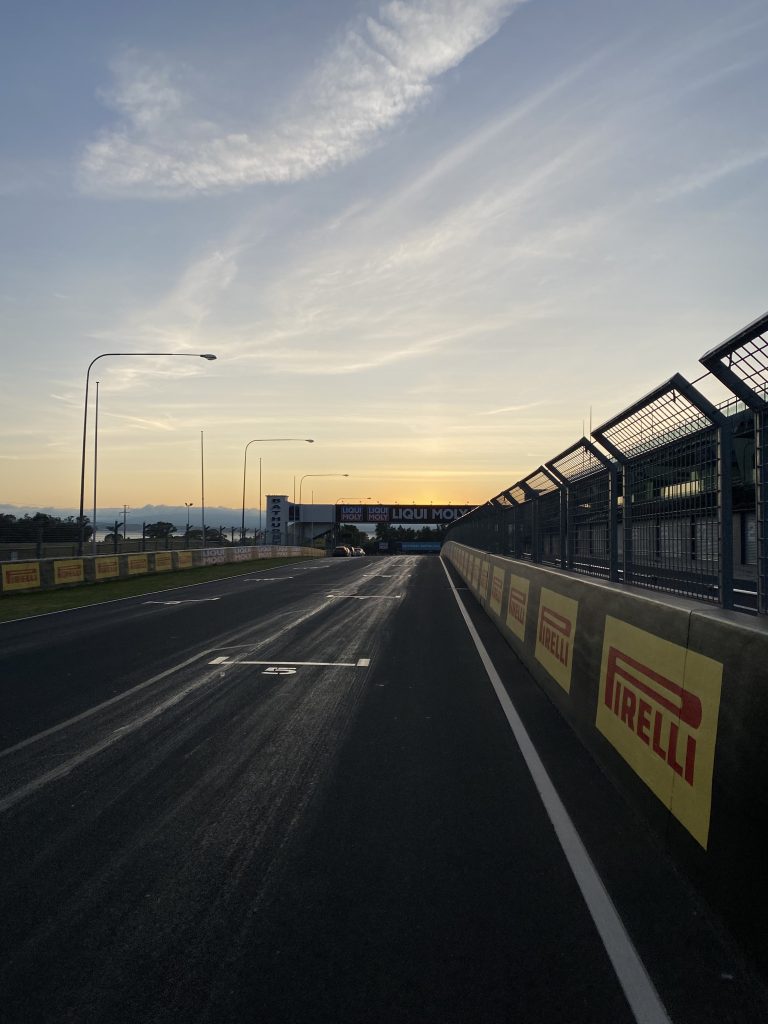 What were your interests as a child growing up?
'Growing up, my interests were mostly focused on things outdoors. I was fishing, camping, riding a bike, exploring all those things. I wasn't really a kid that was fixed on a device or technology. At times I did, however I just preferred to be outdoors rather than indoors.'
What did I aspire to be when I grew up?
'As a child, I was never decided and set on what I wanted to aspire to be growing up. I always kept an open mind and considered everything. At times, I had no clue or idea what I wanted to do with my life!
If I wasn't doing a teaching degree, I would be doing something in IT and Technology. Areas such as Cyber Security and Ethical Hacking as I believe this is another area where there is an ever-increasing high demand for these jobs.'
Who has influenced you most in your life?
'There has not been one single person who has influenced me the most in my life. Instead, I think there are so many incredible and amazing individuals who have shaped who I am.
Family is an integral part of who I am and is so important to me.
My values, what I have been taught and how I was raised has all helped who and where I am today. Friends are very similar.
In my hometown of Broken Hill, my neighbour Edith Carr is just so inspirational to me, and is always caring for everyone. She has won local senior Australian awards and has many other achievements. She plays bowls and keeps her house and garden perfect.
I also believe that Broken Hill's local community has also partly influenced me too. It's such a warm and welcoming community with strong community spirit.
Throughout my schooling, I've had two teachers who've influenced and provided tremendous amounts of support for me; one including Mr Jason Bradley, who has inspired me immensely. He is a person who is passionate about his colleagues and students and is an extremely knowledgeable teacher who is always helpful and willing to assist and give advice, both to staff and students.
My other teacher was Miss Sarah Gillespie, who has helped shaped me to become who I am today. She has shown me what effort and putting 100% into her students and job looks like. Sarah gives me a lot of motivation in becoming a teacher in a rural school. The impact she has had on her students and the wonderful opportunities she would give all children, regardless of where they lived or financial opportunities, the same as any child within Australia.'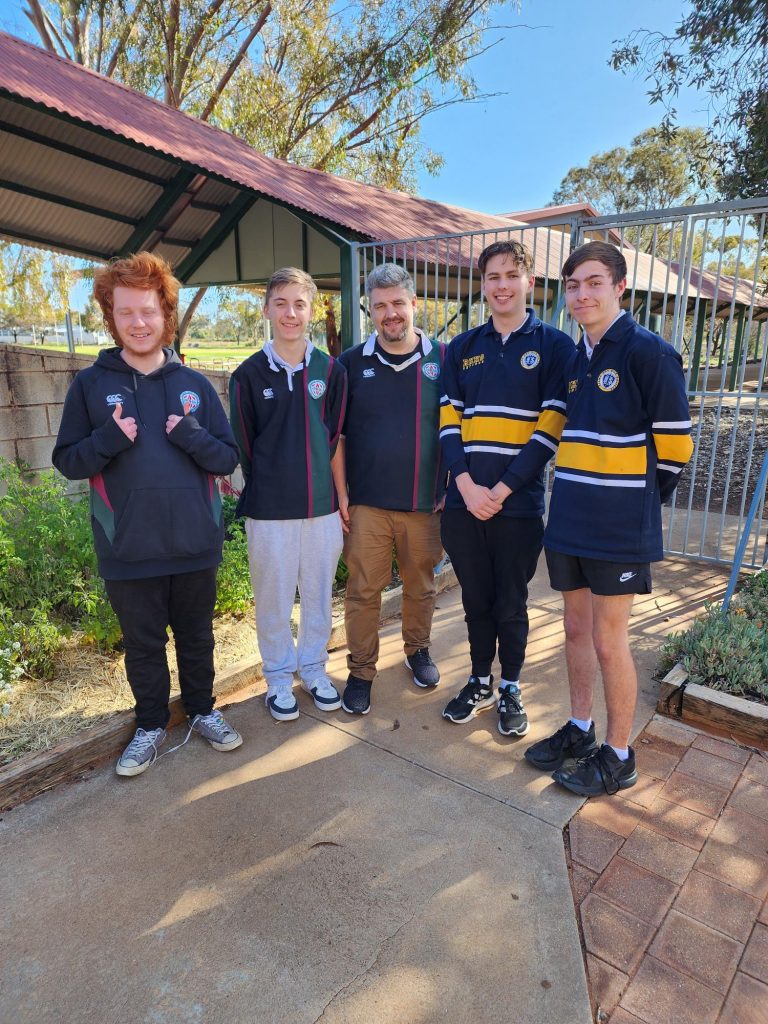 What advice would you give to students starting at university?
'I have only just started university and been here a few weeks but some advice I would give to students starting at university is to join clubs and societies. Make sure you have fun and look after yourself and others.
I would also say put yourself out there and get amongst everything! I think it's important you take responsibility for yourself and realise you won't love everything. The last thing I would say is don't be ashamed to ask for help. It's really about finding that balance between everything.'
What's your biggest challenge right now? Or what's the biggest challenge you've overcome?
'There are a few big challenges happening right now, one of which is seeing the current footage coming out of Menindee of the Darling River. It is just absolutely devastating to see this occur. My heart goes out to the local community and everyone there. It's saddening to see these fish kills happening again. Millions of dead fish in the river.
I prayed that I didn't have to see those fish kills happen again in my life, so it's just horrific to see the photos and videos at the moment. Growing up, I spent all my time on the river. I enjoy fishing and camping. Some of my best memories come from the Baaka. I have always had a strong connection to the river and still do.
The other challenge is the distance away from home I am. I know a lot of people who can travel a couple hours to see their family and friends on the weekend of during the week. For me it's a different ballgame. I am 10 hours away which makes it hard.'
In your life thus far, what has been the biggest life lesson you have learnt?
Good things don't come easy.
'I think what I mean by this is if you're willing to put in the time, hard work and effort into your studies and other things there are going to be people there that are going to want to help and support.
These people want you to succeed and do well. It's about meeting people halfway as starting is the only way you're going to be able to make progress and improve.'
What's the best piece of advice you've ever been given?
Whatever you do – give it 100%.
'This quote and advice resonates and means a lot to me. All you got to do it just do your best and keep learning and improving. If you give it your all and put in the effort and hard work, someone will notice.
For example, I was once a Year 9 kid that openly told my teacher that I hated PDHPE. I am now studying to become a PDHPE Teacher. I remember saying "I don't want to be here. I'm dropping this subject. I want to give up". Instead, I just thought "I'm not going to quit. I don't give up that easily", I thought to myself "I'll do a couple weeks of the class and see how I go".
After a few weeks in the class and learning the content, I started really enjoying it and engaging. I was finding it interesting and enjoying the material being covered. It taught me that in the future I must try and consider everyone's abilities in the classroom. I need to be aware that there are kids like who I was that hate PE and Sport.
What is important to learn from this is, that's okay. It's not about being an athlete or next world champion. It's about having fun, building confidence and improving from where you started.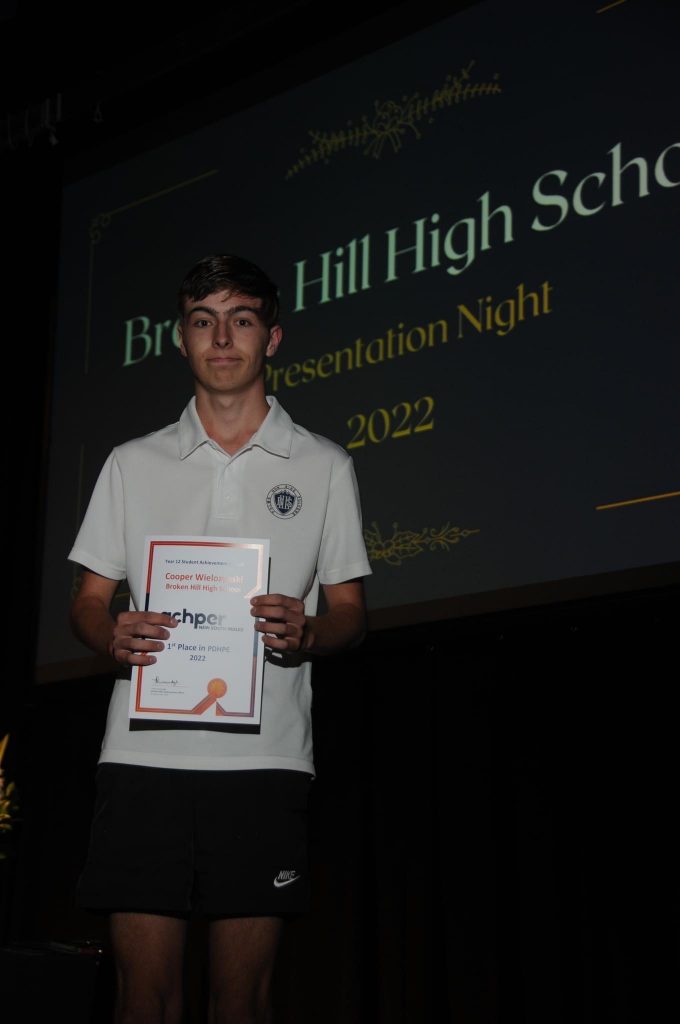 I could clearly see the hard work, effort, and commitment my teacher was putting in both inside and outside the classroom. I could see that passion and dedication that she was putting in to help her students succeed. I slowly started to get into a routine and realise I can do this. It's achievable and not out of my reach.
I remember I started submitting practice exam question responses for the content. I did this to help me consolidate and revise the work. I started off handing in one response every couple of weeks. It then grew to me walking to the PDHPE staffroom and handing it multiple pages of responses each day. I could see the improvement and change from where I started to where I finished.
I am extremely grateful I had a teacher who was so dedicated and passionate about helping her students. Her patience and dedication to mark and provide feedback for so many responses is just amazing. It makes me realise that there's people who want you to succeed and do well. You get out what you put in.'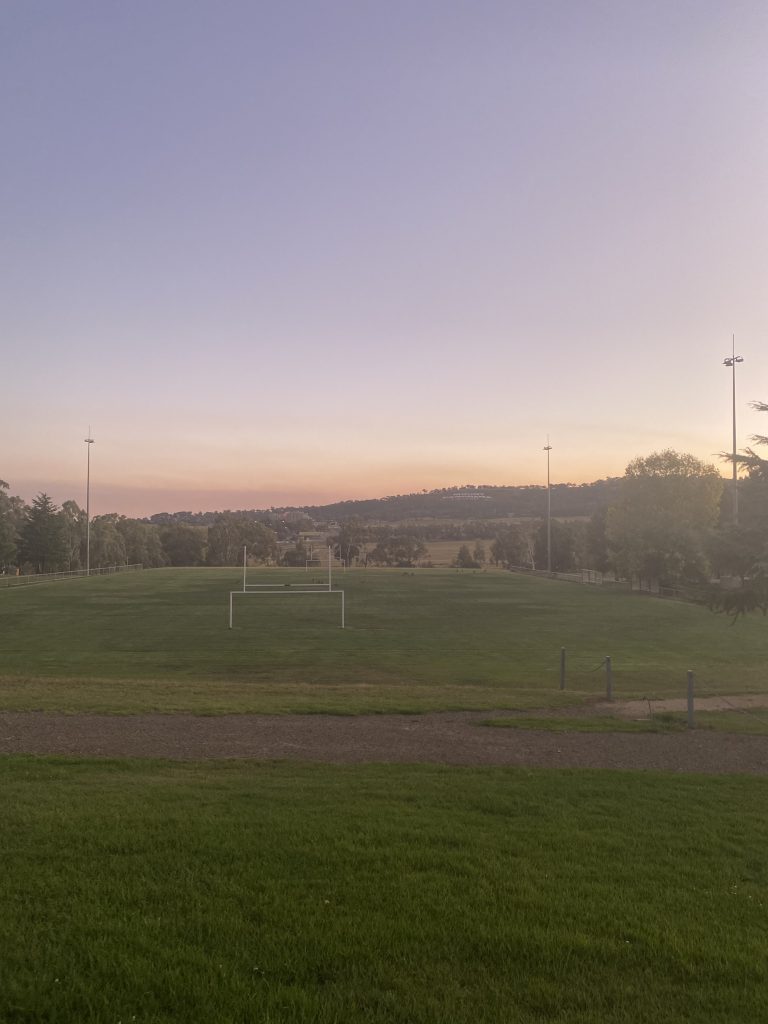 What is your proudest accomplishment?
'I think my proudest accomplishment at this stage in my life is graduating from Broken Hill High School in 2022 with my High School Certificate. It makes me proud to know that my hard work, dedication, effort, and commitment paid off.
As I finished school I was awarded the Reuben F Scarf Award for Commitment and Excellence. I also received other awards and certificates. Finally, it makes me proud I got into Charles Sturt University for a Bachelor of Education (K-12) PDHPE.'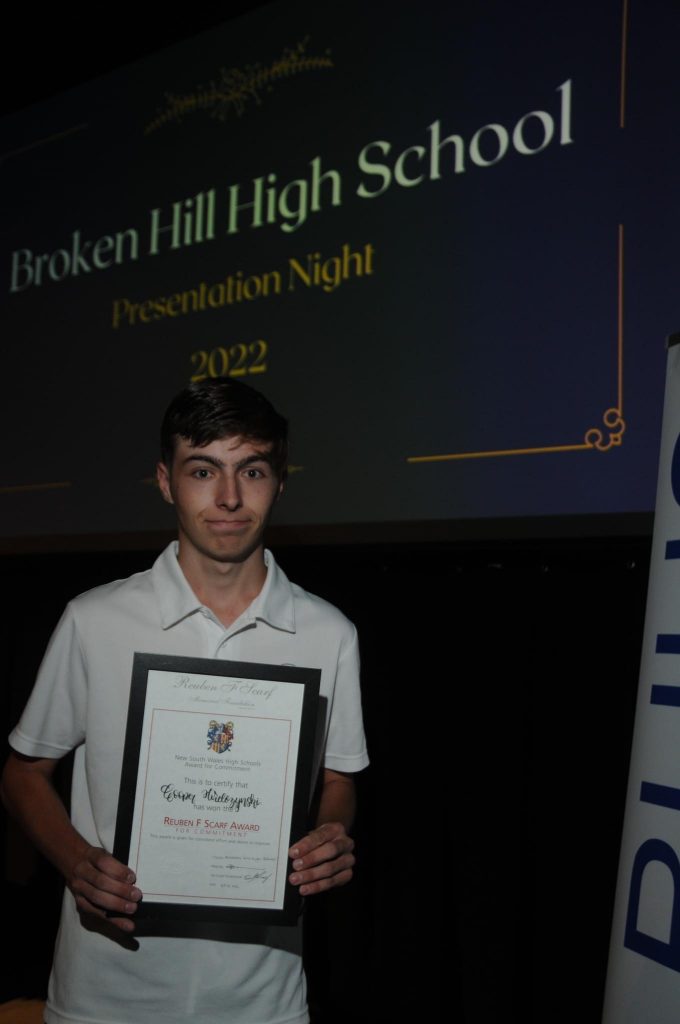 Where do you see yourself in 5 years?
'Upon completing my studies, I hope to return to Broken Hill to give back to my local community and everyone that has helped me achieve my goals throughout my schooling years.
In saying that, I know that there is a whole wide world out there, so I plan on exploring other towns and places as part of my career.'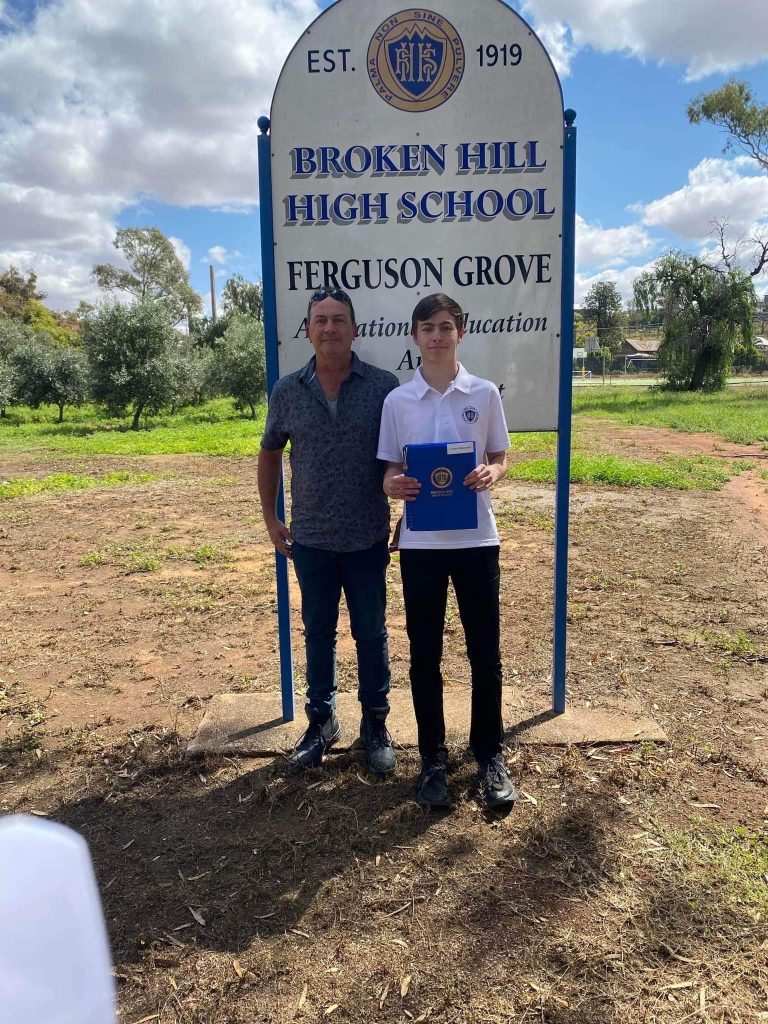 Anything else you'd like our readers to know about you?
'I think it's often in life that the little things are simply overlooked and forgotten. I never forget where I come from and my roots. I always bring a piece of Broken Hill with me, wherever I go.
A quote that has really stuck and means a lot to me is: "Don't take your time with your grandparents for granted. Visit them, cherish them, and celebrate them while you can". From that you understand time is so precious. Life is so short. You have got to appreciate those little things and moments when they pop up before they are gone.
I understand and spoke with friends of mine that don't want to see their grandparents. They would rather hangout with their mates. I think yes you have definitely got to have a social life with your mates and do all that, but it's about finding the balance between all of that.
They would rather spend most or all of their time glancing down at their devices instead of spending that quality time with their grandparents and family.
Everyone has different circumstances, I understand that completely. For me, I always tried to switch off and spend time with my grandparents. It could be fishing with Pop, talking to him, watching him paint, talk about hunting and his past, learning and improving from him.
It could also be sitting inside or outside talking to Nan about her growing up and the life back then. She could be telling me about her family, stables, and the horses.'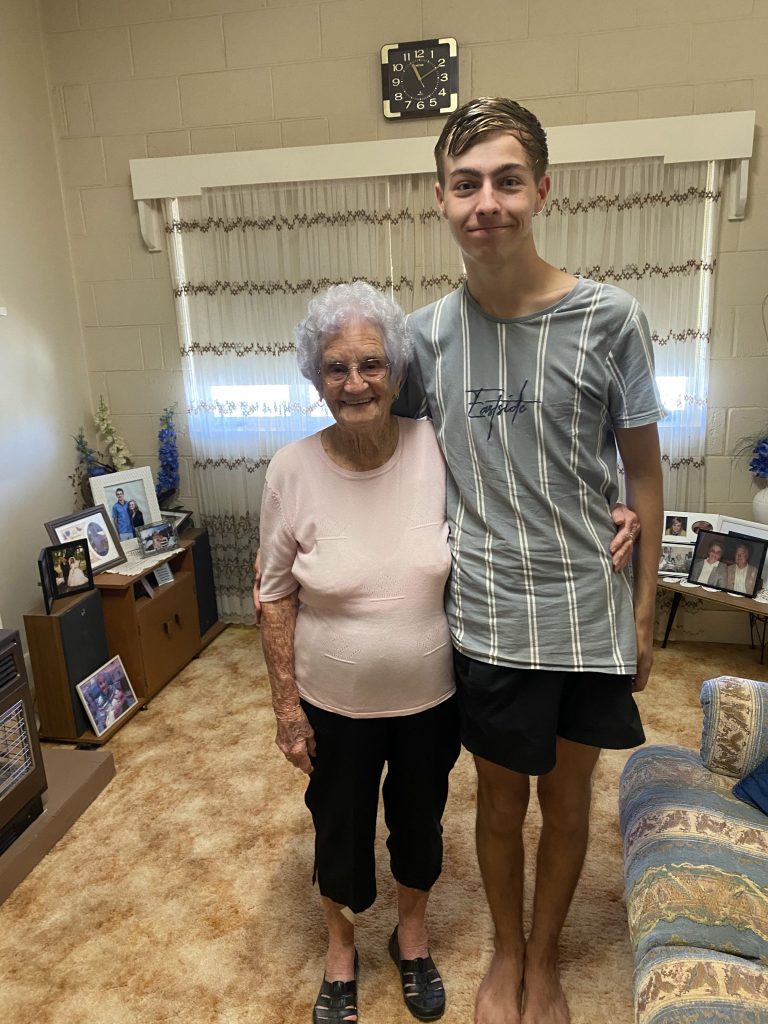 A final note
A big thank you to Cooper for being part of our Humans of Charles Sturt blog series! We wish you all the very best with your teaching degree and we cannot wait to see how you progress!
If you or anyone you know would like to participate, please reach out and email us at charlie@csu.edu.au
Want to read another Humans of Charles Sturt Piece?