Written by Katherine Donges
You have just accepted your offer to study a Bachelor of Nursing and you are filled with excitement, but also some anxiety surrounding the unknown of what lies ahead for you as you pursue this course.
The excitement will motivate you to get into all of the information about your course. It can feel overwhelming figuring out what you need to do and get, but remember to breathe and just take it one step at a time.
As a student who is in the final stages of this degree, here is what I would recommend for those who are starting out.
Navigate your online resources
The Student Portal is your main go to, take the time to get to know it and the lay out. On here is your link to Interact2 which is where all your subjects will be added as you progress through the course.
With nursing there is a lot to organise at the beginning of the course, and it's much easier to get things organised before the assignments start rolling in.
My first step would be to go into the Interact2 and click on the Bachelor of Nursing link. In here you can find most of the answers to the many questions that you will have throughout your degree. Most importantly, read and get to know the Work Place Learning (WPL) Handbook. I have found so many students ask questions when the answers lay in this document.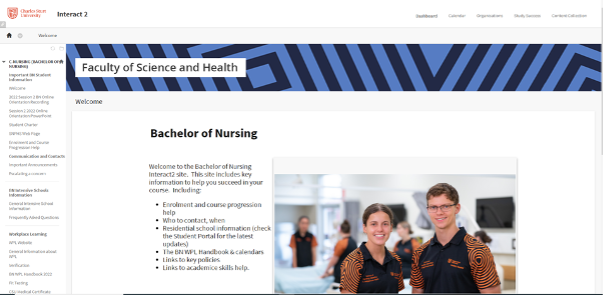 Secondly, look up the NSW Health Immunisation requirements. This process is really important, and you won't be allowed to go on WPL without meeting these requirements. Book an appointment with your GP to get a blood test to show what your immunisation status is and start getting any immunisations that you require. Nursing students must have 3 doses of the COVID-19 Vaccine (as we are considered Category A workers) and the yearly influenza vaccine.
Nurses also need to have current First Aid and Mental Health First Aid certificates. It's great to get this organised early as Charles Sturt don't provide these courses. A quick Google search with your location can help.
Your 'go to' handbook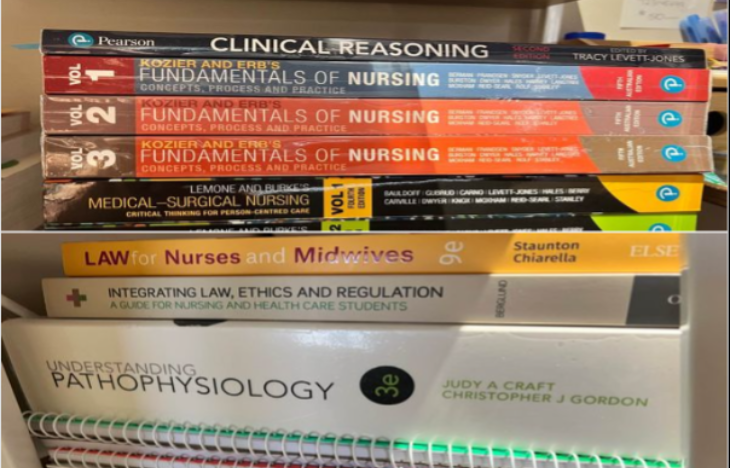 WPL (which is where you go to do your nursing prac at a health facility) and lab classes for on-campus students; or residential school for online students, require you to wear a uniform. Health facilities are really strict with the uniform rules, especially shoes (which are in that WPL Handbook 😉). It's always good to start your placement with a happy nursing facilitator! I've seen students get told they will be sent home if they turn up with mesh joggers again. Also, the last thing you want is anything going into your shoe through the mesh sections!

Save it where you can
Money – it never goes astray! It's really hard to save up, but doing so where you can will be very helpful. Textbooks can be expensive (secondhand helps, or the Charles Sturt library), and when on WPL you are unable to continue in your paid job during your placement. Sometimes you are sent away from where you live, so accommodation and petrol costs can add up and it takes away some stress if you have money ready for these times.
A rundown on practical placements
WPL… So you have met all the requirements with Charles Sturt (as stated in that WPL handbook) and you have also been verified by NSW Health, now when will you go for prac?
For on-campus students, WPL usually gets assigned in the non-teaching weeks of the session. As an online student, WPL can be assigned at any time during the session, after you have completed the subject specific residential school. On the Interact2 site, there is a link called InPlace which is where you will be notified of when and where you will go on WPL. You need to add in all your verification requirements here as well. Down the bottom you can add in any of your location requests and any extenuating circumstances/comments. You're not guaranteed that you will get WPL in your requested locations, but it's always a good learning experience to go to different places.
Nursing is a degree that requires you have a really good understanding of science and writing skills. Charles Sturt have great courses that you can complete for free to help you get ready for the tertiary level of knowledge required. Check out their Academic Skills help on your Student Portal.

Some other 'lived experience' tips
Don't forget about YouTube… A common learning style of nurses is visual. I found watching different YouTube clips of Anatomy and Physiology helped me to really understand the concepts being taught.
So, get your study space set up, get to know that handbook, write up a list of things to do and start ticking them off before starting the degree. Then you can start the degree feeling like you are on top of it all. Just remember, every learning opportunity is never a wasted experience.
Want to hear more about studying nursing?