by Jenna Verhoeven
Long summer days are when the sun gets up early and stays out late. Cicadas sing out to remind you just how hot it is and humid air clings to you. Love it or hate it, summer is definitely here and it makes us question how we can keep fit when it's too hot to move.
So, here are my top four sports to try this summer to avoid the heat while keeping active!
#1 Early morning runs
Earlier this year, I was training for my first marathon. Sunday morning was my long, slow distance training but the first morning I did this, I lolled around in bed and didn't start until 8am!
By the end of my two-hour run, I was starving and uncomfortably sticky. Lesson learnt.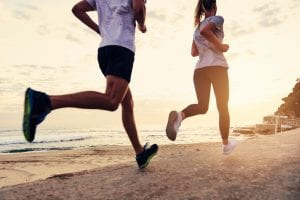 After that, I made the effort to get up extra early (that's right, 4am on a Sunday), and smash the run in the cool of pre-dawn.
Other than escaping the heat, early morning runs have the added benefit of' 'runrise.' Runrise is the joy of watching the sunrise whilst out on a run. It's great because there is hardly any traffic and you get free reign of the trail, road and path.
So, set your alarm for an hour earlier and keep in your stride over summer.
#2 Swimming
Whether it's a beach, pool, lake or lago0on, Australians love the water! Swimming is an excellent exercise that helps improve your cardiac fitness, endurance and muscle strength. It's also a great way to escape the heat and humidity.
A couple of points to consider: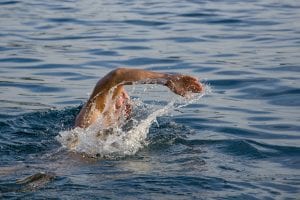 Swim smart. If you're at the beach, make sure you're familiar with the conditions, follow all signs and listen to advice from lifeguards.
Keep hydrated. Make sure you replenish water loss, even if  you may not feel sweaty because you can still lose water whilst going for a splash.
Sunscreen. If you're swimming outside, don't forget to apply water-resistant sunscreen, especially on your back and neck.
#3 Bouldering
Unlike indoor rock-climbing, which sees you scaling great heights, bouldering doesn't climb nearly as high. In theory, the temperatures you experience in your indoor bouldering session won't be as high as your indoor rock-climbing because hot air rises.
It's a good activity to improve upper body strength and grip strength, especially if your fitness goal for 2019 is to appear on Australian Ninja Warrior!
#4 Aqua aerobics
Aqua aerobics may conjure up images of a gaggle of nannas in their blue and green print cozzies, but it's actually a very serious work out!
For an hour, you'll be shouted at over dance music while you stomp, egg-beater, squat and push your way to fabulousness. It's also a really fun way to mix you your training – think Aerobics Oz style meets pool party.
My pro-tip is to make sure you've got a good swimming costume, such as a one-piece or sports style set because with all that jumping, squatting and turning; you want to make sure everything stays in place!
Stay cool, stay fit and enjoy your summer sweat sessions.