Written by Greta Porter
Choosing where to live as a university student can definitely require some careful consideration and is a unique experience to each individual.
But as someone who has had their fair share of both on campus and off campus living, here is a breakdown of my pros and cons to living on both (specifically Bathurst campus).
On Campus – Pros
Pro #1 – Meeting SO many new people!
Living on campus means you're living with a lot of other uni students from all different years and degrees so you can find your footing and develop some really awesome social circles.
Everyone is in the same boat as you too so I always found you can help and support each other in getting through the uni year.
One year, my dorm all did a study session where we would study in our rooms for an hour, then meet in the common room for a break and to keep each other accountable in doing our assignments.
Pro #2 – Social events
Living on campus there's always an event or social gathering going on which in turn provides ample opportunities to meet other people and make friends.
Socialising is also easy with basketball and tennis courts readily available, football fields and a free uni gym close by.
Pro #3 – Easy access
Class on Bathurst campus was always within walking distance as well as the library which was accessible 24/7 with your student card and the on campus café was convenient for a quick pit stop between classes or if you felt like walking over for a morning coffee during the week.
Pro #4 – Regular cleaners
On Bathurst campus we had cleaners come on weekdays to vacuum the floors, clean the bathrooms, sweep outdoors and tidy the kitchen (although most of the kitchen cleaning should be done by those living there e.g. putting things away, washing your dishes, cleaning benches if you've made a mess etc.).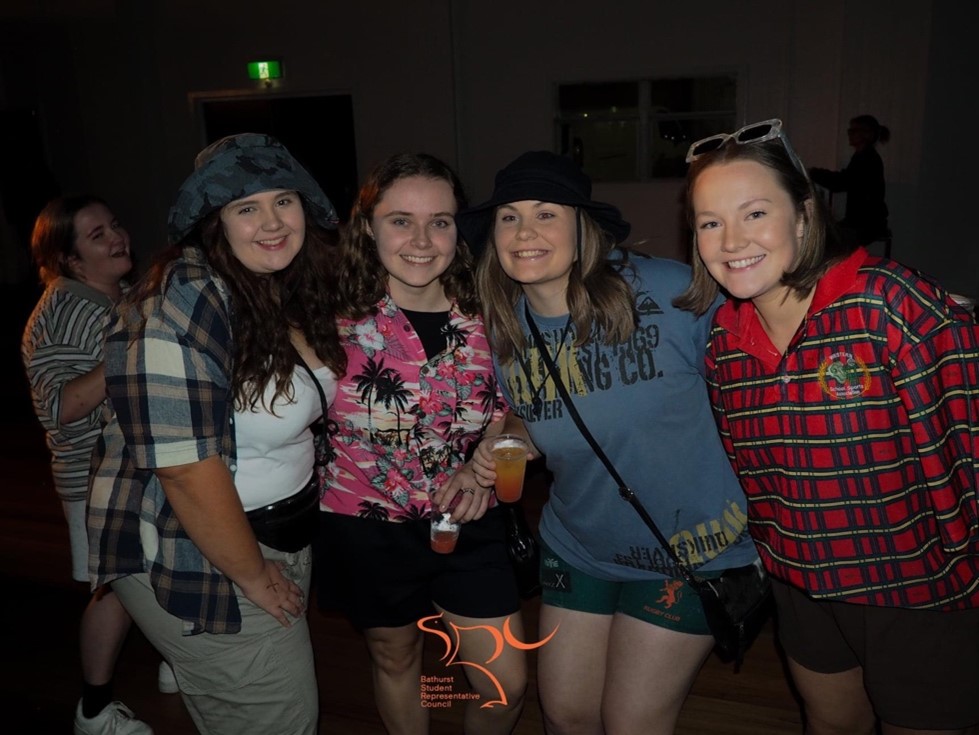 On Campus – Cons
Con #1 – Noisy
On campus there'll always be people coming and going, events, nights out and the general hustle and bustle of uni life so if you really enjoy your peace and quiet this is something to consider.
As a general rule during my time on Bathurst campus, from 10pm to 10am there would be quiet in the dorms to cater for those that go to bed early and wake up late.
Con #2 – Mess
Over the years I've definitely seen my fair share of dorms, especially kitchens that are so messy I don't know how anyone cooks in them.
It varies from campus to campus on how many people you'll share a kitchen with and simply put, you can expect there to be different understandings of what 'clean' means.
It can get messy but having a dorm meeting at the beginning of the year is an excellent way to set some rules or expectations, especially because the last thing you want is to attract mice which can definitely happen.
Con #3 – Room size
The rooms on campus aren't overly large.
A lot of people refer to them as a shoe box which it can definitely feel like at times and depending on what residence you choose will depend on whether you have a single bed or double bed.
Con #4 – No pets
If having pets around is something you love and thrive off, on campus might not be for you because they're simply not allowed.
Con #5 – No sense of permanency
If you only live on campus during the uni year you constantly have to pack up your room in early November and move out which can be annoying.
Alternatively, you can choose to live on campus over the summer but by then majority of the students have moved home and it can be a bit lonely.
Not all residences you can choose who you live with so it can sometimes be the luck of the draw. Every year it felt like a bit of a gamble, but that can also be the fun of it!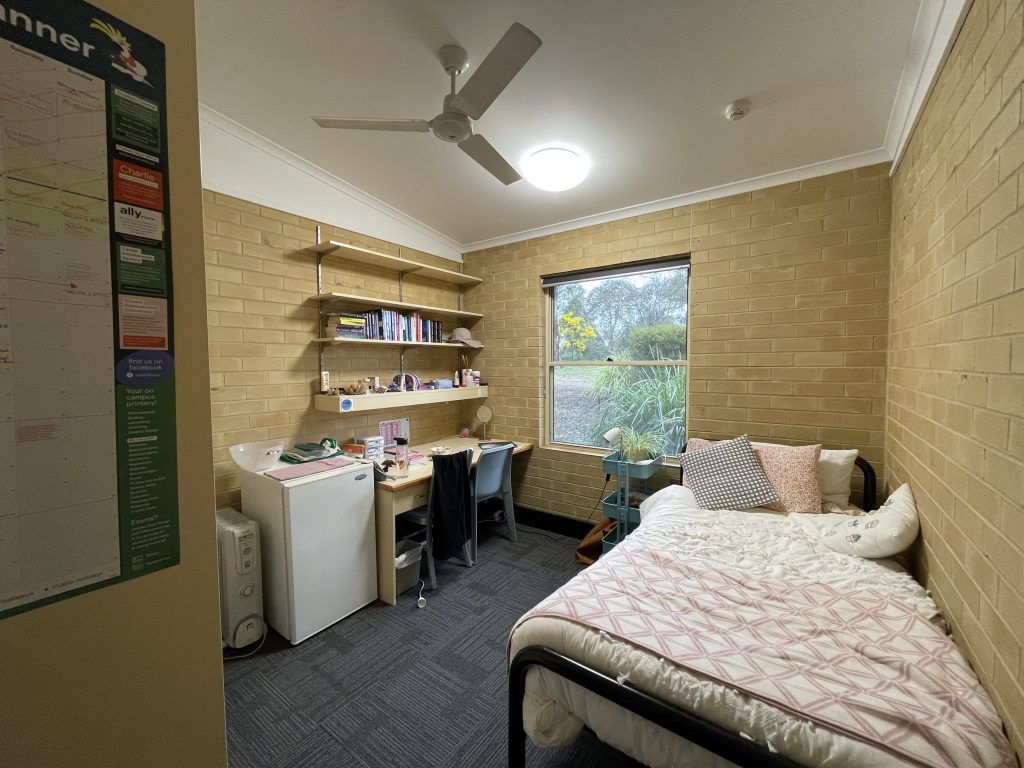 In Town – Pros
Pro #1 – Choose who you live with
Whether you want to get a place on your own or with housemates, the choice is completely yours!
I personally moved into a house off campus with a friend I'd made in my degree and having that choice of who you live with can make life a lot easier.
Pro #2 – Pets!
I absolutely love having my own space living off campus and being able to live with a cat named Hector and 4 chickens!
Pro #3 – Feels more homely
I find you can personalise your space much better when you're living off campus because what you do with living areas and outdoor areas is completely up to you.
Pro #4 – Quiet
I've definitely noticed its much quieter living off campus, but I guess that also varies from person to person and who you live with.
Pro #5 – Bigger rooms
This is one of my favourite pros about living off campus.
Having a bigger room with a larger bed, piano, desk and full-size wardrobe is a luxury compared to my old room on campus.
If you don't own a lot of things, I guess you probably wouldn't have a problem with the size of the rooms on campus, but once again, it varies from person to person.
Sharing with less people for kitchen, living spaces and bathrooms. Sharing a house with 3 people is instantly less cluttered and hectic as it was sharing with 8 on campus.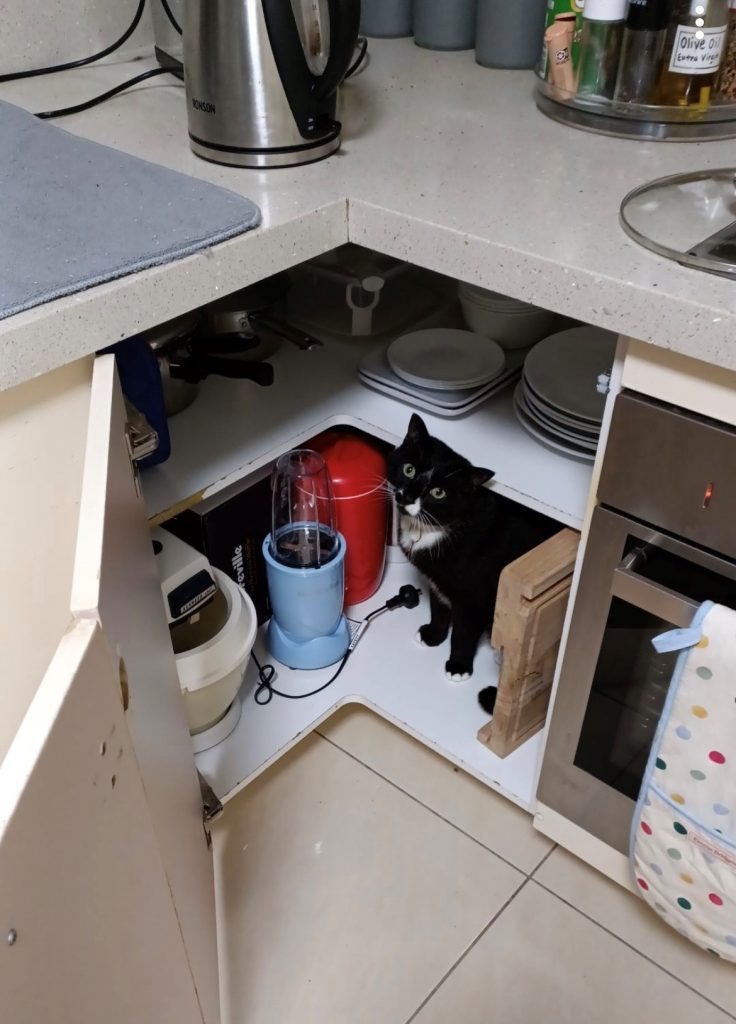 In Town – Cons
Con #1 – More cleaning
Living off campus does mean there's more housework because there's no cleaners and you have to do things like mowing the lawns and remembering to take the bins out each week.
Con #2 – Commuting to campus
It's about a 10-minute drive for me to get to my uni classes, but the majority of mine have been online so it's worked out well anyway.
It's definitely something to consider though especially if you do not have a car.
Con #3 – Can be less social
For uni students living off campus or downtown you're always invited to uni events such as Dag Night so you don't miss out completely, but it can still be harder to make friends living off campus which is why I recommend living on campus for at least one year, seeing how you like it, and then moving off.
Con #4 – Longer rental periods meaning it can be more expensive
Living off campus generally you'll join a 6 month or 12 month lease.
For me, I'm now renting for 52 weeks a year, whereas on campus I was only there for 36 weeks, so it was cheaper. This will once again depend on your situation because you might choose to stay over summer and also be renting for 52 weeks.
Renting on a 12 month lease might also be a pro in that there's permanency so definitely something to keep in mind.
Con #5 – Bills not included
Wi-fi, gas, electricity and water bills will need to be paid for on top of your rent meaning living off campus can definitely be more expensive.
During winter on Bathurst campus my dorm would leave our heating on a comfortable temperature 24/7 and never had to worry about the price at the end.
The reality of bills can definitely hit when you're in a rental off campus!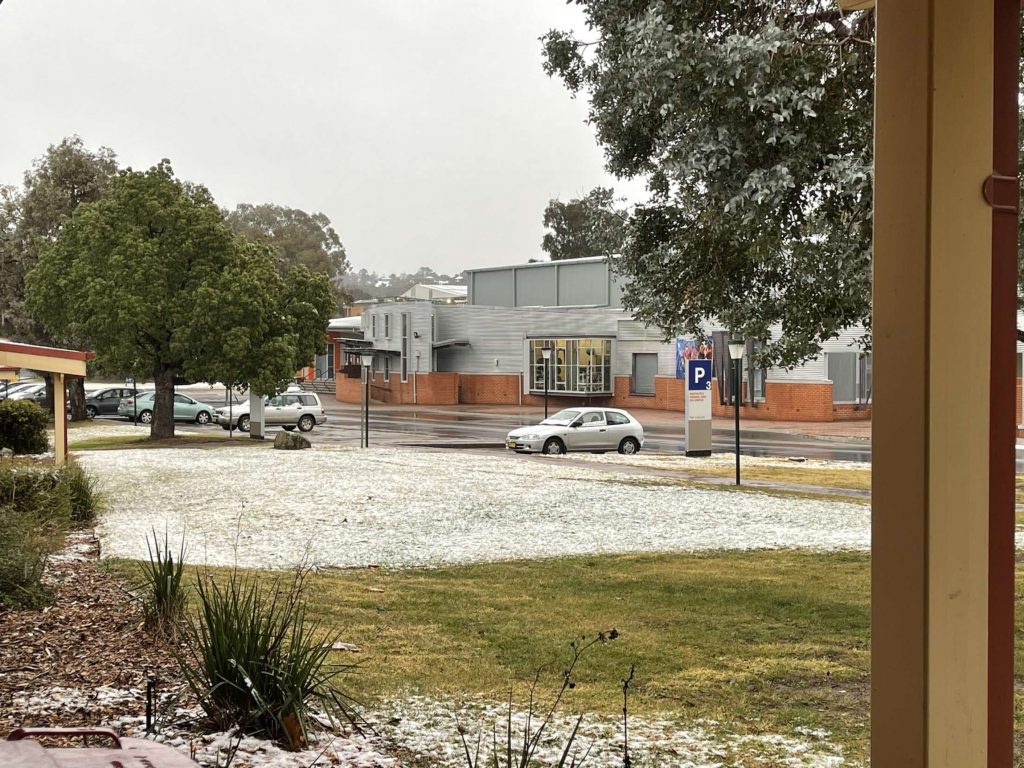 Overall
Overall, I enjoyed the many years I spent living on Bathurst campus, however moving off campus for my final year was the best decision I made.
There's plenty of pros and cons to both but I always recommend trying on campus living for at least one year and as I've mentioned, keep in mind every experience is different and unique from person to person.
Want to hear another student voice?