Written by Charlotte Penhall
Charles Sturt's Orientation isn't far away now! This is the time to ask questions about your degree, get a jump-start on the university way of life, and meet the people you could spend the next few years of your life with.
This year, Orientation Week for most campuses will be from Tuesday, 21 February to Friday, 24 February. For online students your Orientation starts on the 13 February, you have an online Kahoot game set for Thursday, 16 February at 7pm.
Also, good news for online students, you are able to attend non-academic on campus social events at your nearest campus if you wish to make the trip. Keep an eye on your Student Portal and emails for more.
Albury-Wodonga
For students attending the Albury-Wodonga campus this year, your Orientation Week will start off on Tuesday with a food truck night and live music.
On Wednesday, enjoy some Spanish under the stars with a paella and outdoor movie night. Hopefully, the rain holds off! Then when Thursday rolls around, dress in the brightest clothing you can find and show off your bowling skills (or lack thereof!) at ten pin bowl disco night at Wodonga 3D Lanes!
On Friday night, the Albury-Wodonga SRC team are hosting a beach party to finish off your Orientation Week with a great night to remember!
Bathurst
For Bathurst students, your Orientation Week will start on Tuesday with a Market Day on campus before enjoying a popcorn, candy, and movie night later. On Wednesday, get ready to bring out your inner-artist at a paint and pour class before finishing the night off with trivia at the Foodbowl!
Thursday morning, you'll be starting the day off right with some wake-up stretching yoga-style and coffee. Then, to finish off your day, get involved in some 'cupcake confections' before a fun social night playing barefoot bowls at the Greens on William.
To bring Orientation Week at Bathurst to an end on Friday, the Bathurst SRC team are hosting a 'dag night social' after a paint party back on campus!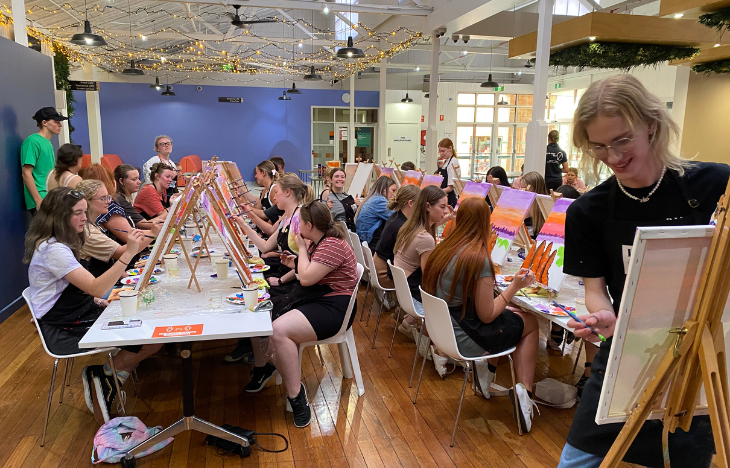 Dubbo
Bathurst isn't the only campus that gets to go barefoot bowling. Dubbo students, you get to enjoy making new friends and showing off your skills at barefoot bowls on Wednesday followed by a move night on Thursday – I wonder which movie you will see!
Orange
Orange students, your Orientation Week starts off Tuesday with an 'amazing race' around various locations in Orange! This is a great way to get to know the town and meet new people! You can then look forward to some 'drag bingo' after with prizes to be won.
Wednesday night could be your time to shine in 'around the world trivia', and for Thursday, you also have barefoot bowls like Bathurst and Dubbo students. Start thinking of your outfit ideas for a 'C, S or U' theme party organised by the Orange SRC team later that day!
Port Macquarie
Port Macquarie students, like Bathurst, your Orientation Week will start on Tuesday with a Market Day on campus. You then get to choose between rolling skating at Planet X or a river cruise to do in the afternoon. Don't worry if you miss out on the cruise on Tuesday, as you'll have another chance to go on Friday!
On Wednesday, take advantage of a chill start to the day with some lunch and lawn games on campus around midday, before heading down to Port Macquarie's Flynn's Beach for either 'learn to surf' or 'beach games' later in the day. Come together for Sunset Surf Club snacks at Flynn's Beach Surf Club as your Wednesday comes to a close.
For Thursday, get yourself ready for a scavenger hunt around Port Macquarie before bringing your a-game in trivia and snacks night at Westport Club.
Then to bring Port Macquarie's Orientation Week to an end on Friday, you've got another chance to go on a river cruise before dressing up in your best Greek God/Goddess costumes for 'Goddess Athena's dress up trivia' at the Hibbard's Club. An event run by Port Macquarie's SRC team for everyone!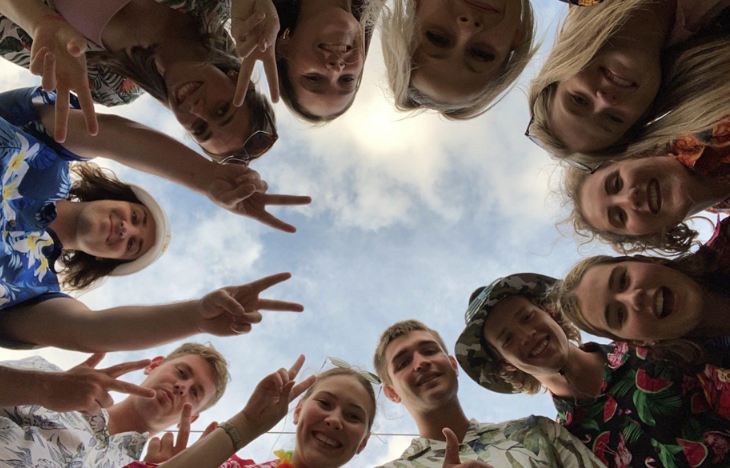 Wagga Wagga
Wagga Wagga students, like both Bathurst and Port Macquarie students, will have a Market Day starting their Orientation Week on Tuesday. Later in the day, get your costumes ready for an 'Aussie icons dress up and scavenger hunt' followed by an ice-cream and movie night.
Then like Bathurst, Dubbo, and Orange students, Wagga Wagga students get to join in the barefoot bowls fun at the Wagga Rules Club on Wednesday.
You'll have the chance to show off your strengths in 'I'm a celebrity, get me out of here!' on Thursday. Dress up as your favourite competitors from the show and partake in challenges. Then to wind down for the day, take up the opportunity to socialise and chill at another ice cream and movie night.
To bring Wagga Wagga's Orientation Week to a close, prepare to get colourful at bucket paint run at Beres Oval in the afternoon before you 'get noisy with Nollsy' on Friday night!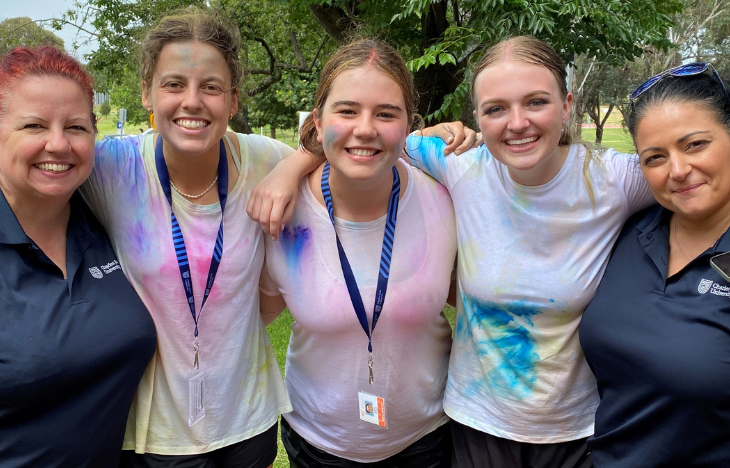 Academic sessions available for online and on-campus students
For online students, your academic sessions will be over scheduled Zoom and you'll have an option to view a recorded session, or speak with your Course Director. To find out when these sessions will take place and to register for them, visit your Student Portal. If you are struggling to find information about your sessions, contact our Student Central team for help.
For on-campus students, your academic sessions will be similar to online students. You will still have to go to your Student Portal to see when your sessions are and to register for them, but you will also see a room location for sessions.
If you are unsure where to go, you can either ask anyone in a pink or navy blue shirt (these should be your Orientation Coordinators and Leaders), the Student Central team, or look at your Campus Map.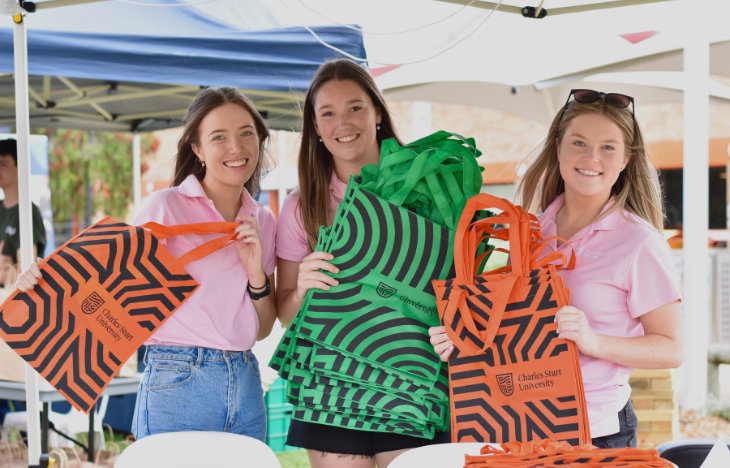 What to do next?
So you've read through this blog and have a pretty good understanding of what your Orientation Week might be like. That's a good start. Now's the hard part… waiting for Orientation Week to start!
As a last bit of advice for Orientation Week, keep checking on events! People can pull out at the last minute, so be ready to jump on events you may have missed out on the first time. Be sure to keep an eye on your Student Portal and your email inbox for information about Orientation and Academic Sessions. See you there!
Want to hear another student voice?