Written by James White
Behind the scenes, students of the Charles Sturt Wagga Meat Judging Team have been training hard 7am every Monday and Tuesday mornings since the start of the session.
Our team is passionate about improving our proficiency in assessing meat quality, providing networking opportunities, and sharing our passion for the Australian red meat industry with other students across the country.
The annual Australian Intercollegiate Meat Judging program is an opportunity for all university, college, and industry teams to showcase and further excel their skills in assessing meat quality.
Our team this year is coached by a dedicated and outstanding group of students from Charles Sturt who are already industry leaders in what they do.
This year our student coaches had the opportunity to send a small group of us to the Northern ICMJ competition, hosted by Central Queensland University and Teys Rockhampton.
I was lucky enough to apply and be selected to participate in this competition with four other Charles Sturt students; Angus Pilmore, Angus Bartter, Gab Goldsworthy, and Bonnie Mitchell.
We were privileged to be accompanied for the trip by our coach who is a 2022 National ICMJ competition winner, Jasmine Wholton.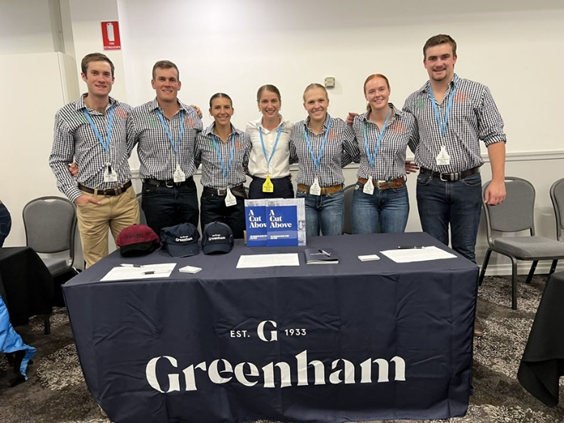 So, how did we go?
On Tuesday evening, April 11, the adventure began, with us all squeezing our luggage and ourselves into the car trip for Sydney. After a pub dinner on the road, we arrived at our airport accommodation sponsored by Beechworth Honey by 11pm.
The next morning, we were up again at 6am for our hop skip and jump from Sydney to Brisbane, and afternoon arrival in Rockhampton. As expected, the tropics greeted us with warm, humid air; climate our native Queenslander Jaz Wholton had been missing.
After some terminology revision from our accommodation at CQ university we headed into the Golf Club of the evening. This was our first meet and greet opportunity to network with other young beef enthusiasts, who would later be our competitors.
Dinner of slow cooked brahman hump and brisket was prepared by the Smokin' Yak who are an organisation committed to adding value to less desired beef cuts.
Day #2
The next morning, we arrived for a cooked breakfast at CQ university spent the day listening to industry speakers.
I found the most interesting presenters to be from
The Australian Agricultural Company
Our Cow
MasterBeef
Of these, Bianca Tarrant from Our Cow shared how between herself and partner Dave they created a multimillion-dollar boxed beef business in a matter of years.
Darren Hamblin from MasterBeef talked about his smartphone compatible optical technology for carcase marbling assessment. He spoke on how this technology has revolutionised his Wagyu breeding and its potential for all producers to improve their meat quality genetics and profitability.
In the afternoon we had the opportunity as an audience to quiz these speakers on their industry knowledge, insight, future direction, and opportunities within the beef industry.
The next afternoon all competitors made a bus trip to Central Queensland Livestock Exchange for some live assessment of northern cattle breeds. Here a local producer showcased his cattle and shared breed plan goals.
We then had the challenge of deciding as a team which displayed heifers would have better carcase quality traits. Two days later we then examined their carcases briefly in the cool room at Teys and made comparisons with our initial observations.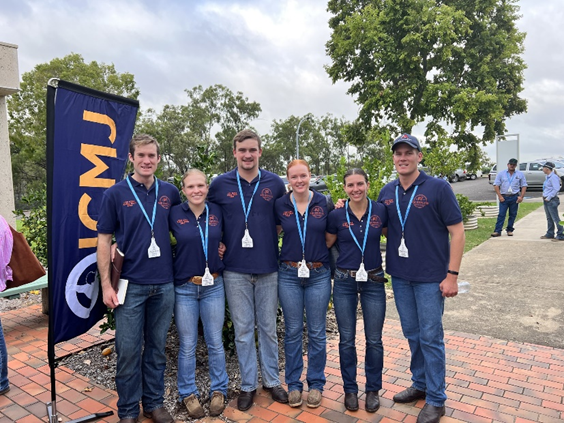 Day #3
Our third training day consisted of a carcase breakdown in the lecture room. This was undertaken by butchers from Teys Rockhampton, with Peter Mcgilchrist from the University of New England conducting the lecture.
In the afternoon we then practised our primal and retail cut identification with the real cuts of meat in front of us.
The evening was concluded with a formalised function at a local pub, some line dancing, and the chance to share a drink with some industry speakers that had presented to us over the last few days.
Competition Day
The next morning was competition day!
At 6am we left CQ University on the bus for Teys abattoir. The competition went for 3 hours in the cool room, where we were required to identify retail cuts, carcase value, and make quality assessments on primals and whole carcases.
Despite this being a challenge, it was one of the most rewarding aspects of the trip, being able to get a look inside an abattoir and understand what producers should be aiming for in their breeding plans.
The evening was concluded with a big steak, many team photos and awards. Our Charles Sturt team took the prize for overall beef judging champions, which involved getting the placing for carcases correct.
We also received the Champion Team runner up which included overall points achieved from the retail cut identification and carcase placings combined.
Gus Barter also received some individual awards for his outstanding efforts.
Being apart of the Wagga Meat Judging Team
I would highly recommend this trip and the additional opportunities that will come being part of the Charles Sturt Meat Judging Team. Stay tuned for a report on the National Competition in Wagga Wagga held in the first week of July!
The Charles Sturt Meat Judging Team also greatly thank our sponsors for providing us with the capacity to offer these opportunities to students. Our sponsors include:
Yimin Droughtmasters
Beechworth Honey
Wagga Meat Supply
Eversleigh & Wallace Vale Droughtmasters
Cibo Labs
MEQ Probe
Wagga SRC
Want to hear another student voice?