Written by Brooke Chandler
*Enters EASTS on Interact2. Clicks into Assessment 3 for CCI304: Communications and Creative Industries Project 2. Adds completed document.
Deep breath… and send!
Three years of what seemed like an endless stream of lectures, tutorials, workshops and assessments wrapped up in one simple finger movement. Sounds anticlimactic I know but what a relief!
As I now weightlessly reminisce on the recent completion of my degree (Bachelor of Communications (Journalism)), I can't help but wonder where the last three years have gone. And it's funny given the vivid memory I have walking into my first year on-campus bedroom and thinking 'oh god this is gonna be a long stint at uni'! I am sure many students could relate to this.
I personally love using the wisdom and experiences of others to better my own. So before I forfeit my life, on-campus routine and roles at Charles Sturt University, I want to relay some significant moments from my time at uni.
Eighteen and fresh out of High School
It's February 2020! I had just returned from a family trip to Europe and COVID-19 was a circling nuance. My family, who I am exceptionally close with, helped me move into my North Windy Diggings cottage. There were lots of tears that day as I was honestly very anxious to move out of home. I was quickly reassured by my two roommates, Lily and Chiahni. Like myself, they were first year students and our friendships kicked off instantly.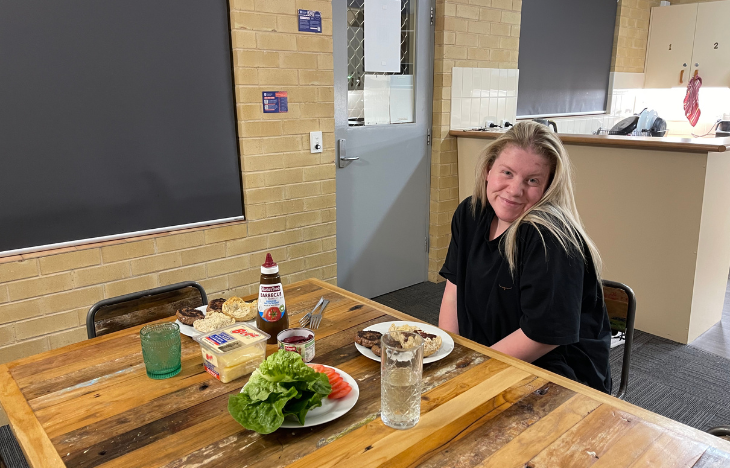 It was six weeks of on-campus classes, figuring out the learning requirements and structures of uni, parties, meeting people and making friends – honestly everything that goes with figuring out life in a new town. Then, in a way you could not possibly script (I say this phrase a lot when discussing the last three years), campus was closed and it was home time for all. COVID-19 became a lot more than anyone predicted.
And just like that, 2020 became a mixture of online classes and barwork in my hometown. I was challenging I wont lie, group assignments in particular. But when I think back on the extra time I got to spend in my hometown, with my family as well as the money I got to earn and save, I honestly would not change a thing.
I understand that may not have been the case for all but I have become the world's biggest believer of the age old saying, 'Everything happens for a reason!'
Here's why…
My journey with Charlie blog started in January 2021. After seeing a Facebook advertisement, I 'bit the bullet' as one would say and sent in my resume. I received a surprising call from the Student Communications Coordinator a short time afterwards telling me my job application for the casual assistant position had been successful. It was first real paid gig as a writer and I was stoked.
At the same time, I spent a lot of uni holidays applying to as many Charles Sturt scholarships as possible. Those hours of monotony definitely paid off as I became the recipient of not one but three scholarships: Destination Australia, Frangopoulos Family and David Banks: Sky News Australia.
The scholarship I was awarded from Sky News Australia quickly became a literal open door for me into the journalism industry. Following a two week internship late last year, I have been commuting from Bathurst to Sydney once or twice a month to work as a Liaison Producer out of the Channel Nine or Channel Seven newsrooms. Having this listed on my resume helped me begin, as well as transition, from a cadet to producer at National Radio News. And then, in the most surreal of ways, my connections in the industry resulted in my current casual role as reporter for Win News Central West – a channel I grew up watching and job I dreamed of as a kid.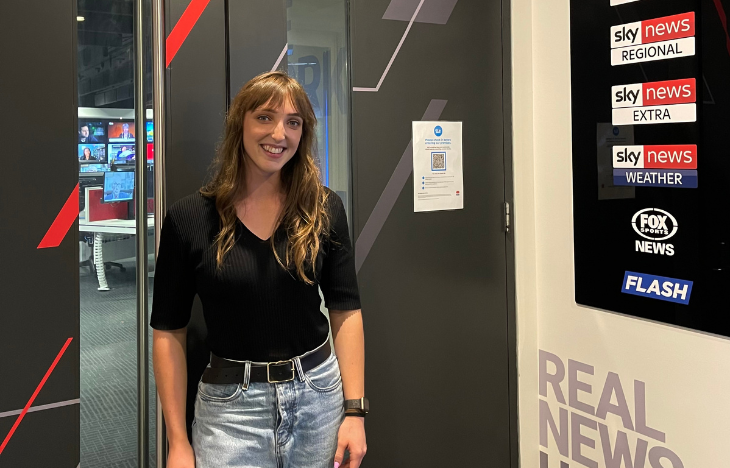 I do often find myself downplaying my current roles in fear of seeming braggadocious. However, I do have to credit all the hours, and extra hours, of hardwork I have put in during my degree to get me to where I am. Since day one I was told the degree in itself would not be enough to quote on quote 'make it in the industry'. I guess you could say I really took that above and beyond given I have been working four casual, journalist based roles in and around Bathurst throughout this final semester.
But that would be my biggest tip to any communications student – say 'yes' to every single opportunity that comes your way. You never know where that could lead you.
Speaking of tips, here's some more:
When you have on-campus classes, actually go to them! Lecturers will give their time and attention to those who show the same. And your lecturers well and truly have their connections in the industry.
Start assessments as soon as possible and never leave anything to the last minute.
Utilise the on-campus equipment, utilities and services. Kevin the comms tech room was my first point of call my whole second year.
Coming from someone with multiple jobs, allocate a happy medium between uni, social and work life. And know that downtime at home is okay!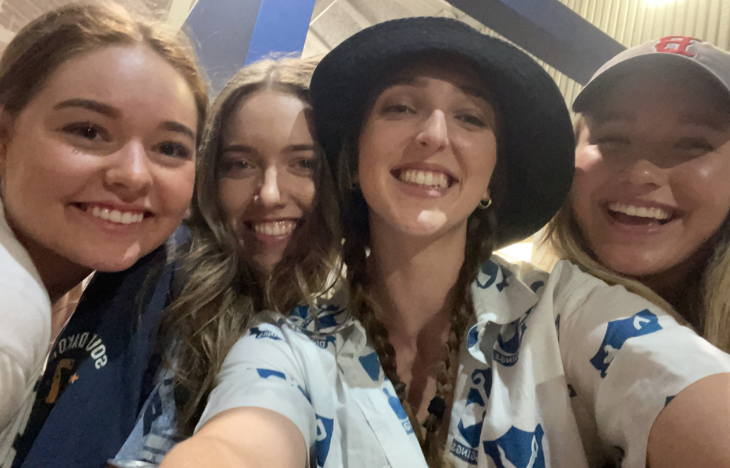 Have active and very well established profiles on Facebook, Twitter and LinkedIn. As I have said time and time again, the communications industry is all about who you know and who they know too.
Get involved in what may seem like the smaller stuff. For example, sign up as a Charlie contributor and put yourself out there. All efforts lead to something.
Don't take anything for granted because you never know anticipate what's around the corner. Take from me, a recent graduate who spent one and a half out of three years on-campus. COVID-19 you trooper!
Sure as the saying goes 'P's do get you degrees', but putting in that little extra time and effort will pay off. Aim higher than you need to.
So long, farewell…
Charlie has essentially been my baby for the past two years. During this time, the site has experienced an immense amount of growth: a webpage update, a tripling in our contributor base, a boost to our readership and a refreshed social media presence. I urge the Charles Sturt community, both present and future, to get behind Charlie. It is a huge asset to the student body!
I am definitely looking forward to getting dressed up, walking on stage and receiving my several thousand dollar degree. But for now, its travel time! Lot's of personal growth is about to occur as I enjoy three weeks in the UK and Scotland. And then upon my return, I plan on applying to rentals in Wollongong, moving in with my longterm boyfriend and securing a full time role as a journalist.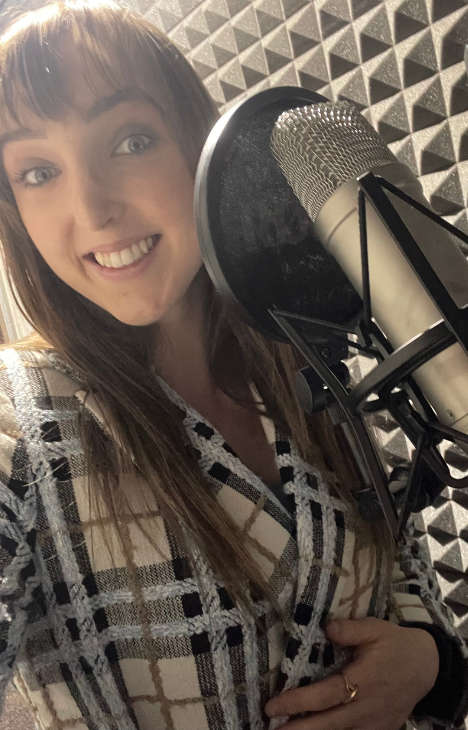 Sure it may seem I am well-equipped to enter in the industry in such a way, I cannot disguise the anxiety and nerves I do feel. The biggest thing for me now is to 'go with the flow' and trust in the work I have already put in.
Although, as mentioned before, you simply could not script a single aspect of my time at uni, in the end I can happily say I am about to enter the industry with a lifetime of learnings, memories and achievements.
I would like to conclude with a simple thank you to the Charles Sturt community. Your ongoing support has been transformational for me. I am not only a vastly different journalist, but a vastly different person, to the one who entered the campus gates that not so long ago.
Sincerely, Brooke
Want to hear more of this student's voice?