Written by Sophie Norris
Imagine in your very first week of university you and one of your new friends design a radio show. I mean like a real radio show people actually listen to.
Well, that's exactly what happened to me during my first week at Charles Sturt University.
The origins
My friendship with Faith actually began all because of Charles Sturt University. The two of us first met in December of 2020 at the Charles Sturt Advantage Residential retreat. This was a night where everyone who was accepted through the advantage program, got to spend a night on campus with other commencing students, sharing lots of laughs and very early memories.
Faith and I exchanged Instagram's, like kids on the first day of year 7 and probably didn't speak again for the whole Summer holidays ….
That is until we recognised each other on the first day of uni and became inseparable. Most importantly, we were both fascinated by a talk we received from 2MCE-FM's former station manager, Lisa, in our very first class inviting all students to start a radio program.
Faith and I both discussed our interests and our life stories and soon enough, our common love for history emerged. Naturally.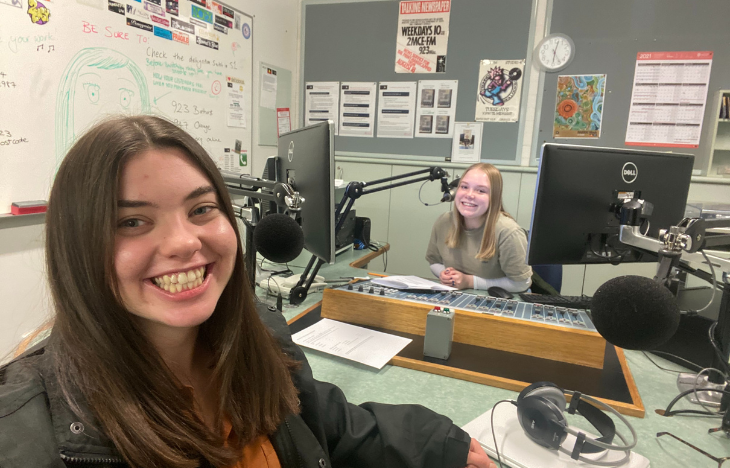 We bonded over our common love for the Ancient Roman Empress – Agrippina the Younger – who we both studied for the HSC. Whilst most uni students usually forget the content from their HSC exams, luckily for us, we both held onto it.
From this moment forward we bonded over our growing interests in feminism and knew we had to make a show out of it.
Herstory. It was old, it had already been done.
Feministory on the other hand sounded like gibberish when we first came up with it. But we persisted.
The launch
On what I clearly remember as International Women's Day for 2022 (because seriously what other day would it be) Faith and I sat hunched in my dorm room filling out the application to begin a radio program at 2MCE. Like the starry-eyed first-year students we were, we filled out the application with detail and I mean, a lot of detail.
We then got wrapped up in the excitement of university life and forgot about the application…
Until a few weeks later, when we received an email saying the 2MCE board had accepted our application and better yet, wanted to use it as an exemplar for future programs.
From there we met in the 2MCE studios for the first time, having no idea how to use any equipment or what any of it meant. But after a few weeks of guidance from Lisa and the 2MCE team, who coached us to broadcast a couple of music programs for practice, we were ready to go.
The premise of our show, is that each week is a thirty-minute biography of who we call a 'fabulous female of history'. It wasn't a surprise to anyone who our first episode was going to be about; the Roman empress Agrippina the Younger.
Entrepreneurial success
Fast forward and since that first day in the studio, we have recorded 30 episodes all talking about a diverse range of fabulous females from Ancient times with Nefertiti, to the Civil rights movement with Rosa Parks and Modern Australia with Cathy Freeman.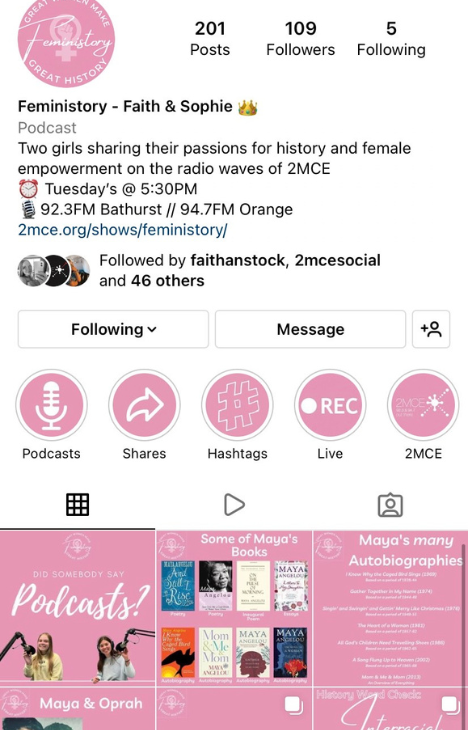 The beauty of Feministory is that Faith and I are one hundred per cent unapologetically ourselves (for better or worse). We are only human and can't pronounce every foreign surname correctly, but we laugh about it and show our listeners that history is for anyone, not just the scholarly or the academic. We also share female stories of history that are often forgotten, hidden or trumped over by the males, but we believe are just as important to share. Feministory is the space where we can give those female histories a platform.
We prepare for the show by usually rushing to complete the script that day but end up producing a show we are proud of (even though we usually argue about who has the better song choice for our guaranteed dance break). We then rinse and repeat every week.
We've also made a TikTok that shows you exactly what we do before and after the show!
In the last month Faith and I even had the opportunity to nominate Feministory for a couple of Community Broadcasting Association of Australia awards, including Best New Program. Whilst in true Feministory style we were working on the application right up to when it was due, it was a great chance to reflect on how we have turned Feminsitory from a word that sounds like gibberish to our own unique program that rolls off the tongue.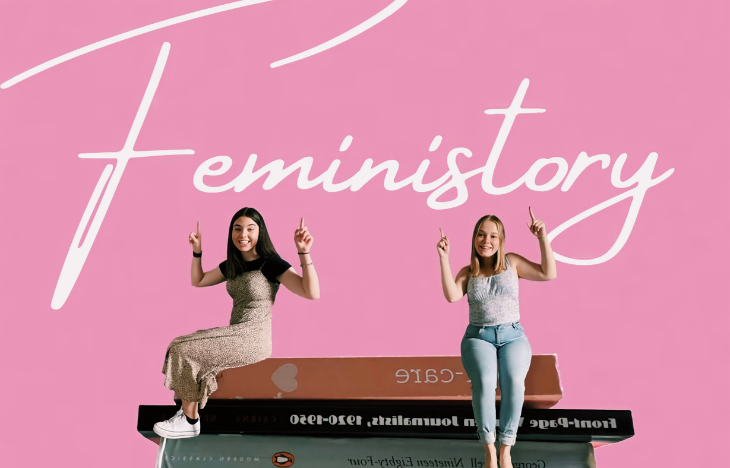 You can listen to Faith and I live on Feministory every Tuesday at 5:30pm on 92.3FM in Bathurst, 94.7FM in Orange or anywhere online at https://2mce.org
And if you ever miss a show – don't fret because you can find us on our pink coloured-coded Instagram and Facebook @feminsitory2mce which has plenty of pictures to make you laugh and learn more about history.
Great Women Make Great History!
Want to hear another student's voice?