Written by Stephen Hale-Worrall, studying a Diploma of Exercise Studies
With the COVID-19 landscape evolving around the country, many of us have found ourselves trying to balance all of our work and study mostly from the comfort of our home. Local lockdowns have seen gyms close and even certain outdoor activities restricted.
Maintaining a level of physical activity is not only important for your physical health but can also play a role in supporting your mental health. Keep reading for some simple tips on how to make the most of your time at home.
Where to start?
Before you begin any exercise program, there are some important considerations including the risk of injury if exercise is performed incorrectly. If you are completely new to exercise, then you should consult with your doctor or an exercise professional before commencing.
If you are already familiar with exercise, then you can proceed with caution as normal. Exercise has many health benefits and according to The Australian Guidelines for Physical Activity, adults should be aiming to complete 150 mins of low-to-moderate intensity exercise, or 75 minutes of vigorous intensity exercise per week.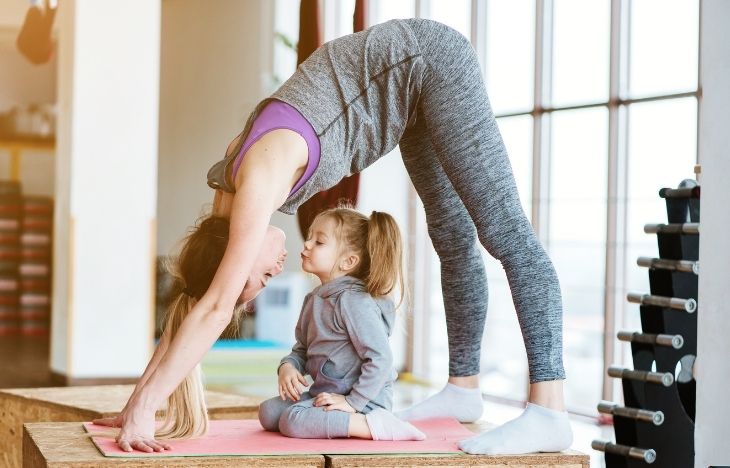 Time to get moving!
If you are ready to exercise, then I have some simple ideas for you to complete at home or in a convenient outdoor location. Should you be unable to participate in moderate or vigorous exercise however, you may be able to participate in some low intensity and no impact exercise with a simple mobility routine or some exercises that you perform with body weight as resistance.
Healthline.com have a fantastic piece that can guide you through a full body mobility flow, with videos included.
For your medium to vigorous intensity workouts, household items are great to use as makeshift weights. On the lighter end of the scale, you can use canned goods, milk or soft drink bottles filled with water or sand. For something a little heavier duty, you could try 4-litre laundry detergent bottle.
You can perform almost every exercise as you would with dumbbells such as: squats, lunges, rows, chest press and shoulder press. You could try completing 1-2 sets of 8-12 repetitions of each exercise listed as a start. Just be sure that you can grip the object safely and are not going to drop your weights on your foot. Remember to gently stretch after you finish.
Break a sweat
Did you know you can even work on your cardiovascular fitness in the house? A couple of fun ideas involve getting up and down the stairs a few times or chucking on some music and having a dance. Perhaps you could combine the two and move up and down the stairs to the music, stopping for a period to dance, do some squats, or some push-ups. Set the timer for 20 mins and get moving.
If this is new to you, perhaps start with five minutes and increase the time by 2-5 minutes each block until you reach 20 minutes. Perhaps you have some housework to do? Get the music on and clean to the beat. If that's not your thing, a brisk walk for 20 minutes on most days of the week will also do you good.
In summary, while our traditional resources may be unavailable to us, many of us have a world of fitness possibilities within our reach at home or nearby.
If you don't feel safe exercising outdoors, there are also options to complete in the comfort of your own home. YouTube has plenty of content, as does the free Charles Sturt UniMoves app.