by Loren Howarth
Believe it or not, a vegan diet consists of more than just salad and vegetables. These tasty vegan meals are easy to create, not to mention absolutely divine. You don't have to be vegan to eat these either, anyone can give these meals a try.
Curried eggplant with tomatoes
Serves 2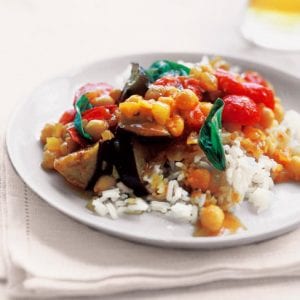 Ingredients
1/2 cup of rice
1/2 tbsp of olive oil
1/2 diced brown onion
3/4 cup of halved cherry tomatoes
1 medium sized eggplant cut into medium sized pieces
1 tsp of curry powder
1/2 can of chickpeas
1/4 cup of chopped basil
2 cups of water
Method 
Cook rice according to packet directions. Once cooked, remove from heat and cover to keep warm.
While the rice is cooking, heat the olive oil in a saucepan on medium heat. Add the onion and cook until softened.
Add in the eggplant, tomatoes and curry powder. Stir for 2 minutes.
Add 2 cups of water and bring to the boil. Reduce heat and simmer for 10 minutes or until the eggplant is tender.
Stir in the chickpeas and cook through.
Remove the vegetables from the heat and add in the basil.
Place rice onto a plate with curry mixture on top.
Tacos 
Serves 2 
Ingredients 
1 and 1/2 cans of black beans
1 cup of tomato puree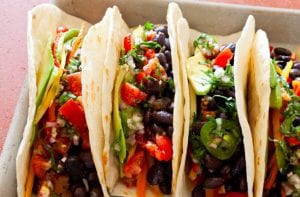 2 tsp of hot sauce
2 tsp of ground cumin
1 sliced avocado
1/2 cup of corn kernels
1/2 cup of chopped cherry tomatoes
2 cups of chopped iceberg lettuce
Salsa sauce
1 packet of choice of taco shells or wraps
Method 
Place the beans, tomato puree, hot sauce and cumin in a saucepan and cook over medium heat. Cook for 5 minutes or until the mixture is fragrant and heated through. Remove from heat and cover.
Lay out taco shells or wraps and place bean mixture in the middle.
Add toppings.
Spicy chickpea burgers 
Serves 2 
Ingredients 
1 can of chickpeas, drained, rinsed and mashed
1/2 red onion, diced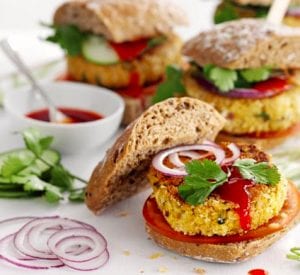 1 small zucchini, grated
3 tbsp of red wine vinegar
1 tbsp of hot sauce
2 tbsp of natural peanut butter
1 tsp of cumin
1 tsp of garlic powder
1 cup of quick oats
2 tbsp of olive oil
4 wholemeal bread rolls
Recommended toppings: tomato, avocado, beetroot, iceberg lettuce, tomato sauce.
Method 
Combine the mashed chickpeas and all ingredients aside from the toppings and bread rolls into a bowl.
Using your hands, combine the mixture and form into 4 patties.
Cook in a lightly oiled frying pan for 5 minutes each side or until golden. Once cooked, remove from the heat.
Cut bread rolls in half and add patties as well as the toppings of your choice.
And now for some dessert…
Choc chip cookies 
Makes 12 
Ingredients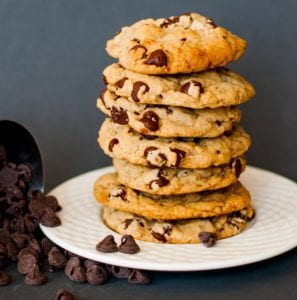 1/2 cup of oil
1 cup of brown sugar
1/4 cup of almond milk
1 tbsp of vanilla extract
2 cups of flour
1 tsp of baking powder
1 cup of dairy free chocolate chips
Method 
Preheat oven to 180 degrees Celsius.
Combine all the ingredients in a large bowl. Mix together with a wooden spoon, folding in the chocolate at the end.
Roll into 12 balls and spread evenly on a lined baking tray.
Bake for 8-10 minutes for soft cookies or 12-14 minutes for crunchy cookies.
Tip – the cookies will harden more once they are out of the oven. Take this into consideration for the cooking time.