Unless you've got a photographic memory, it's pretty normal to forget things after hours of study. Perhaps it's a concept you can't quite wrap your head around, or maybe you need to create mnemonic devices to help you remember certain lists. It's difficult retaining everything you've been taught, and most people would assume the only solution is long hours of vigorous study.
However, have you ever considered your diet? It's important to eat regularly as it fuels your body during the day, but there are a wide variety of things you can eat that may actually help to boost your memory. Adding a few of the right foods could pay off when it comes to passing your degree with flying colours!.
Let's take at some brain empowering foods:
Breakfast – protein, wholegrains and vitamin D
Blueberries contain no added sugar and help with many aspects of your health.
Some good examples for your first meal include oatmeal, cooked with milk instead of water. As a whole grain, oats provide your body and brain with energy. The milk adds protein, calcium and vitamin D to your diet, helping to support many other areas of your body, including your bones, heart and muscles.
Complement this with a handful of the much-praised blueberries, a superfood packed with powerful antioxidants to improve your memory, vision and general wellbeing.
Alternatively, if you're not a fan of oatmeal, opt for the classic bacon and eggs. Both these ingredients offer protein to your diet, while eggs contain a specific nutrient called choline, proven to enhance long-term memory, according to a study published in the American Journal of Clinical Nutrition.
Protein will help you feel fuller for longer, sustaining you throughout the day, whether you're heading to campus for lectures or settling down at your desk for some online study.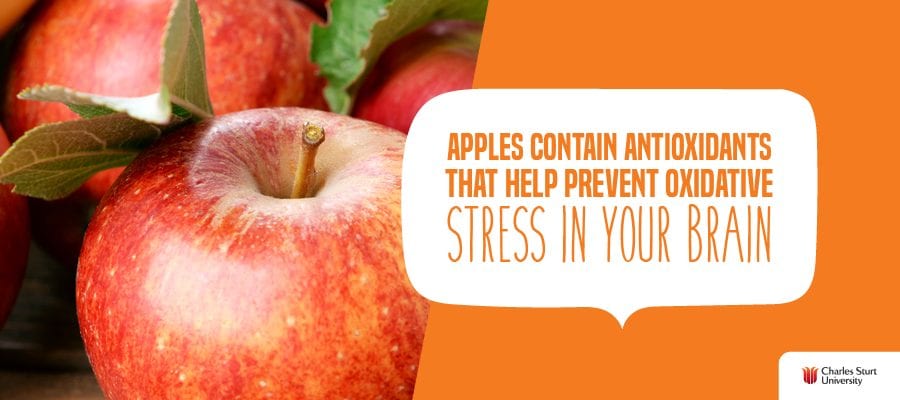 Lunch – fruits and vegetables
You need a balance of these in your diet to help your brain function effectively.. Apples contain antioxidants that help prevent oxidative stress in your brain.
Eating a colourful variety of vegetables will also give your body, and brain, a wealth of nutrients and vitamins.
Dinner – fish
To deliver your brain even more goodness, eat a cut of salmon or tuna to get a hefty dose of omega-3. Complement this with a starchy base (like rice or potatoes) for essential energy.
Break up your meals with snacks of nuts in between – they're sugar-free and full of healthy fats to give your brain an extra boost of power.
Look after your brain by looking after your body. You'll see eating healthy goes a long way for your studies, your wellbeing and your wallet!  If you're interested in food science, take a look at some of CSU's courses, such as the Bachelor of Health Science (Food and Nutrition).