Amongst the hustle and bustle of this year's online Orientation, The Social Club have secured a one night event. Club president, Chantelle Walsh, is here to brief you on all you need to know…
Who is The Social Club?
The Social Club was founded in April of 2020 as an online club for all Charles Sturt students to interact and engage with others whilst having fun. As the club hosts events online, all events are accessible for international students. The Social Club are proud LGBTQIA+ Allies; providing inclusive safe spaces for all Charles Sturt Students are important to the club's values.
When does The Social Club meet?
The Social Club hosts a game night fortnightly on Tuesdays at 7pm AEDT (or otherwise advertised). Our five games are continuously cycled throughout the year; Kahoot, Bingo, Jackbox, Trivia & List It To Win It! All of our events are promoted on our social media platforms; find posts on our Facebook Group, Discord server and Instagram.
Session 1 Orientation event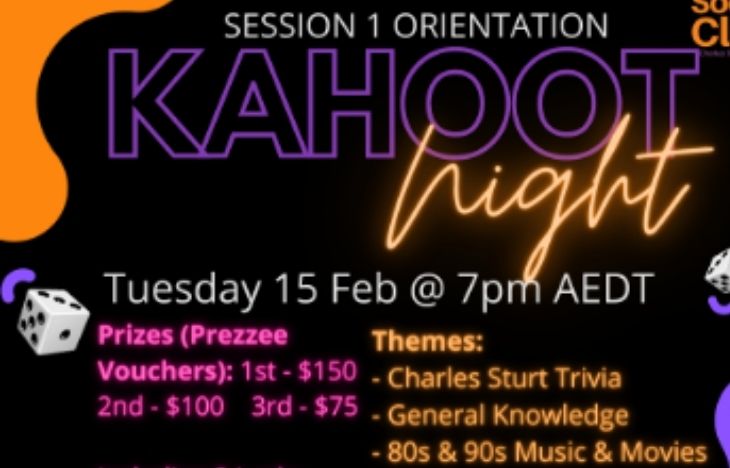 The Social Club are warmly inviting all Charles Sturt Students to their Kahoot Night for Orientation Week! Orientation Week is a great time to slide yourself into 'go' mode before the Session commences. Although Orientation Week is all about getting the right information, getting settled in and starting your journey with Charles Sturt University, this week is also about having fun and meeting new people. The Social Club at Charles Sturt University is a great way to engage students of all ages and areas in an hour of socialisation and fun.
Details include:
The Social Club will be hosting a four-round Kahoot Night with an intermission.
Kahoot is a classic trivia platform and is one of our favourite games. Grab your phone, tablet or laptop and have your fingers or mouse ready to press the correct answer on your screen. But you will have to beat everyone else to claim that Number 1 spot!
Tuesday 15 February 2022 at 7pm AEDT
Via Zoom : https://charlessturt.zoom.us/j/67994586438
Themes:
Charles Sturt Trivia
General Knowledge
80s & 90s Music & Movies
Winter Olympics
Join for your chance to win from a $475 prize pool of Prezzee Vouchers, which include three Lucky Door winners valued at $50!
Interested in playing? You can RSVP here.
To become a regular member…
The Social Club would love for you and your friends to join us. See you in the Zoom.
Need more information, have a question or idea? Send an email to Socialclub.csu@gmail.com.
Written by Chantelle Walsh
Want to hear more of this student's voice?