Written by Teagan Smith
Hello fellow Charles Sturt students, and happy Dental Health Week!
My name is Teagan and I am currently in my second year of studying a Bachelor of Oral Health (Therapy and Hygiene) (BOH) at Charles Sturt University's Wagga Wagga campus.
I came all the way from Adelaide, South Australia in 2021 to study my degree, and feel so lucky to have been given the opportunity to study in such a beautiful place that is regional New South Wales.
Many other students within my degree have moved from all over Australia to study BOH at Charles Sturt Wagga Wagga. We have formed quite a tight-knit community. We've come from dental backgrounds such as dental assisting (like me) or from working in dental clinics. We've now made the leap to further our growth in the field by becoming oral health therapists.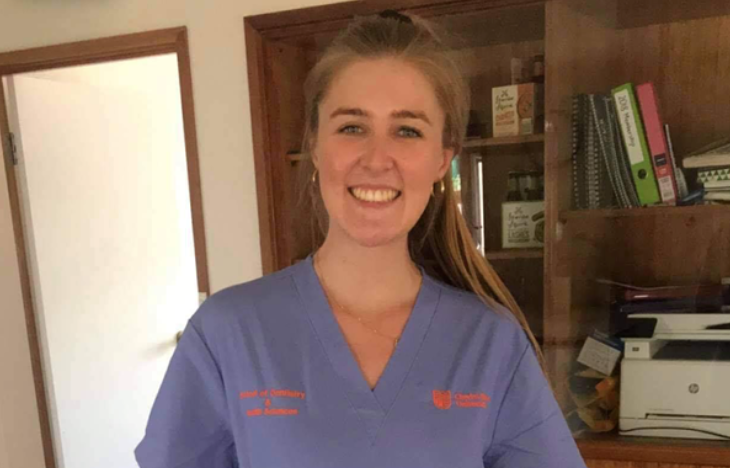 Personally, I experienced quite a lot of exposure to the dental world from a young age because I had, what is known as Class II Division 1 malocclusion. This means that my lower jaw did not develop as much as my upper jaw, which resulted in my top teeth protruding further out than my bottom teeth.
Apart from looking a bit dorky, this type of skeletal and dental abnormality can cause quite a few problems further on in life. So, from as early as 8 years old I started seeing a specialist for teeth and jaw function known as an orthodontist.
Unlike many children who very much dislike attending the dentist, I absolutely loved visiting the orthodontist! Usually seeing the orthodontist meant that every six months I got to have the rest of the day off school and McDonald's for lunch (thanks Mum). I loved it so much, in fact, that when adults would ask me what I wanted to be when I grew up, I said an orthodontist! Funny how things work out…
The Bachelor of Oral Health is offered only at Charles Sturt's Wagga Wagga campus and has a duration of 3 years. The first and second year of study is heavy on theory and practical skill building, where we attend simulation clinic every week to practice using our tools and completing fillings and such on mannequins with fake plastic teeth.
You wouldn't believe it, but these plastic teeth are bought from a vending machine in the dental building! No chocolate or lollies for us! In second year, we also begin seeing real patients in the Charles Sturt Dental and Oral Health Clinic. This clinic is open to all for your dental needs.
If you decide to visit us at the Charles Sturt clinic here in Wagga Wagga, not only are you helping fellow students gain valuable knowledge and skills, but check-up and cleans are FREE for all Charles Sturt students! Win-win situation! (Please note: any subsequent visits required will incur a cost if required).
Seeing as it is Dental Health Week, I thought I would share a couple of tips and tricks from someone who gets really nerdy about teeth and could help you with your oral hygiene routine at home!
1. Do not rinse your mouth out with water after brushing!
The toothpaste that you use to brush your teeth contains fluoride, which keeps the enamel on your teeth strong and prevents decay. By rinsing with water after your brush, you are essentially washing all of that away. Spit as much of the toothpaste out as you can, and try wait at least 30 minutes before rinsing, drinking, or eating.
2. Use a soft-bristled toothbrush!
Honestly, hard-bristled toothbrushes should only be used to scrub the grout between your tiles – I'm not kidding! Using a hard-bristled toothbrush, unless otherwise advised by your dentist, can cause irreversible damage to your gums by being too harsh. Imagine that removing plaque is like removing cottage cheese from your teeth – a soft-bristled toothbrush is all that is needed, but just needs to be used effectively.
3. Floss is more important than you think!
Before starting my degree, and even while I was a dental assistant, I thought flossing was a bit overrated. Since learning a little bit more, however, my opinion as changed… let me put it this way – it is physically impossible to clean between your teeth without floss or interdental brushes, which means that this whole area is getting missed.
So, while you're doing a fabulous job brushing twice a day, if you're not including flossing regularly, those areas are never being cleaned and will eventually be at risk of forming holes. Flossing also improves the health of your gums – if your gums are bleeding, it means they are not happy! Don't stop, keep flossing! Eventually the bleeding will subside, and happy gums will ensue.
What I love most about studying BOH at Charles Sturt is the positive impact I can have on someone by providing them with a service to the best of my ability. Building relationships with my patients so that they can leave with a smile on their face is something that I strive to achieve with each patient I treat, and I am amazed at how far I have come and how much I have learnt in the span of one and a half years. What I look forward to most about graduating is having the opportunity to make a difference in people's lives, however large or small it may be, through the improvement of their oral health.
So come and visit me or any of my fellow students at the Charles Sturt patient clinic at Wagga Wagga. And… all the best with your oral hygiene at home. Once again, happy dental health week, and don't forget to love your teeth and smile!
Want to hear another student's voice?