Written by Thomas Maher and Tahlia Tranter
Donating blood was never something I thought to do when I was younger. Since coming to Charles Sturt University, I have met people I call my good friends and going into my second year as a nursing student it has encouraged a newfound love and passion for donating blood and plasma.
As a uni student, I have donated four times, both plasma and blood with a fifth donation booked in a couple weeks. I didn't expect to feel like I was changing someone's life as much as I did at my first donation.
How it all started
Over the summer session of university my friend and I heard about the Mobile Donor Centre coming to Charles Sturt University Bathurst. We made the split second decision to donate blood but realised we missed the centre by a day. I knew I still wanted to give blood and had my heart set on giving back to the community.
I booked the date online a few weeks in advance to help overcome the nerves and prepared for the 45 minute trip to Orange to the Red Cross Lifeblood Donor Centre.
The process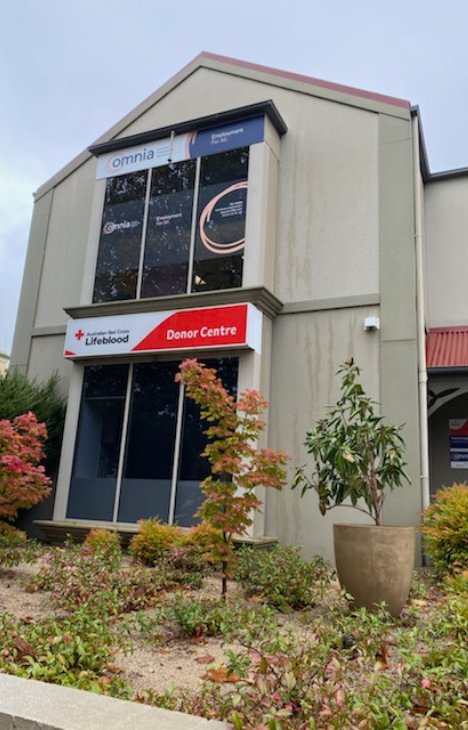 In the days leading up to the donation, Red Cross Lifeblood sent me a message via your phone number outlining some important steps I had to follow.
These instructions made sure I was drinking up to 10 glasses of fluids the day before and eating savoury foods. I also had to drink 750ml of fluids around 3 hours before arriving at the centre.
Upon arriving, the staff welcomed me and politely asked me to complete a quick and easy questionnaire that went through certain questions about my health history and general welfare. They then took me into an interview room where they completed some basic vital observations and discussed what the process would be when I got in the chair.
When giving blood, the nurses sat me in the big chair and set up all the equipment and before I knew it, I was ready to give my first donation of blood.
Breaking through my first time jitters
Of course, I had some first time jitters. Even though I am a second year nursing student I did have some nerves I wanted to address.
Ironically, my biggest worry was the needle. I had heard the needle was large and prior to the donation my only experience with needles was through immunisations and anaesthetics. I know a lot of people may be in the same boat or have a fear of needles. It is safe to say my fear was all in my head.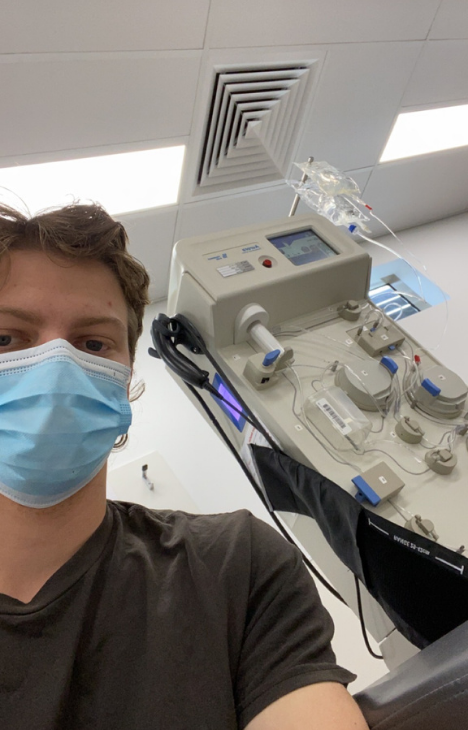 The nurses were helpful in all aspects of the donation. They helped me relax and get comfortable before the needle was inserted. The nurse's communication skills put me at so much ease, that I totally disregarded the needle entering my arm.
My second worry was the stigma around the aftermath of the donation. People had told me that I would expect to feel fatigued and sick. On the way home and for the rest of the day I did feel fatigued, but I had no signs of sickness. I went home and slept for the day.
Going back for the second time was made so much easier due to the level of support and comfort the nurses had, not only for me, but every donor that comes through. Donating blood and plasma gives me a feeling that I'm making a difference in someone else's life. This feeling is also provided to me when I receive messages from Red Cross saying my blood is being used to help patients in need.
Making appointments for future donations is so much easier than people think. Anyone can make a booking through the Red Cross Lifeblood app or through their website.
The benefit of donating blood is so much more than just a feeling. You have the ability to save multiple lives and help many families in need.
Donating blood is so much more than a feeling. It's giving someone hope. It's giving someone an opportunity for a second chance. It's changing people's lives. It's why I give blood.