Charles Sturt Orientation is just around the corner! This is your chance to ask questions about your course, immerse yourself in university life, meet your support crew and connect with other students joining you on your study adventure.
After a longer than expected break from on-campus happenings (thanks, COVID-19), Charles Sturt University has eagerly penciled in Tuesday February 22 to Friday February 25 as your on-campus Orientation Week. And for online students, your Orientation Week will take place between Sunday February 13 and Sunday February 27.
What is especially exciting about this year's Orientation is that online students can now attend non-academic on-campus Orientation at their nearest Charles Sturt campus!
So, if you are feeling overwhelmed – understandable, of course – here is a rundown of this year's Orientation! And if you haven't registered for all Orientation happenings, don't stress as we will also break down the importance of your Student Portal.
On campus you will find…
Charles Sturt has prioritised 'student experience' events to really amp up the atmosphere for Session 1.
Albury-Wodonga
The Gums Bar will kick it all off (Tuesday February 22) with 'Aussie Icon Trivia'.
Wednesday February 23 has a 'Sunset Cinema' and 'An Afternoon at the Weir' as scheduled events. Afterwards (Thursday February 24), it will be time to head back to The Gums Bar for 'Pop Culture Karaoke'.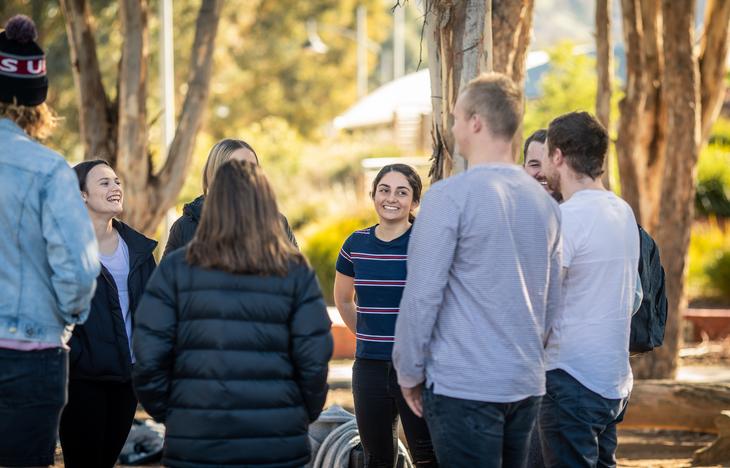 Just like Port Macquarie campus, Albury Wodonga's Orientation will conclude (Friday February 25) with an Op-Shop Formal.
Bathurst
Market Day (Tuesday February 22) will set up the Orientation experience at Charles Sturt Bathurst campus. This will be followed by Afternoon Bowls at The Greens on William and Drag Bingo at Rafters Bar.
It will be the Library Lawns turn to provide the fun on Wednesday February 23 with 'Dinner and Movie Night'.
On Thursday February 24, Pulse Cafe will host 'Breakfast with the Birds'. Then it's time to pull out the white t-shirts for the 'Colour Run' on Union Oval and a 'Snitty and Trivia Night' at Rafters Bar.
The final day of Orientation (Friday February 25) will be back at Rafters Bar with Bathurst's traditional 'Dag Night'.
Dubbo
A 'Meet and Greet Pizza Night' at Down The Lane and a Zoo Tour on Thursday February 24 are the student experience events scheduled for our Dubbo campus.
Orange
Student experience events at our Orange campus start on Wednesday February 23. Robertson Park will host an 'Amazing Race'. There'll be Drag Queen Bingo at The Carrier Arms Hotel as well.
After a pleasant 'Breakfast on the Deck with Leaders', the Templers Mill Bar will host the C, S or U Party on Thursday February 24.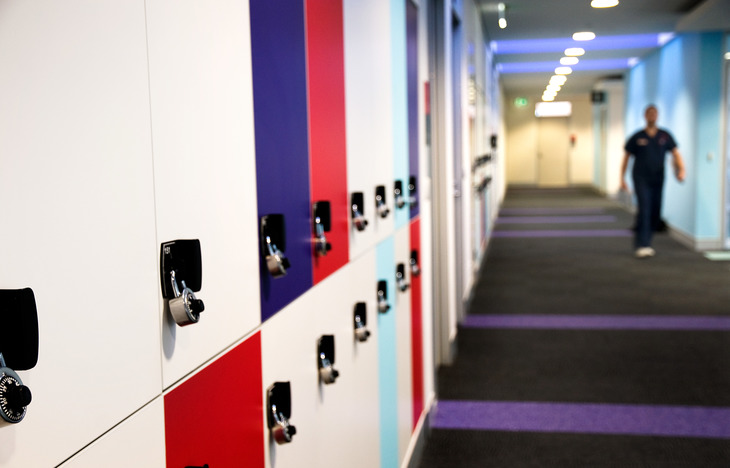 Port Macquarie
Like Bathurst, Market Day (Tuesday February 22) will set up the Orientation experience at Charles Sturt Port Macquarie campus.
The following day (Wednesday February 23 as well as Thursday February 24), students can truly treat themselves to beachside living with a Sunset River Cruise located Cruise Terminal/ 77 Clarence St. Don't forget about 'Cinema by the Stars', Stoney Aqua Water Park (as well as on Thursday February 24) and Learn to Surf experiences.
Thursday February 24 has 'Beach Games' planned at Tuppenny Road and a Retro Film Party Trivia.
To finish up the week, students can join Paintball at 4 Bill Hill Road, activities at the Billabong Zoo and Daggy Op-Shop Formal at Port Macquarie Race Course.
Wagga Wagga
Students will be greeted in style with an 'Orientation Carnivale' on The Deck Lawns (Tuesday February 22).
Orientation leader Tyla Cavallaro said, "We will have musical trivia (Wednesday February 23) where students will have the opportunity to dress up as their favourite icon. There's a sports championship (Thursday February 24) where students undertake team challenges."
"Thursday February 24 will also include a planned market day. Several clubs from around the uni and local businesses from town set up stalls for stalls for students to interact with and become more familiar with Charles Sturt and Wagga simultaneously."
Make sure you free up Friday February 25 as there will be a Paint Party at Beres Ellwood Oval and 'Crowback to the 90s' hosted at The Crow Bar.
As mentioned previously, these non-academic related events are open to both on-campus and online students.
Academic sessions available to online students
During Orientation Week (Sunday February 13 to Sunday February 27), online students are given the opportunity to talk all things course related during scheduled Zoom sessions.
For instance, if you are a Bachelor of Exercise and Sport Science student, you can find out everything you need to know about your degree. Your course director will cover your online learning environment, subject expectations and outlines, and where to find help. This is scheduled for Tuesday February 23 between 10am and 11.30am.
But if you aren't a Bachelor of Exercise and Sport Science student, don't fret. Charles Sturt has scheduled sessions like this for all kinds of courses. To find out when yours will take place, and to register, visit your Student Portal.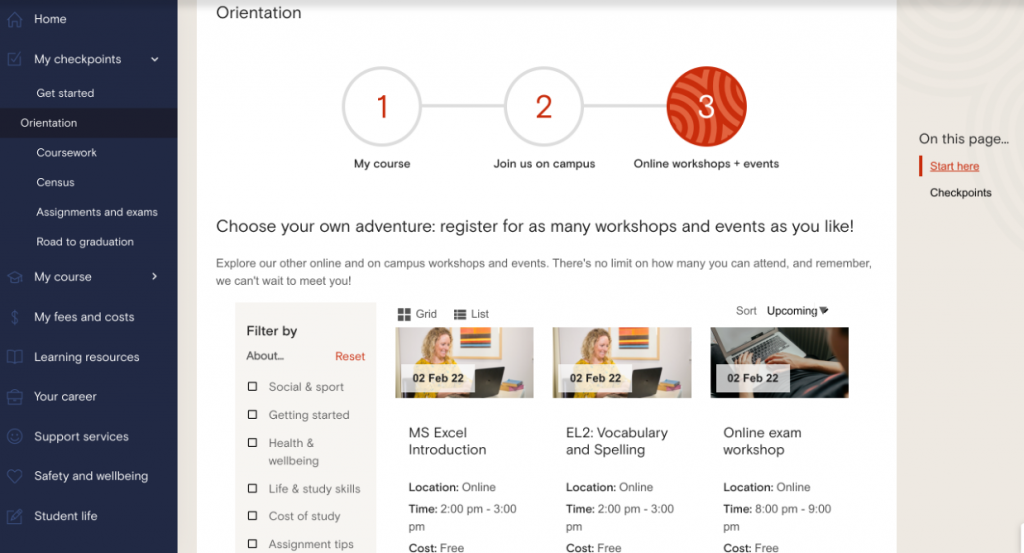 Academic sessions available to you on campus
Just like our online students, on campus students can also give themselves the upper hand by attending a Faculty Course Orientation Session.
For instance, if you are a Port Macquarie student who studies a Bachelor of Information Technology, you can attend a face-to-face information session on Tuesday February 23 at 11.40am to 1pm.
Charles Sturt's Orientation team has ensured every kind of student can find there course information session and register for it in the Student Portal.
Before attending orientation
We understand some students may feel uncertain about the changing COVID-19 landscape. But rest assured, Charles Sturt has implemented a range of COVID safe measures:
From January 1 2022, all students, staff and visitors must be fully vaccinated. As a Charles Sturt student, you need to complete the vaccination status form before attending a Charles Sturt location.
Regular cleaning and use the of QR codes to check into buildings will be present throughout Orientation. Showing proof of vaccination as well as wearing a face mask in indoors setting is also a must.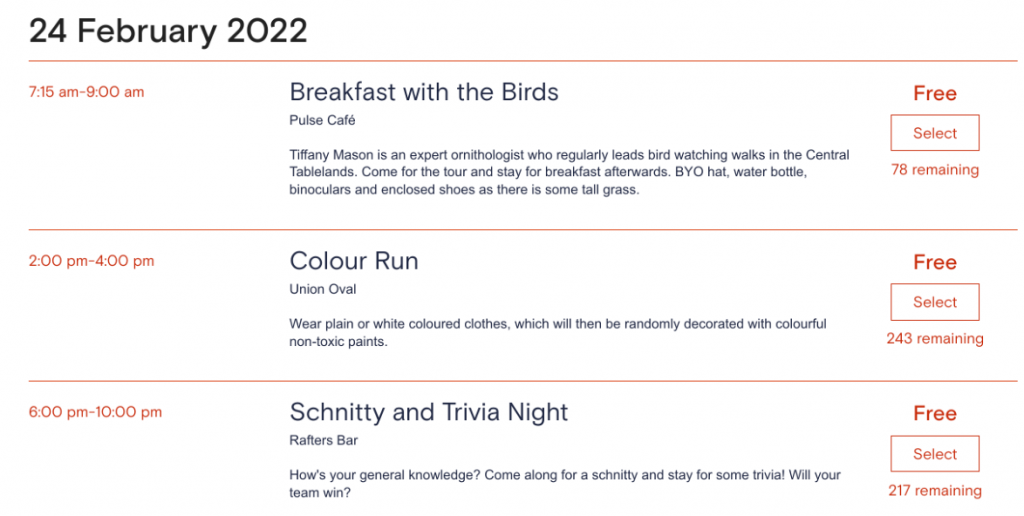 What's next?
For more information about this year's Orientation Week and to register for certain on campus events or online sessions, visit your Student Portal.