by Jenna Verhoeven
If you're lucky enough to have no classes over summer, don't go putting your brain into hibernation just yet! It may end up being harder to return to study in Session 1, so here's how you can keep your brain fired up while still enjoying the break:
1) Learn a language
We are global citizens. Not only does knowing another language make ordering a beer in Spain easier, it may also help you get ahead of your fellows once you graduate. People who take up other languages are more likely to have improved conversation skills, increased focus and commitment, and exhibit better study skills.
How to start:
Find a friend or family member who speaks the language you want to learn and offer them a service in exchange for lessons.
Sign up for a community course such as TAFE, Community College or specific language schools.
A free app like Duolingo. I've just signed up to learn Dutch. It's easy and effective.
2) Get a new hobby
Last summer, I was lucky enough to live on a property with a large backyard, so my partner and I took up gardening.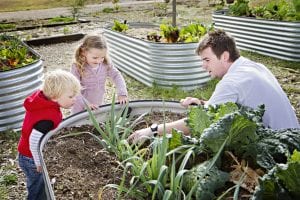 We bought a few books, read some websites, and became regulars at our local gardening shop.
My partner built raised garden beds and I became a mean composter! Unfortunately, we weren't that successful but for those four months we learnt a lot about soil, pests and plant food.
Learning a new hobby means learning new skills, which helps keep your brain young. Plus, choosing a hobby that is social or outdoors comes with the benefits of socialising and getting fresh air.
3) Brain training apps
I spend a lot of time on my phone, so while commuting I use the time for brain-training or meditations. There are a myriad of apps for brain training.
I personally like Peak as it has a variety of tasks that help to improve different skills, such as language skills and emotional intelligence. I find by switching up the task my brain is doing, it prevents monotony and helps me feel more focused when I get back to the task at hand.
So, whilst it's totally okay to binge Netflix over the holidays, also consider doing some of the above activities. They will help you transition back into Uni and improve your study skills!