Most people have one – a smartphone.
You probably use it to send messages, make calls, take pictures, send email, browse social media, and spend hours on those annoyingly addictive games. It's time to start using your phone smarter, convert those hours browsing social media and playing games into productive study sessions!
Here are some apps I find crucial for study (especially if you are studying online):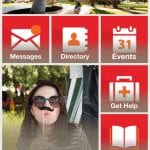 CSU2 Mobile App
This app gives you access to your messages, news, events, help services, the library and much more. It is available for iOS and Android devices and is free so go check it out now!
Stay on top of due dates, collaborate with teachers and fellow students in the forums, read through course material, and stay up to date with announcements. It is available for iOS, Android and Windows devices and works in conjunction with the CSU2 app
With Lynda 'learning has no limits'
With apps for iOS, Android, Windows, Desktop, Roku, and Apple TV you can learn anywhere with Lynda! As a student, you have full access the training library! Learn more about Microsoft Office (which you get free by the way!), writing a resume, mastering common interview questions, job searching, photography, the list goes on!
Microsoft Office Apps
Word, Excel, PowerPoint, Outlook and OneNote are all available as apps on iOS, Android and Windows devices. You can download them for free and sign in using your free Office 365 account provided by CSU. You can keep notes, jot down ideas, organise your life with Outlook calendars, or even review that assignment you were writing.
Now some might say "why do I need a separate app to read pdf's my phone already does that!" Well, I am here to say download this free App now! Adobe Acrobat allows you to access pdfs from a variety of cloud applications, edit text, highlight and make comments on a pdf! Now all of that is super handy for catching up on readings on the go! Available on iOS, Android and Windows.
Cloud Storage Apps
DropBox, Google Drive, iCloud and OneDrive are all cloud storage apps that will help you sync and backup your data. Having these apps installed on your computer and your smart phone allows you to effortlessly access documents while on the go. OneDrive is included in that Office 365 account we talked about earlier, which means you get 1TB of storage space to use to keep backups of all that valued uni work! No more worrying about losing or breaking a USB! And for those that don't know what 1TB (terabyte) is, it is a lot! I would be very surprised if you managed to fill that up during study. Most of these are available on iOS, Android and Windows devices.
Flashcards
Brainscape is a highly rated Flashcard app to help you memorise key facts and figures. You have the option of using the free account and creating your own flashcards to help you learn or you can opt for the subscription options which gives you access to hundreds of premium classes with readymade content. Brainscape is available on iOS and Android devices.
So, there you have it! Seven apps to help you use your smartphone smarter. Download them today to make your study truly portable.
Also, make sure you check out the CSU Library's guide for using Mobiles for Study and Research.