by Loren Howarth
After a long day at uni you're probably feeling hungry, but also don't want make a mess in the kitchen (because you don't want to clean up). Don't worry though, these recipes are cheap, simple and taste pretty good too!
Cook for yourself or team up with your roomies to create one of these feasts.
Serves 2
Ingredients 
120g egg noodles
1 Tbsp butter
¼ tsp crushed red pepper
1 large egg
1 Tbsp brown sugar
1 Tbsp soy sauce
1 Tbsp sriracha (or replace with your favourite hot sauce)
1 handful fresh cilantro
1 sliced green onion
Optional: cooked meat or more cooked vegetables of your choice.
Method
Boil the noodles according to the packet instructions.
While waiting for the noodles to cook, prepare the sauce. In a small bowl stir together the brown sugar, soy sauce, and sriracha.
In a large pan, melt the butter over medium heat. As the butter melts, add the red pepper. Whisk an egg in a bowl and then add to the melted butter mixture. Stir gently and cook through. Turn off the heat once the egg is cooked.
When the noodles are soft, drain the water and add them and the sauce to the pan. Add the cooked meat and other vegetables. Gently stir everything together to ensure it's mixed thoroughly. Sprinkle the sliced green onions and cilantro leaves on top and serve!
Tomato and Spinach Pasta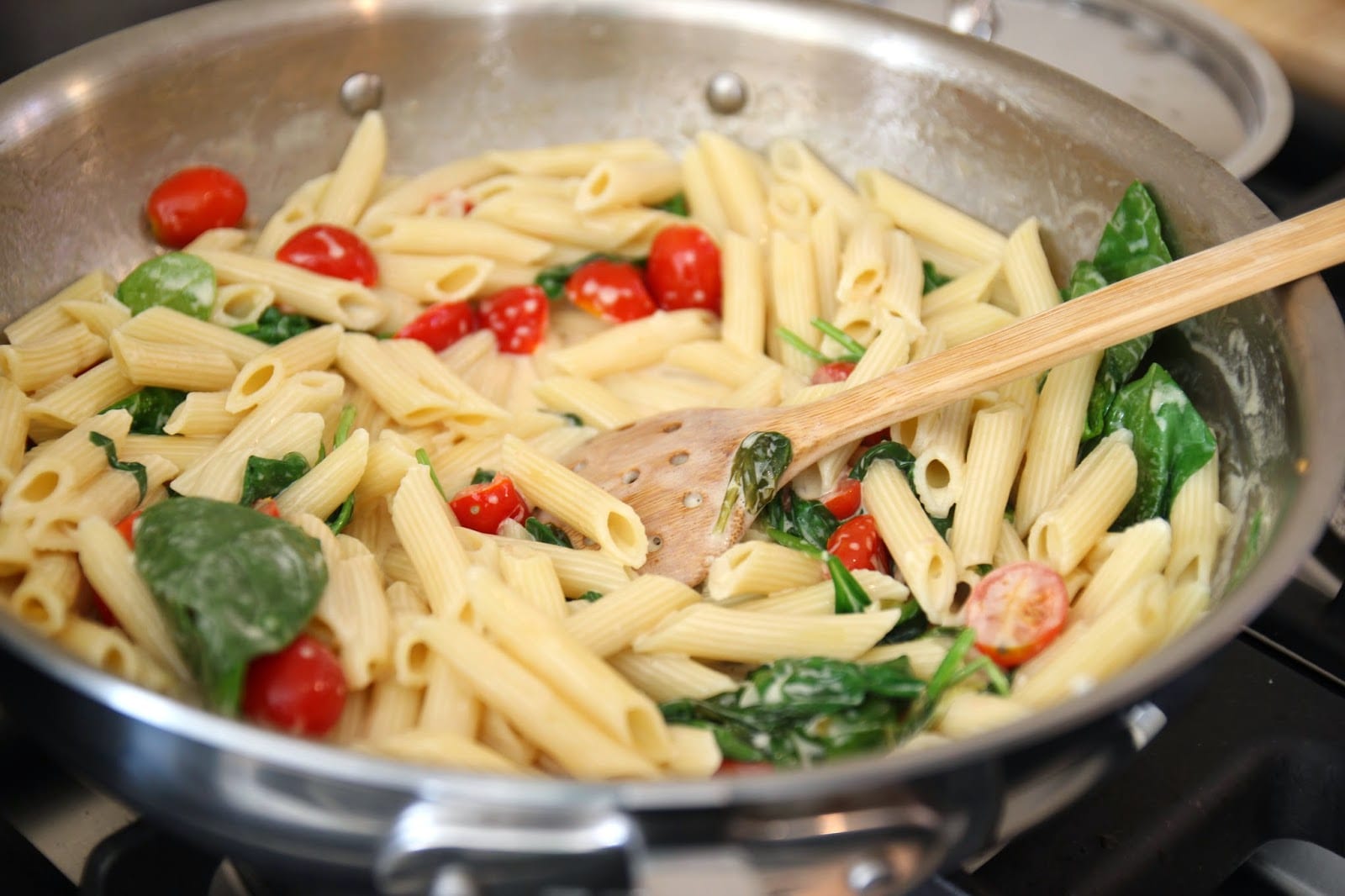 Serves 2
Ingredients
200g pasta of choice (penne is great for this dish)
½ small red onion
1 garlic clove (or 1tbsp minced garlic)
½ tbsp olive oil
¾ can diced tomatoes
2 tbsp tomato paste
30g cream cheese
¼ grated parmesan
1 cup baby spinach leaves
salt and pepper to taste
Method
Cook pasta according to packet instructions. Once cooked, drain.
While the pasta cooks, dice the onion and mince the garlic. Heat olive oil in a large pan over medium heat with onion and garlic until soft.
Add the diced tomatoes and seasoning to the onion and garlic mixture. Stir to combine. Add the tomato paste and ½ cup water to the pan and stir until the tomato paste has combined with the sauce.
Turn the heat on low for the mixture to simmer. Cut the cream cheese into small pieces and add to the pan. Use a whisk to ensure that the cream cheese melts and that the sauce becomes creamy. Add half of the parmesan cheese to the pan and whisk until it has melted. Repeat with remaining parmesan.
Add the fresh spinach to the mixture and gently stir until it has wilted. Add pasta to the mixture and stir until coated. Serve.
Chipotle Chicken Stuffed Sweet Potato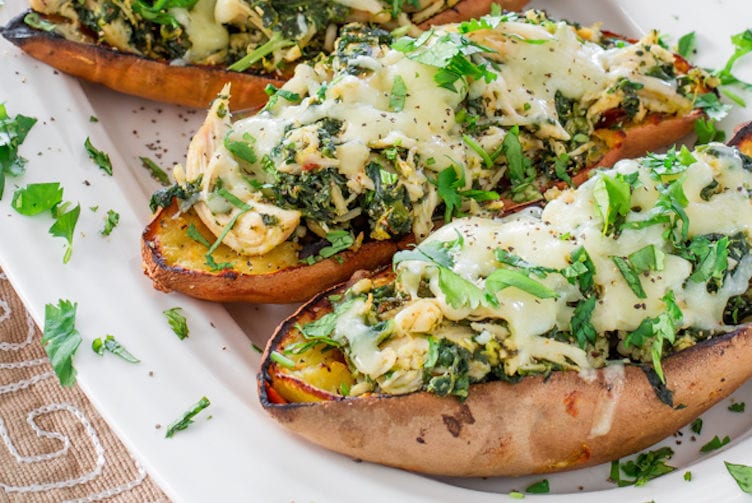 Ingredients for 2: 
2 sweet potatoes, washed
1 small chicken breast
1/3 cup olive oil
juice from 1 lime
1 clove garlic (or 1 tbsp minced garlic)
¼ chipotle pepper in adobo sauce, chopped
½ tsp dried basil
½ tsp cumin
½ tsp chilli powder
1 cup frozen spinach, thawed (alternatively, use 1 cup freshly chopped baby spinach leaves)
½ cup shredded cheddar cheese
Method: 
Preheat oven to 180 degrees Celsius.
Cut the sweet potatoes in half and prick them all over with a fork and place on a lined baking tray. Bake for one hour or until soft. Once cooked, take out of oven and leave to cool.
While the sweet potatoes cook, place the chicken in a baking dish and rub with a tbsp of olive oil. Cook in the oven for 30 minutes, and turn over half way through. Once cooked, shred with a fork.
In a small bowl, combine olive oil, lime juice, garlic, chopped pepper, basil, cumin and chilli powder. Set aside.
In a separate bowl, toss the spinach and chicken together.
Set the oven to 200 degrees Celsius. Remove some of the flesh from the sweet potatoes, leaving enough so that the peel can stand on its own. Brush the skins with a little bit of the chipotle sauce and bake for 5 minutes or until crisp.
Now place the spinach, chicken and chipotle sauce into each potato skin and top with shredded cheese. Bake until the cheese has melted. Serve.