Written by Jason Taylor
Playing sports can be a significant part of your uni life, with benefits to your social skills, overall health and well-being.
The Sports and Blues Awards at Charles Sturt University recognise and celebrate the sporting achievements of sporting clubs, teams and student athletes.
Have you ever wondered how you can balance studying with sporting championships?
Jason Taylor shares his story on how he did just that, advancing his tennis career to its fullest while studying at Charles Sturt University.
This story begins in Europe, so buckle up, close your eyes and take off to the land of European tennis!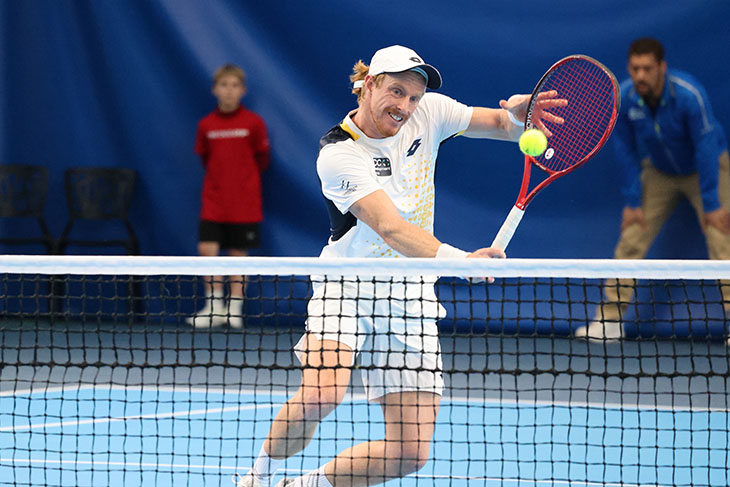 ---
The European season started much earlier than expected, wanting to escape the traditional mundane start of the year playing in Australia until April.
Traditionally, Europe has a very rich history and the culture, atmosphere and crowds around tournaments are more player friendly at all levels of professional tennis.
It's understandable enjoyment wasn't occurring playing a professional tournament while entertaining the occasional magpie and kookaburra sitting out the back on the old gum tree.
I decided to part ways with my doubles partner of 10 years, my older brother, and chase the dream alone or at least testing different partners and trying to expand my game to another level.
Portugal was the first stop where I played and stayed with an old friend Goncalo Oliveira for 4 weeks.
Changing partners proved difficult initially losing the first 3 matches we played. We eventually weaved together some magic and turned it around to win the forth tournament without dropping a set. The win was important but not near as important as the lesson learnt, trusting my partner's ability – this would prove a valuable lesson.
That same week I receive a message from the current Wimbledon Doubles champion, Max Purcell. "Lille Challey Doubs?" he asks. Out of surprise I reply "You want to play with me?!"… Max replies "yeah sure why not".
You'd understand my surprise when a Wimbledon Champion asks to play doubles with me. I visualise winning the tournament with Max for the next two weeks, even down to the draw that we would receive.
My brother has decided to take the week off from playing to come coach and give some guidance as he has some experience playing on tour for almost 15 years. The draw comes out, we play a wild card pair; a doubles pair that I had lost to twice only two weeks prior. Obviously, I start the match a little nervous.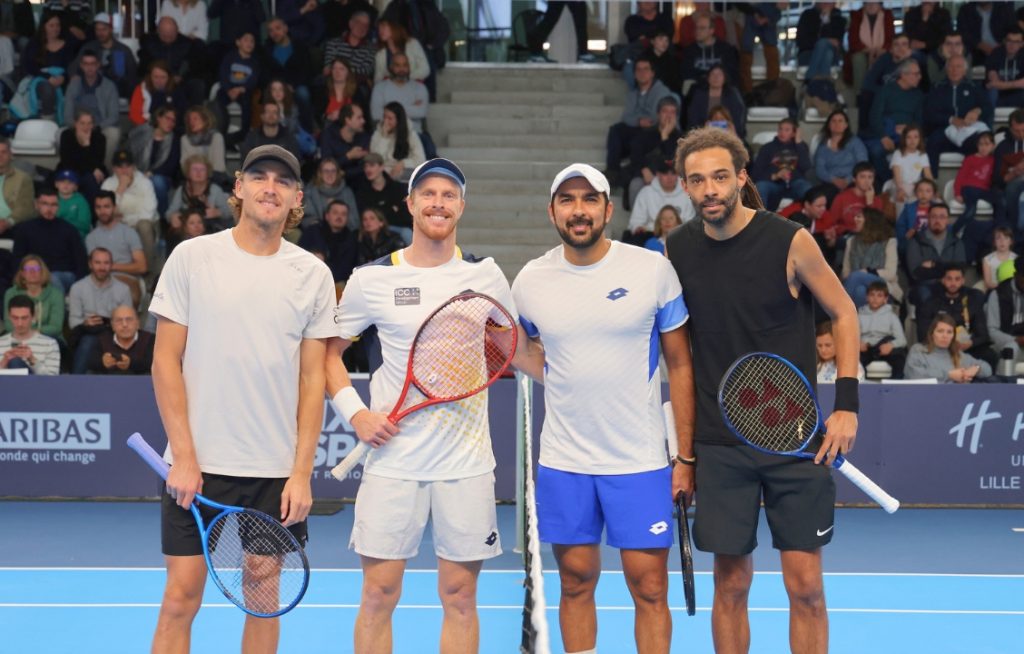 Max calms me down with a few jokes and some advice for the opponents. This helps me settle in quickly and before I know it we win 7/6, 6/4. The quarter final we play the number one seeds.
I overhear an interview with Max: "You have the number 1 seeds next how do you think you will go?". Max replies in a calm and confident voice: "I'm the best ranked player here and Jason is playing some good tennis, we are confident but cautious".
Max takes the reigns early on in the match blasting a return to break down the line off the opponent who stands at 203cm and serves at over 230km/h, I begin to feel confident in my ability.
However, the last game I dove for a volley, placing my left arm to break the fall and feeling my left shoulder pop out then back in.
I am dazed, and confused.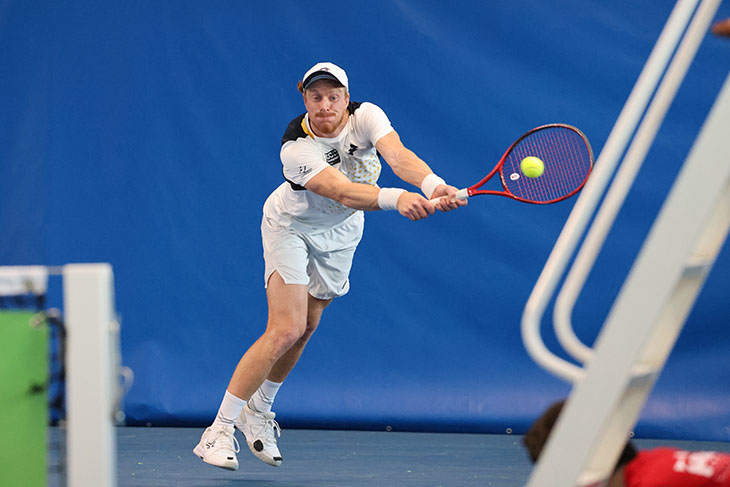 Max clutches the win serving 3 aces to finish the match 6/4, 6/4. I shake hands and go straight to the physio who tells me I've subluxed my left shoulder.
Lucky – as I play with my right hand, it's uncomfortable, but I can still play. The semi final is played on centre court in front of 200-300 people. I play one of the best matches of my life reacting and deflecting any balls that come my way.
I'm feeling super comfortable now cracking jokes with Max. It's a tight tussle, but we take them down 6/4 3/6 10/7.
My first ATP final!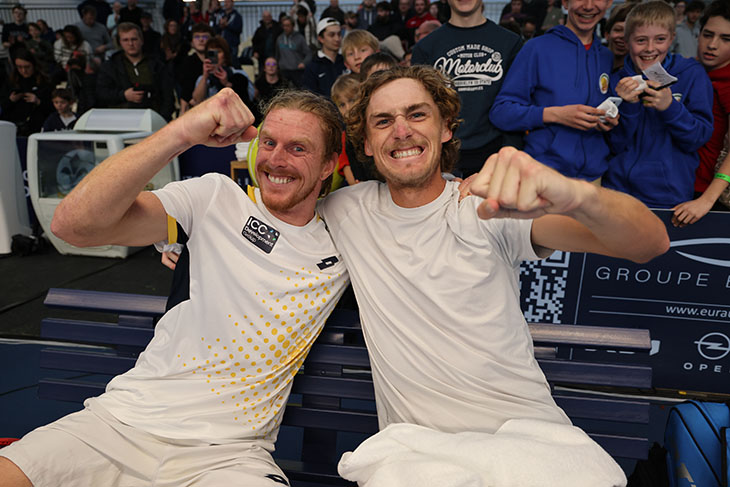 The final is against veterans of the game that have been ranked as high as 8 in the world… We both walk out to a crowd upwards of 400 people.
I am smiling and cracking jokes like it's a Sunday afternoon BBQ and a ball hasn't been hit. This is why I play tennis to entertain, to feel the aura of the crowd.
I have a few close friends from Belgium that have previously housed me and my brother while travelling the lower tiered tournaments 8 years prior where the money is minimal, and the costs are high.
To start the match, I'm a little tense and forget the enjoyment factor as we go down an early break.
Max gives me some support "No worries mate, straight back here". These are the words I need. I step back and remember to smile. If I'm smiling, enjoyment follows. We immediately break back and move into a tiebreak.
With the momentum, I'm dashing to the net like a kelpie taking any ball that comes my way and we take the set 7/6 (3). The second set moves along comfortably. We take an early lead and don't look back to take the match on a double fault from the opponents.
My first ATP title!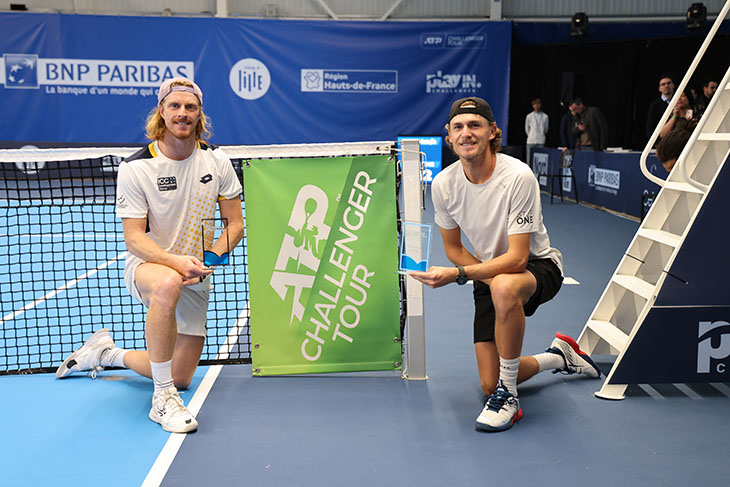 To do it with someone I have known for 10 years is very special. I celebrate with my family friends and brother with a glass of French red. I head into the city to finish off the night. I wake up in the morning ready to do it all again for the next 30 weeks of the year.
This is just one week on tour.
Combining professional tennis with study is taxing but rewarding. Thanks to Charles Sturt University, the new Sports & Blues Awards and the elite athlete scholarships. This helps provide financial assistance but also recognises the success achieved by student athletes.

Charles Sturt University athletes know the support is right behind us.
A final note.
Thank you Jason for sharing your wonderful experience.
Nominations are now open for the 2023 Sports and Blues Awards closing on October 13. To find out more or nominate, click here.
Contact charlie@csu.edu.au
Want to hear another student voice?