Are you a commencing Session 3 student or a student who is continuing their studies in Session 3? We have got an opportunity for you.
The Social Club is offering events for all Charles Sturt students to attend and participate in!
Orientation Week is a great time to slide yourself into 'go' mode before the Session commences! Although Orientation Week is all about getting the right information, getting settled in and starting your journey with Charles Sturt University, this week is also about having fun and meeting new people! The Social Club at Charles Sturt University is the best way to provide students of all ages and areas to engage in an hour of socialization and fun!
For Session 3 Orientation Week, The Social Club are providing two events for all Charles Sturt students an opportunity to have fun, meet new people and for the chance to win! For these events The Social Club is hosting a club-first style of game night with 'You Choose What We Play!'.
The Social Club has a great range of games to play! However, there is only time for one on the night, so you have to be there to pick the game, play against other students and have the chance to win! There is a massive $425 prize pool of Prezzee vouchers up for grabs, with the winner scoring a cool $150 voucher!
The games on offer are Kahoot, Bingo, Pictionary (both events) and Jackbox (available as an offer for Friday's event only).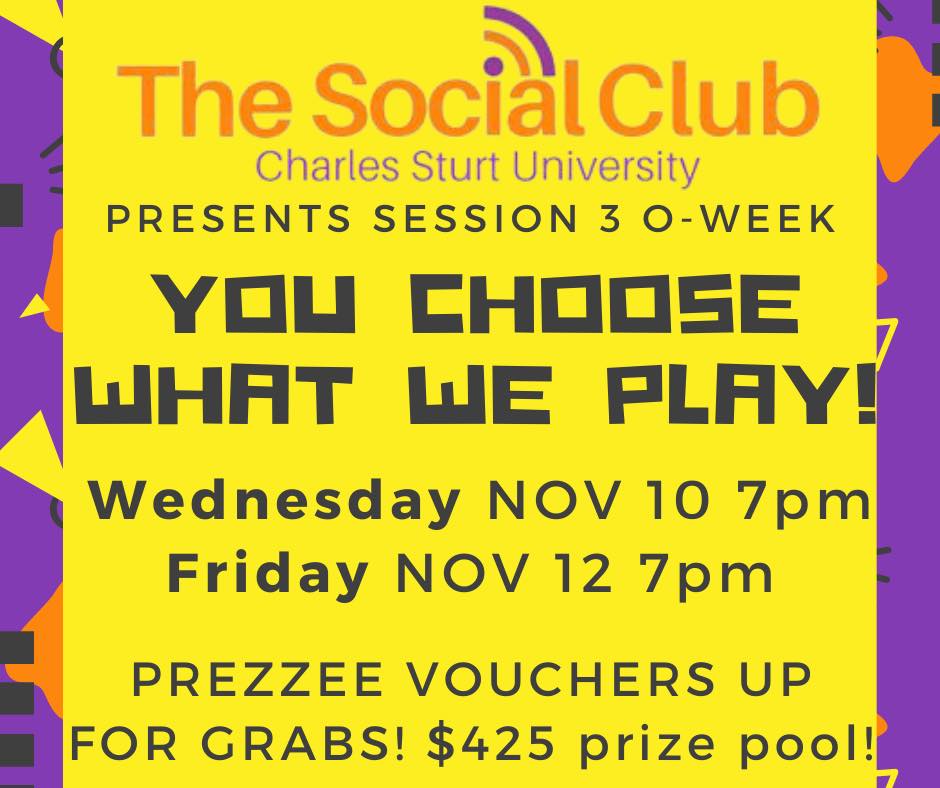 The Games
Kahoot
Kahoot is a classic trivia platform and is one of our favourite games. Grab your phone, tablet or laptop and have your fingers or mouse ready to press the correct answer on your screen. But you will have to beat everyone else to claim that converted Number 1 spot.
Bingo
Bingo; the classic game of chance. Get ready and start marking off your numbers. Always close, always fun, and sometimes tantalizing when you want that number to come up. Bingo is a great way to spend an evening with your fellow peers.
Pictionary
Pictionary is the simple sketching game that requires players to guess the drawer's artwork before the one minute timer ends! Regardless if you have an artistic hand or can't draw, it is a classic race against the clock!
Jackbox
Jackbox is a fun collection of mini games for 6-10 players depending on the game! If you miss out of a spot in the main game, the audience still get to participate so there is room for everyone to enjoy! All you need is a mobile, tablet or laptop as your controller and you are set! Need some more information on Jackbox? Watch a short video
When are the events?
Wednesday 10 November 2021 at 7pm. RSVP here
Friday 12 November 2021 at 7pm. RSVP here
Join in on the fun! Meet new students!
Need more information, have a question or idea? Email socialclub.csu@gmail.com
Written by Chantelle Walsh