You don't have to be a genius to know that life is journey. Just think of all the ups and downs, highs, and lows you've experienced to get to where you are now.
And it is no lie in saying that the older you get, the more choices you must make. So, your choice to study at Charles Sturt University may be seen as a productive decision, edging you closer to one of your life goals.
This is the case for Bachelor of Communications (Sports Journalism) student, Jordan Treloar, who wanted to gain industry experience during his studies. Jordan successfully applied to join the team at Charlie. What Jordan experienced here is an element of professional development, of which he says has been most rewarding.
"It has given me the opportunity to write for a publication and learn and perfect the craft of being a journalist, which is so valuable… Not only is it a good thing to have on a resume but also gives me the knowledge to go into the workforce and perform at my very best."
Jordan is now completing his final subjects and already applying for roles with his new found confidence.
Unravelling the art of professional development
The Careers and Skills Hub encourages Charles Sturt students to take future-ready action just as Jordan did. This is formally known as professional development, and includes self-directed learning with the purpose of benefitting your future career endeavours.
Professional development is more important than just strengthening your workplace knowledge, skills, and abilities. It can lead to promotions, increased responsibilities and income, as well as improved practice.
Planning for the best version of yourself
To get the most out of professional development, the Careers and Skills Hub recommends you plan what you could do against your current life circumstances and goals.
As helpful as this advice is, it is also important to remember the 70:20:10 model of learning. Simply, what this means is:
70% of your learning is gained through experimentation on the job.
20% of your learning is through exposure to other people.
10% of your learning is through formal education, such as school or university.
So, even if you precisely plan your professional development, there is a lot of learning you will experience from things you cannot plan.
The Careers and Skills Hub have been kind enough to share an ideal system of planning your professional development. Take a look for yourself…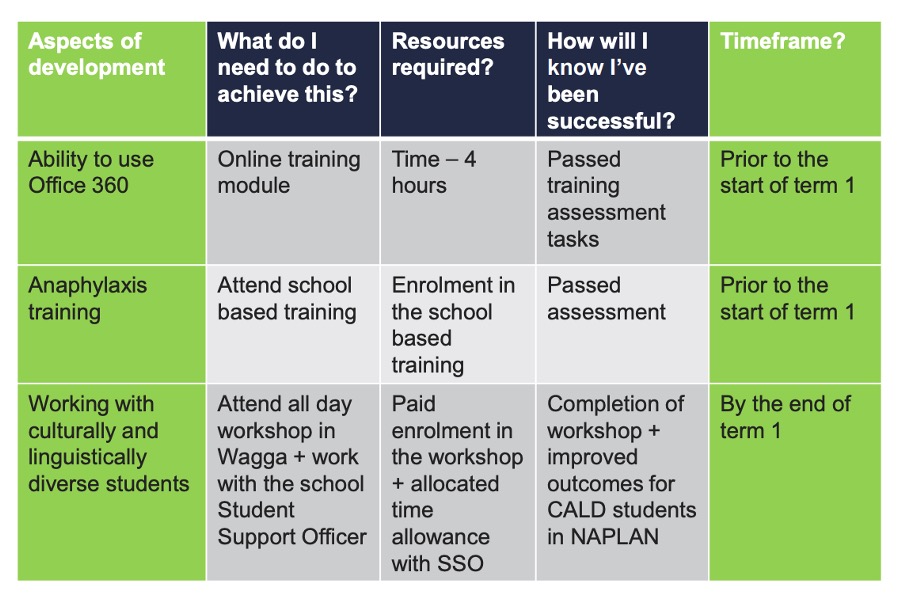 Of course, a plan as intricate as this would not be possible without insight into the cycle of professional development:
Identify development
Source development
Develop action
Undertake development
Record outcomes
Evaluate outcomes
Review
Plan
Confirm
Take all you can get
Here are some ideas you could use in your professional development:
Follow industry experts online.
Commence further study, whether that be TAFE or university.
Make use of the resources at Charles Sturt's Careers and Skills Hub. They are available to you up to one year following your graduation.
Check out Charles Sturt's STRIVE program.
Utilise LinkedIn Learning courses.
Get involved in volunteering.
And don't forget that even if you are succeeding your chosen industry, that doesn't mean your professional development has to stop there. Look out for:
Human Resources, Learning and Development departments
feedback from supervisors or colleagues
mentors within the workplace or industry.
For more information and tips, register for a free workshop hosted by the Careers and Skills Hub.