Spending time in the garden, being water wise, conserving energy and understanding what you can put in your recycling bin – these are some of things you can do to better educate yourself and your community about sustainability.
Speaking of things you can do, there are a whole range of opportunities coming up at Charles Sturt. Here's a snapshot of what you could get involved in!
At our Wagga Wagga campus
As a part of the Turf Reduction Project, volunteer students (and staff) helped plant 4,200 native grasses over eight hours as a way of lessening our future water usage. This event took place on Wednesday 28 April, around the lagoon surrounding buildings 18 and 20, near carpark 24. It was a perfect sunny day with planting commencing at 7.30am and finishing at 2pm. Volunteers were encouraged to stay for as long as they could. Even 30 minutes was appreciated.
Later that day was an hour long 'Walk and Talk' event held by The Wagga Wagga Campus Environment Committee, better known as the Environmental Action Group Ensuring Restoration and Reconciliation (EAGERR). Students met at the winery, carpark 55, wearing walking shoes, a hat and warm clothing.
The itinerary was:
Meet at the winery car park at 2.45pm to check in for a 3pm departure
Walk down hill to the tree plantings and the WWII RAAF plane crash memorial
First Nations story about the two sister hills
Walk back up Mambarra Drive and discuss woody weed management
Walk to the Cobb Laboratory site
Back to the winery approx. 4pm to socialise and try our vintage wines.
Attendees had the opportunity to socialise over a glass of Charles Sturt's best wines at the Cellar Door afterwards!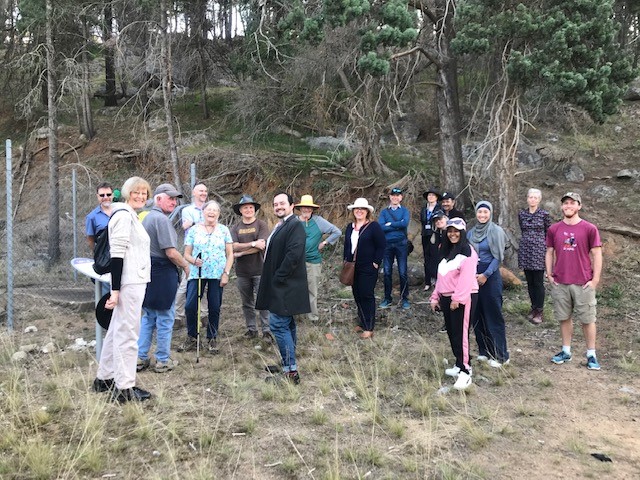 Big shout out to all our students who attended but in particular Pershika Wagle, Mia Atkinson and Mitchell Rae who came to both events – champions!
If you are interested in future 'Walk and talks' or the upcoming winter tree planting days let us know via email at sustainability@csu.edu.au
Wagga's green thumb
Wagga will hold a second tree planting day in winter. In partnership with the local Sikh community, students will be encouraged to improve native corridors across the farm landscape with a mix of native trees, shrubs and grasses. So, keep your eyes and ears peeled for more information of this event soon.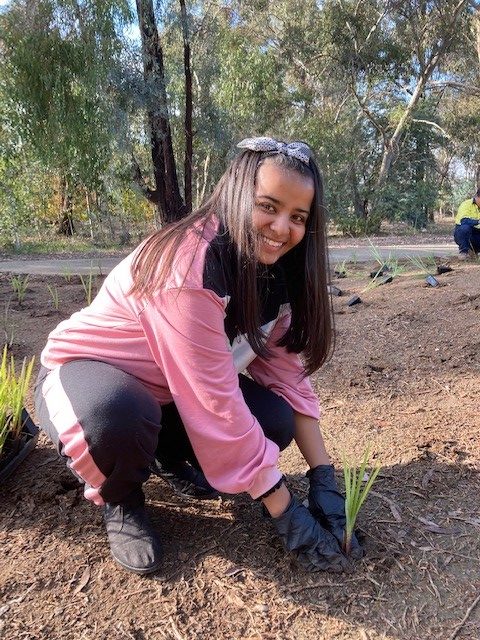 At our Orange Campus
On Friday 30 April and Saturday 1 May between 9.30am and midday, Orange hosted a tree planting event and Open Day. Approximately 498 seedlings were planted including 67 planted by the First Nations year elevens on the Wednesday before who were just there for an hour. So that's 431 yesterday morning, which is pretty amazing. A total of 39 volunteers helped out across the two day to improve instream and adjacent paddock wildlife habitat. How exciting!
If you are keen to be involved in the Campus Environment Committee or the Summerhill Creek care group, get in touch with Agriculture and Wine Science Lecturer Cilla Kinross – ckinross@csu.edu.au
But what about our other campuses?
Don't fret, we have opportunities coming up on our other campuses as well!
On Wednesday 5 May, Port Macquarie students held their first Autumn 'Walk and Talk' event.
Similar to Orange, Bathurst campus will be hosting a tree planting event. Taking place on Tuesday 27 July, the day will partner nicely with National Tree Day.
And on September 10 and 11, Charles Sturt will host a community field trip – 'Canberra's Friends of Grassland'.
Get involved online
Finally, Charles Sturt University is offering students the opportunity to learn more about Sustainability through a module located on Interact2. Created by the Sustainability at Charles Sturt team (formerly CSU Green), this module encompasses a great deal of information on what sustainability is in your community and how you can contribute, such as using less water, saving electricity, understanding what exactly can go into your recycling bin and what activities you can participate in that will make a difference going into the future, for example a tree planting day (see above). And it only takes 20 minutes to complete!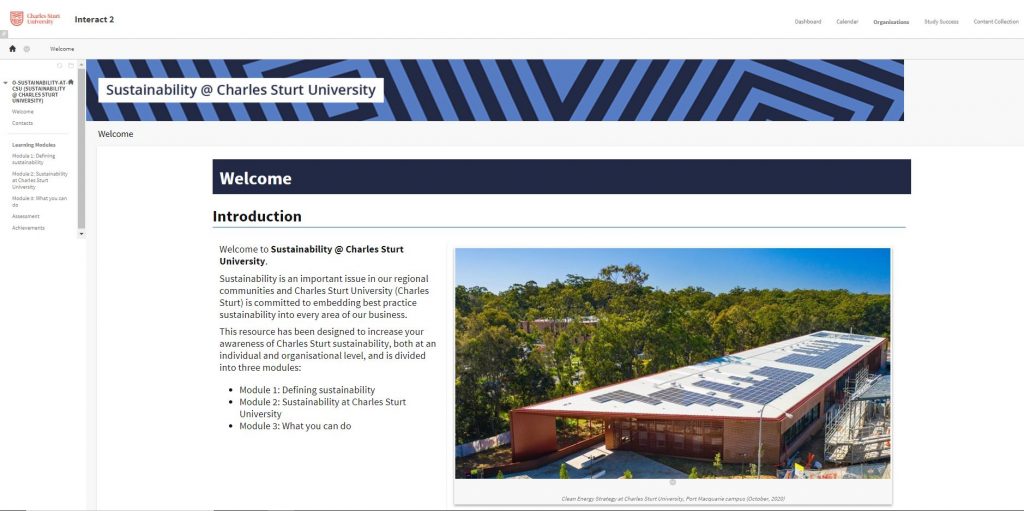 To enrol in this course, log into Interact2 and click on the 'Organisations' tab located up the top of the page. Then search 'sustainability' where you will find 'Sustainability at Charles Sturt University'. Click the arrow to drop down a menu to enrol, and away you go!
Every little thing that each of us does makes a big difference. So go out there, start learning and get planting!