Student Central now have new opening hours for you! Gone are the days of long ques and waiting on hold.
Hours have been extended for chat, email, phone and the front counter on the main CSU campuses for you to make the most of your Uni experience.
The new hours:
Check the new times for your campus or online operating hours in the table below.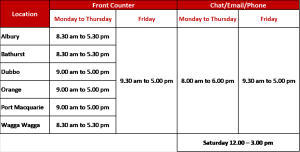 What does this mean for you?
Student Central listened to you. Based on your feedback, they re-aligned their hours with the times you need help the most. So, you have options throughout the day to contact them via chat, email, phone or in-person.
The new hours give you the flexibility to contact Student Central before and after your weekly classes, res schools and work commitments. They are even open during peak times on weekends!
Whether you need study help or you have questions about the University, Student Central can give you the support and guidance.