By Sophie Kingston, Sustainability Advisor Wagga Wagga
It's that time of year again, time to pack up and… move out.
At the end of session every year, Uni students around Australia pack up their dorms – pulling down that photo wall that was printed out for 5c at Kmart, folding up the clothes that were never wore and stuffing 10kg textbooks into the car. The unfortunate thing is how much we end up chucking out.
Not only do we have to empty out our rooms, we also have to empty our fridges and kitchen cupboards. Even if we try to eat as much as we can, there's always going to be some wastage. To reduce the amount of perishable and non-perishable goods thrown out at the end of session all CSU campuses undergo Move Out.
What is Move Out?
It is the collection of all usable food items or kitchen utensils that students don't want or need anymore – which are then donated to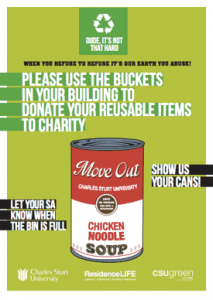 local charities, for example St Vincent De Paul, and cooked up into meals for those in need.
Last year 132 boxes of non-perishable goods and 74 boxes of kitchen utensils were collected. Perishable goods were added to the list of collectable goods for the first time in 2017 and cooked into meals with the help of Cheers staff. In 2018, Move Out is growing even bigger with the addition of E-waste collection spots (Ps. E-waste is for all electronic goods, including printers and hair straighteners).
So, when you're about to head home and remember that packet of mi goreng left in the back of your cupboard, or the tinned spaghetti that just cannot be squeezed into your already stuffed car… instead of just throwing it into the bin, put it in the donation buckets located in the common room areas of all campus residences.
Happy holidays,
From CSU Green