We've all heard of tennis, rugby league and AFL because they get plenty of publicity, but what about all the other sports you never hear about. What about cross-country skiing, rugby sevens, cycling and marathon swimming? I bet you didn't know CSU had elite athletes from all these sports studying with us.
Lachlan Hinds is a Medical Radiation Science student from CSU in Wagga Wagga and is an Elite Athlete in marathon swimming. Lachlan has been to France, London, Dover, Boston, California and New York (three times) all for marathon swimming. OK – where do we sign up?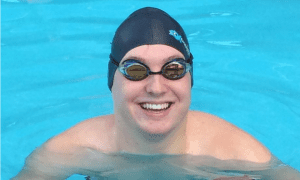 Marathon swimming is any swimming event longer than 10kms or that has been deemed very difficult due to the currents and water temperature. Lachlan trains 6-8 times a week, and adds in a long distance swim every Saturday. Being a marathon swimmer, Lachlan has to be very careful with what he eats too.
Marathon swimming in Wagga Wagga (which as we know is almost 400kms inland) probably doesn't sound like the perfect sporting match. However Lachlan manages his training by using the local swimming pool and the free campus gym. Balancing study and sport is also tough, however Lachlan believes it makes him a better person at the end of the day, as a great man once said "nothing great is easy."
We spoke to Lachlan and he told us how it all began.
"I discovered my passion for marathon swimming through a close friend who identified my skills for surf swimming and ocean swimming at a young age. He suggested I try it out and from then I continued to grow and learn" said Lachlan.
"I like testing the limits of my age and showing people that they can do anything they set their minds to."
As a medical radiation student, Lachlan has learnt a lot about the physiological and psychological impact on his body and the factors that affect every day people.
"The sport has made me stronger and more motivated to finish my degree. I also found that my dedication to studying has only grown through my marathon swimming experiences. Being able to lean on those experiences has fuelled my passion for radiography."
Lachlan's message for people who have a passion for sport, but are caught up in study: "Planning is the first step in the right direction, find your weaknesses and make them your strengths. Lastly, asking for help isn't a sign of weakness, it's a sign of respect."