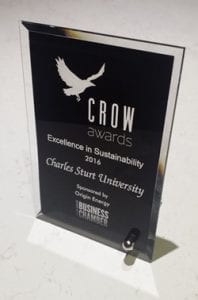 CSU has again been recognised for its efforts to help the environment by winning a regional award for excellence in sustainability.
The Wagga Wagga Business Chamber's annual Crow Award for Excellence in Sustainability was awarded to CSU for its initiatives aimed at reducing the University's carbon footprint.
The sustainability initiatives, coordinated through CSU Green, include the adoption of the Learning in Future Environments (LiFE) as part of the CSU Strategy, the annual Sustainability Grant program, and initiatives to reduce University waste, cut energy use, improve local biodiversity and encourage staff and students into environmentally friendly transport.
The latest CSU Green initiative is the purchase of electric cars you may have seen around campus at Bathurst and Wagga Wagga.
CSU Green Manager Mr Edward Maher said, "Environmental sustainability is a big part of the Charles Sturt University ethos of 'acting for the public good'.
"The University places great importance on being a valued contributor to the regional communities in which we operate so it's particularly rewarding to be recognised by the Wagga Wagga business community through this award."
The award was accepted by Mr Maher during the Golden Crow Awards' presentation ceremony earlier this month.
CSU Green would like to hear from any students who'd like to get involved in or make a suggestion about its sustainability initiatives. Send an email to csugreen@csu.edu.au