Unfortunately it's a common misconception about meatless meals that they're not hearty or filling – that they lack substance. There are, however, plenty of ways you can make a meatless meal 'meaty'. Try adding lentils or beans to casseroles, stews, curries and stir fries. Experiment with meat substitutes such as textured vegetable protein or tempeh. Sometimes we all have food cravings, and finding a tasty substitute for our favourite meat-based meals can feel impossible!
Never fear – today in part three of our Meatless Monday series, I will share three of my favourite, tried and tested meaty meals that are #meatlessmonday approved. These recipes are so convincing, in fact, that I dare you to serve them up to your meat-loving family and friends as the real thing!
Vegetarian sausage rolls
We all love a good sausage roll, but they're not exactly #meatlessmonday friendly. These vegetarian sausage rolls are easy to whip up, quick to cook, and satisfy that sausage roll craving. They're so much like the real thing that it makes you wonder how much meat is in a commercial sausage roll!
Sure, the ingredients list couldn't be more random, and you may feel apprehensive as you prepare your vegetarian sausage rolls for the first time, but I promise you, it's worth it. If you find your mixture is a little wet, add some extra breadcrumbs until you achieve the perfect consistency. Serve your vegetarian sausage rolls with tomato sauce for the perfect lunch or afternoon snack. They keep well in the fridge, and can even be served cold.
Cauliflower nuggets
Chicken nuggets are not the healthiest meal  choice, but no one will deny that they are tasty little fellas! These cauliflower nuggets are a much healthier alternative, and will fool even the most passionate chicken nugget enthusiast. The first time I made them my partner wasn't home – when he discovered them in the fridge the next day, he thought he'd just eaten chicken!
Just like with the vegetarian sausage roll recipe, you may need to add more breadcrumbs if your mixture is a little too wet. Make sure you dry your cauliflower really well before you process it to avoid excess moisture. I use good quality vintage cheese, and vegetable stock powder instead of celery salt for extra flavour. Serve with salad or chips, and a delicious mayonnaise.
As a bonus, these cauliflower nuggets freeze really well either cooked or uncooked- I freeze mine uncooked on a tray, before transferring to a snap lock bag so they don't stick together.
Better-than-tuna salad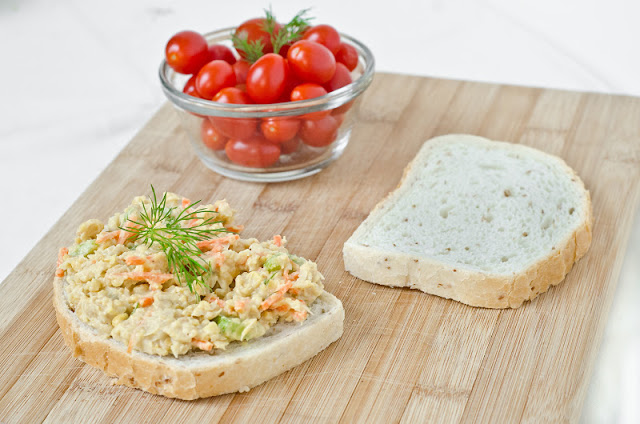 Nourishing and tasty, a good tuna salad is the perfect portable food for summer lunches. This better-than-tuna salad really is just that – it's delicious served with crusty bread, packed full of protein, and a seriously convincing copy of the real thing. It's also so cheap you'll feel like you're cheating- the ideal student food on so many levels. It stores for a few days, and you can use either canned or dried chickpeas.
Tune in next week for the fourth installment in my #meatlessmonday series: 'The vegetarian student- how to make the meatless lifestyle work for you'.