I'm Lyn, a student at CSU studying the M. Education (Knowledge Networks & Digital Innovation) via Distance Education. In 1998, I was employed as a tutor for the Batchelor Institute, Northern Territory – a tertiary college for Indigenous students. I tutored a student who was studying to be a teacher's aide (education support). We worked in a Community Education Centre (CEC) in a remote area of NT and tutoring took place face-to-face.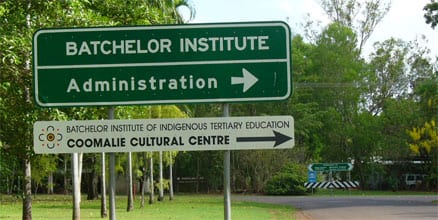 Batchelor Institute posted workbooks in the mail for the student to complete and handwritten responses were posted back for marking; the flood at Katherine that year slowed the process down considerably due to reliance on the physical receipt of work. I remember a workshop was held at the CEC on how to use the internet; dial up speed was exceedingly slow due to a dozen users trying to surf the net simultaneously. Twitter, Facebook and YouTube certainly didn't exist!
This year, I became a tutor with CSU's Indigenous Tutorial Assistance Scheme (ITAS) and have noticed a dramatic change in how course materials are distributed to distance students – even the word 'post' has a new meaning. Today's student is expected to post responses on Interact2 and respond to classmates' posts, online quizzes may be given and Skype is the modus operandi for tutoring.
It's great being a tutor again and see these changes in the flesh – I'd like to wish all Indigenous students good luck with their studies and I'm excited to see what the future holds for tutoring next year.