Whether you are a Charles Sturt student or graduate, or currently looking for a change in your career path, resources such as the Seek app, local Facebook groups or Jora, are a straightforward and easy way to find and apply for jobs.
However, with the rise in social media presence and new platforms emerging, it is becoming more important to network and create valuable connections with people.
While establishing a LinkedIn profile and learning how to connect with new people may seem a little scary, the sole purpose of this platform is to showcase your individual capabilities as a potential employee, network with like-minded people, and find and apply for current job openings that interest you.
My experience with LinkedIn
I first became accustomed to this new social media platform in my first year at Charles Sturt studying marketing, during my first workplace learning subject. As a cohort we were required to setup and create our own LinkedIn profile and start networking with our classmates and other industry professionals.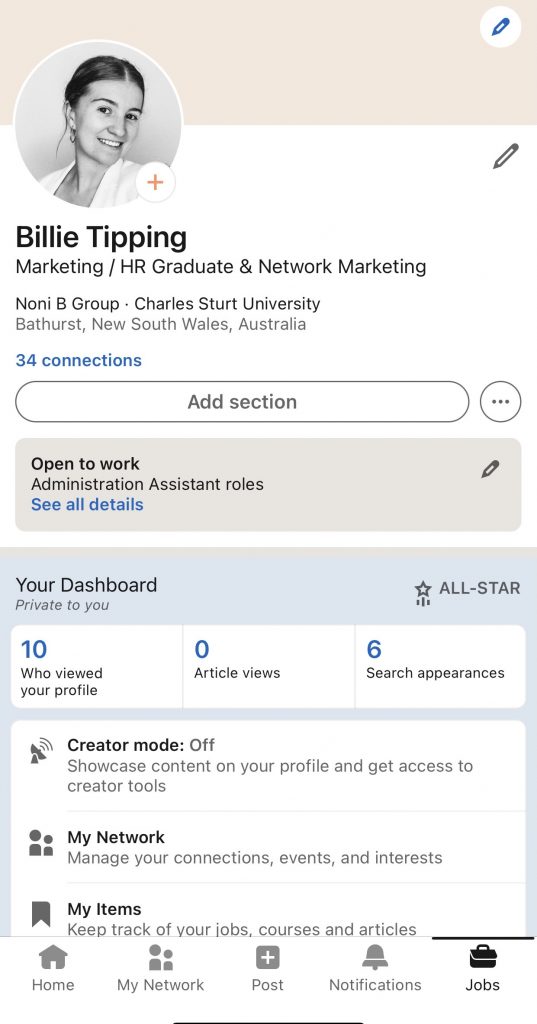 Personally, I found it an extremely daunting process. I did what was required for the assignment, however, completely disregarded my LinkedIn profile straight afterwards.
Three years later, I finally hopped back onto LinkedIn, re-created my profile and started genuinely connecting with Charles Sturt alumni and prospective employers.
Re-connecting with this platform has been a positive experience and it has really boosted my confidence in regards to marketing myself to future employers and engaging with people through professional topics and interests.
Why LinkedIn?
There is no better time than now to start using LinkedIn, as 87 million millennials are currently using LinkedIn and it is the most popular social media platform for large multinational corporations in regards to job advertising and recruitment.
Whilst completely different to Facebook and Instagram as a social media platform, LinkedIn captures the best features of these apps plus the benefits of apps such as Seek, to create a practical environment for people to not only share their ideas but also connect with people and organisations who may be recruiting.
With numerous added features to highlight your achievements, previous work experience and personal attributes, it is a fantastic way to emphasise who you are as a person and what your general interests are.
Written by Billie Tipping