In NSW, our Charles Sturt campuses are sprawled across some of Australia's fastest-growing regional cities. This is what sets us apart from other universities, offering a unique study experience with the benefits of a more relaxed, community-based lifestyle.
If you are a current, or even prospective student, Charlie is here to reveal the hidden gems of our Charles Sturt campuses. And what better way than to start with one of our three foundational campuses – Albury-Wodonga.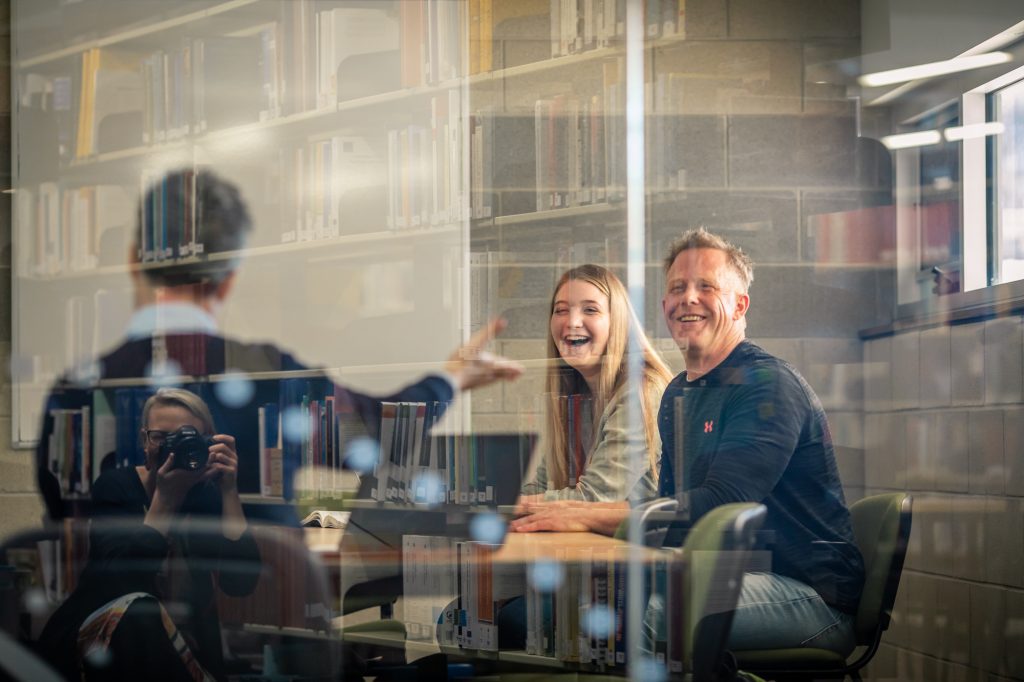 A step back in time
Shortly after the Riverina College of Advanced Education (RCAE) was established in 1972, a study centre was set up in Albury as part of a huge distance education program. By 1985, the RCAE was amalgamated into the Riverina-Murray Institute of Higher Education (RMIHE) to better facilitate nearby geographical areas.
The Albury-Wodonga campus was officially formed in 1989 after combining, yet again, but this time with the Mitchell College of Advanced Education – now our Bathurst campus. It was a momentous occasion marked by the then Governor-General, Sir William Deane, in 1997.
More than just a bunch of buildings
Alarna Parascos studied at our Albury-Wodonga campus. Although she did not live on campus, she fondly remembers:
The veggie burgers from The Gums Café, even though she's not vegetarian
The fact that the campus is located straight across the road from a large Woolworths supermarket, takeaway options like a bakery, two cafes and an Indian restaurant. Not to mention the pub that's around the corner, called the Kinross – great for cheap meals or trivia nights.
There's a layer of grass that's embedded on top of one of the lecture theatres – resembling a very steep hill… making it perfect to roll down. A fun touch, intertwined with an environmental feel.
'The G'! Although it is closed at the moment due to COVID-19, Albury-Wodonga's on-campus bar was awesome for a bevy or two after classes, particularly on a Friday night.
The shared library space where Alarna spent a lot of her time studying. The large glass panels let the sun stream through in the late morning and afternoon. It was a nice study vibe – and environmentally friendly!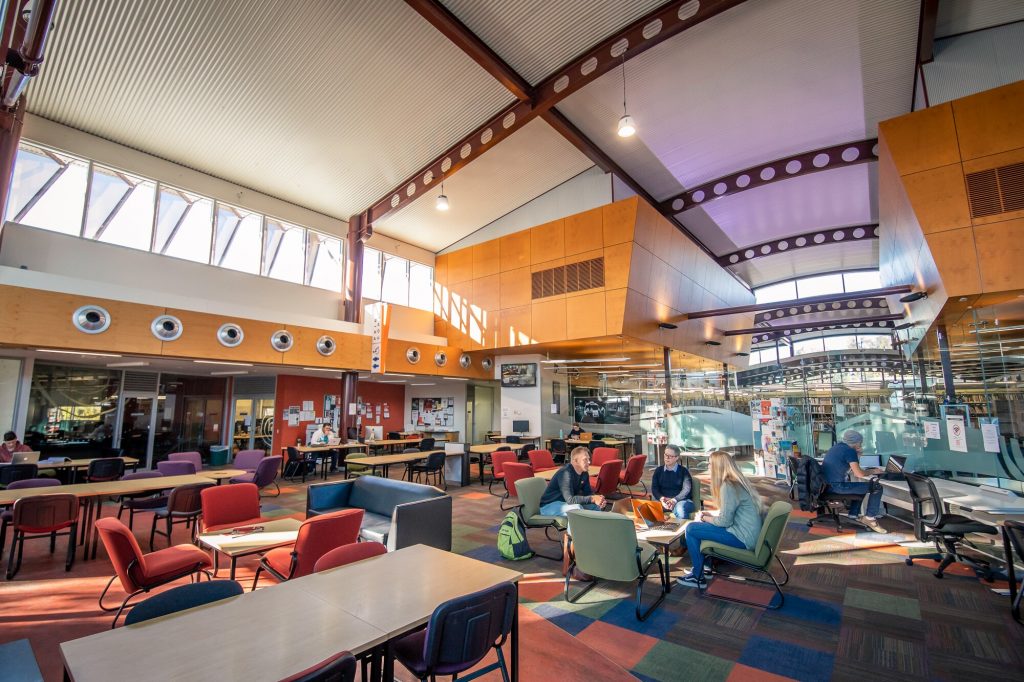 The bike and walking tracks across campus. They were the perfect way to get some fresh air and sunshine between lectures and tutorials. One-sided conversations with kangaroos on the tracks were a common occurrence.
The outdoor pavilion area! It was an awesome recreational space including a half basketball court, rock climbing and ping pong tables. It is often used for lunchtime activities or an after-study-hours catch up with mates.
Albury-Wodonga's green thumb
On that note, our Albury-Wodonga campus was designed with sustainability in mind. Each building contains many environmentally sensitive features to minimise the use of heating and cooling. A collection of business, environmental science, health, and education students live here, surrounded by a huge variety of flora and fauna.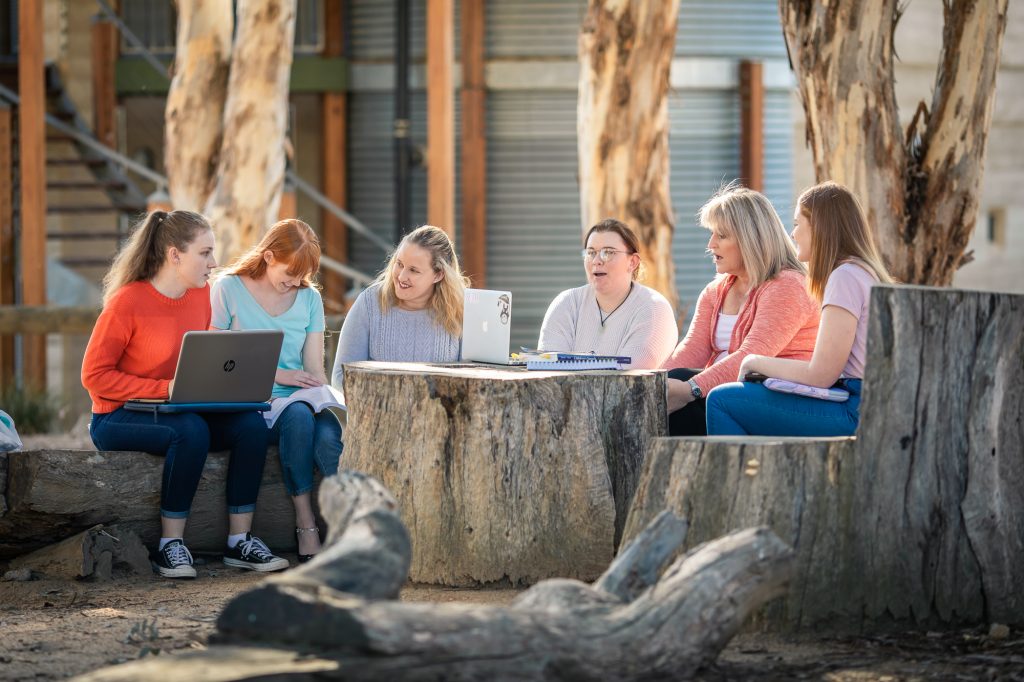 Student Representation and Clubs Officer, Kerry Read, listed some of her favourite ecological elements of our Albury-Wodonga campus where she works:
The David Mitchell Wetlands
The rammed earth buildings which have dry composting toilets (drop toilets)
The campus flagship species of Sloane's Froglet – a tiny frog the size of a human thumbnail
The Albury-Wodonga way of life
With an accumulative population of 90,000 people, Albury-Wodonga is a buzzing regional hub. Albury is located on the Hume Highway and the northern side of the Murray River. This very river is what separates it from its twin city of Wodonga on the Victorian side, hence the hyphenated name.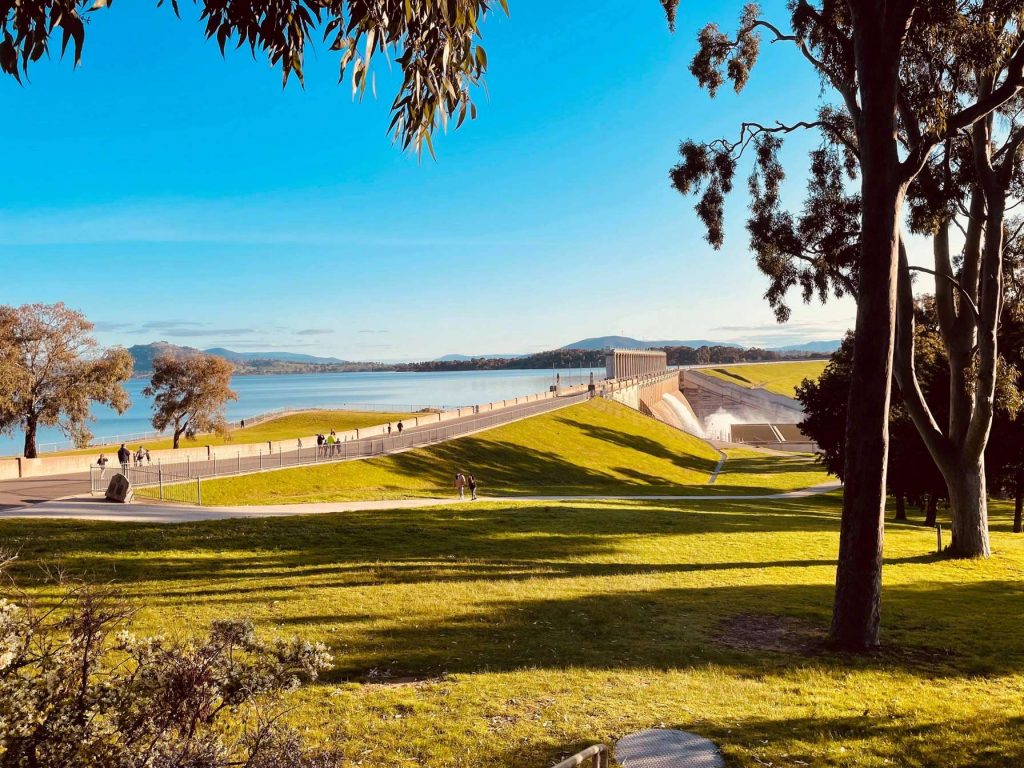 Albury-Wodonga's geographical location has many advantages including a short three-hour drive to Australia's second-largest city, Melbourne. This, of course, screams 'girls' weekend' or friend group getaway!
For a Friday night meal, Charlie has already laid out the best places to eat in Albury-Wodonga. Perhaps you could make a weekend out of supporting local businesses by attending the Kiewa Street Markets.
If you are looking for more information about Charles Sturt's Albury- Wodonga campus or wish to study there yourself, head to study.csu.edu.au/life/locations/albury-wodonga.