Throughout this month, 130,000 Australians have joined The Push-Up Challenge to raise awareness and funds for mental health and suicide prevention.
36 members of the Charles Sturt Football Club community in Bathurst (CSUFC) are amongst the participants this year.
Within their smaller teams, participants must collectively reach 3,318 push-ups by 25 June – a number representative of those who lost their lives to suicide in 2019.
CSUFC's Events and Social Media Coordinator, Sophie Tarrant-Foder, says there are currently many sore arms but participants are striving well to reach the goal.
"We all have individual plans on how we approach each day's push-ups. Some people get them all done before 7am. Others spread them out and some even leave them until 10pm. However, we do have a group chat for all of us to help encourage and support each other through," Sophie said.
This is not the first time CSUFC has participated in The Push-Up Challenge. Last year, Vice President, Joshua Willcox, saw the challenge as a way to keep the club connected amongst the many COVID-19 restrictions.
Although Sophie will no longer be a student next year, she believes CSUFC will continue showcase their passion of community work through The Push-Up Challenge.
"I definitely see myself participating next year. That's the great thing about this challenge! It can be done from anywhere and at any age, which my dad has proven by completing the challenge this year," Sophie said.
"I personally think the challenge is when you feel like your arms can't keep going anymore. That makes me think of those suffering from mental health issues and how strong they are to keep going."
The Push-Up Challenge is unique in that any money fundraised goes to a local Headspace centre rather than Headspace National.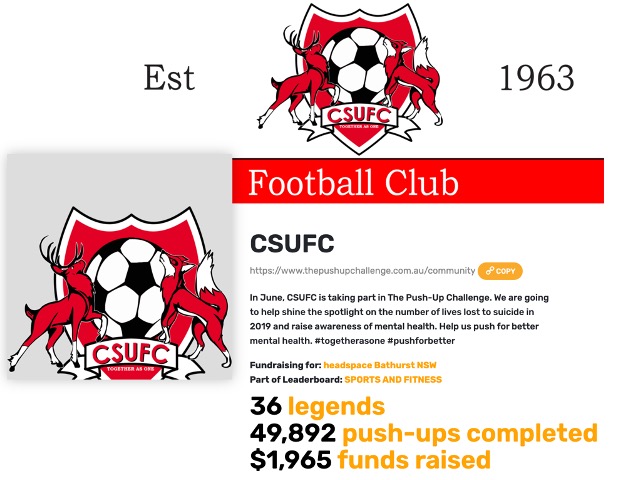 This year, CSUFC's fundraising goal was to double last year's donation of $600.
"We are currently sitting at $1965 for our donations to Headspace Bathurst, which is an incredible effort," Sophie said.
"We also hold the Headspace Cup each year. It's a charity round weekend where we aim to raise awareness and donations for Headspace Bathurst. So, The Push-Up Challenge is kicking off the donations."
You can donate via CSUFC's team page.
To find support services at Charles Sturt, visit the Safety and Wellbeing page.