When building your timetable, it can be a bit daunting knowing where to start. As a recent graduate of Charles Sturt, I've done my fair share of building timetables. Here are some of my top tips for creating your uni timetable.
1. Key Dates:
There are two key dates you need to be across:
when your timetable is open to view
when your timetable is open for allocation. This means it's ready for you to sign up for your preferred classes.
Top tip: Allocating into your classes early is vital. This gives you the best opportunity to get the timetable that suits you and allows you get organised for the session early.
Please note that timetables are subject to change, and you may need to refer to your Interact2 site for more information.
2. Knowing exactly what is in your timetable:
When you are first starting out, it's a little confusing to see the same subject not once, not twice, but sometimes three times listed on your timetable!
This is because most subjects will have a lecture and then either a workshop or tutorial (or sometimes both). Don't freak out if your timetable doesn't have all of these listed. It may just not be applicable to your subject. Here's a little cheat sheet on what these terms mean:
Lecture:
A lecture is a class where you listen and learn. There could be around 200 people in a lecture with you in a lecture hall. In these classes, usually your lecturer will have a presentation prepared which they will talk you through up on a projector where you can listen and take notes.
Workshop/ Tutorial:
These classes are where you apply what you have learnt in your lecturers to complete practical activities. These classes will be in much smaller groups, in usually more of a classroom setting.
The purpose of the tutorial is to discuss and interact on the topic with your classmates, guided by the tutor.

Joyce Voerman, Academic Skills Advisor at Charles Sturt University
Find out more about the difference between lectures and tutorials.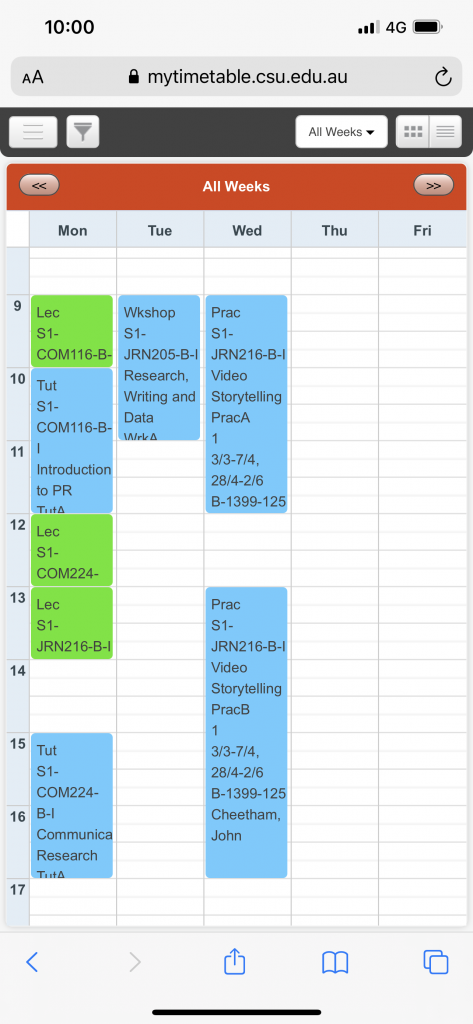 3. How to use MyTimetable:
MyTimetable is the tool we use to create our timetables. Jump on MyTimetable now and check out your on-campus class schedule.
It is important to remember that you will only be able to see the subjects that you are enrolled in on your timetable. You will be able to see the class dates and times for the subjects that you have enrolled in. If you have the option to choose a preferred tutorial time, sign up before they fill up!
Top tip: This page also has quick YouTube tutorials to help navigate you through any issues that come up!
By signing up as soon as timetables are available, you:
will be ready for your first week of classes
can match your uni timetable with your personal schedule
have time to contact your subject coordinators regarding class clashes or alternate possibilities.
4. Timetables for students studying online
If you are an online student, your classes will not appear in MyTimetable, however, you will be able to view any online classes in the subject outline. Subject outlines will be released two weeks before classes start.
5. Plan your time
Be realistic with your time. It is so important to be able to plan out your classes to fit in with other activities such as sport, leisure, study, work and rest. Create a schedule that best suits you.
For example, some people prefer to schedule all of their classes back to back over a few days. This gives them some days off in the week for things like work and sports. Others find it works better for them to only have morning classes or 1 or 2 classes per day.
6. Sort out class clashes ASAP
Occasionally, you will have two classes clash on your timetable. It is important to rectify a clash as soon as possible.
Here's what you should do:
Check to see if there is another class you could choose.
Core subjects take priority over electives. If your timetable clash is with a core subject and an elective, or two electives, you'll need to either:

select another elective
study the elective online.

If your timetable clash is with two core subjects, complete and submit the Clash Resolution Form.
7. Help is all around you!
It can feel overwhelming and complicated when first looking at all of your classes. But know that if you do have any scheduling issues there are services and links that can assist you in just a number of clicks.
For example, you can use the Graduation Planning System (GPS) to help map out your subject enrolment pattern in collaboration with your Subject Coordinator.
If you do have any questions about your subjects or timetable, there will be contact details for your Subject Coordinator in your Interact2 subject site. Don't hesitate to get in touch with you Subject Coordinator, Course Director or Lecturers over the course of your studies. They want to see you succeed and can provide advice on study loads for your timetable.