As hard as it is to believe, it's already week four of Session One. That certainly means the due date for that assignment you're putting off is creeping closer. But before you bury your head in your hands, I would like to introduce you to a fantastic resource Charles Sturt offers to students: Studiosity!
What is Studiosity?
Operating in partnership with Charles Sturt's Academic Skills team, Studiosity is a 24/7 online study help service powered by subject specialists and student mentors. The Studiosity team can help with all kinds of skills. Trying to remember maths for your engineering assignment? Biology for nursing? Maybe you need writing advice for your psych or law assignment? It doesn't matter what you're studying – help is just a few clicks away. Best of all, it's free for Charles Sturt students!
You can access the service via the Interact2 site or the Academic writing, assignments and essays page on the Charles Sturt website.
How does it work?
As a Charles Sturt student, each session you're entitled to five free interactions with a Studiosity team member. Once you've logged into the Studiosity site, you can connect live to get help straight away, or you can submit your draft assignment for review before formally submitting it for marking. The turnaround time is pretty quick. It usually only takes around 24 hours to receive feedback on draft assignments.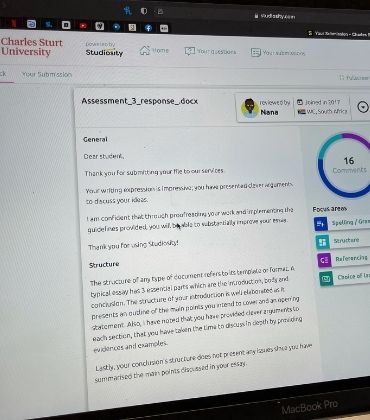 Does it actually help?
Absolutely! Last session, I studied Indigenous Australia Cultures, Histories and Contemporary Realities (IKC101). One of the final assessments required a lot of research and intellectual writing. My lecturer mentioned Studiosity during one of our tutorials and since I wanted to do especially well in this assessment, I jumped at the opportunity to give Studiosity a try.
I submitted my draft for review and within 24 hours, I received a response with super helpful comments, tips and notes pointing out incorrect grammar. It was amazing to see the things I would not have noticed without a fresh pair of eyes! Even better, the student mentor who critiqued my work continued to reply to a few other questions I had via email. Thanks to Studiosity I submitted that assignment with a lot of confidence and I was happy with my final mark.
I plan to continue using Studiosity throughout my course and I highly recommend you give it a go, too!
Article written by Brooke Chandler.