My name is Tom Neely and I study a Bachelor of Exercise and Sport Science at CSU. I'm currently on my mid-year break, so I don't usually get much uni work done! However during Session 1 I took some notes to give you an insight into what it's like to study this degree, which also happened to be right before exams (thank god that's over)!
—
7am: *BEEP BEEP BEEP*. My alarm clock sounds as I attempt to remember what day it is. My dormies know the drill – the kettle is filled and turned on as I fill up my mug with lifesaving elixir (just regular coffee). The best way to start the day is with a good morning routine I always say! After the coffee, it's all hands-on deck as I have exactly 60 minutes to:
– go to the gym (got to stay healthy!),
– eat breakfast (need that sweet energy!),
– get my lecture notes (need them to pass!)
– and shower (ESSENTIAL!)
9am: Lecture time! I leave my dorm with 5 minutes to spare to get to my first class … the perks of living on campus I suppose. My first coffee is wearing off and I feel my focus drifting, however learning about Functional Anatomy provides enough stimulus to get me through the first hour!
Lectures are great for knowing the specifics of your study. Usually lecturers won't stray from the curriculum during class, especially since there is so much we could learn. So, this is a great time to gain a bit of knowledge about specific topics.
11am: Lecture Break. I have an hour break so I hit the library. I grab my much needed coffee from the café and hit the books! I need to get a start on a certain essay that I've been putting off. P's get degrees, right?
1pm: Tutorial. After my last lecture for the day, I head to my tutorial. These are the most enjoyable parts of the course in my opinion. This is where you get to actually have a go, as its more hands on than a lecture.
Functional Anatomy is one of the backbone subjects for the entire course as it emphasises the action and function of all the muscles, joints, tendons and ligaments in the body during exercise and movement. I think it's really interesting and gives you a good insight into the workings of the human body.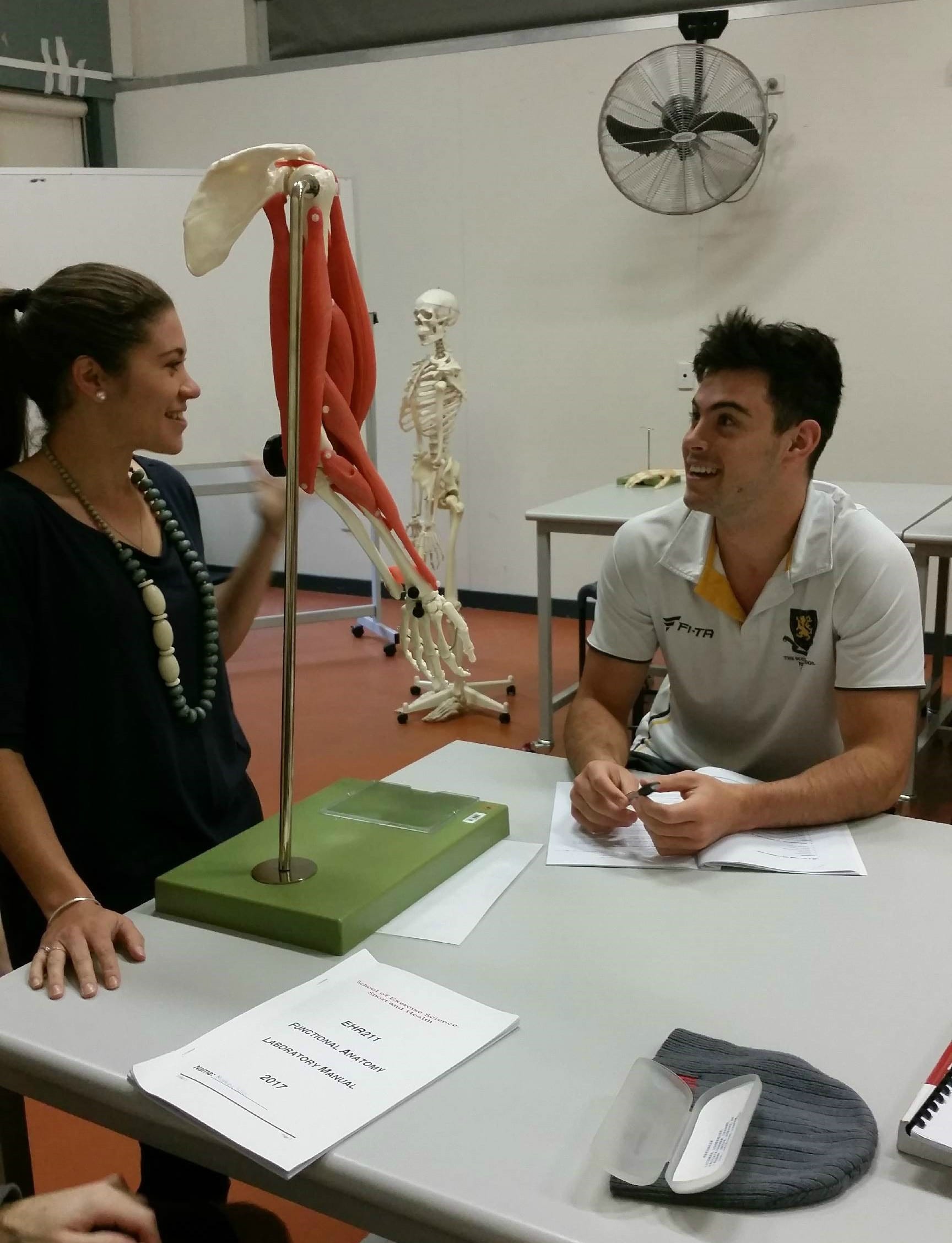 3pm: Home Time! Generally, different days have different subject class times, and you won't always have classes all day. Some people have big days (such as today), and some people have a uni day as short as 1 hour! Even so, everyone has a different evening ritual.
Me? I like to go over the day's notes so it really sinks in. Unless I have something else on; such as a social sport, club meeting, or meeting up with friends. The more work I do now, and the more I learn of this topic, the less I'll have to be cramming come exam time (some students manage to fit entire subjects into a couple of days… I would not recommend that!).
After everything is done, I am free from the shackles of Uni and can do anything I like…. usually a nap.
5pm: I arrive back to my dorm room and all my housemates are sitting around chatting about the day and upcoming events of the evening. Living on campus, I usually cook in bulk due to cost, although that can be boring!
But tonight, we've organised a big dorm dinner to relax, unwind and get mentally ready for the daunting stormy horizon that is the exam period. However, if you study hard during the year then exams are usually nothing to fret about.
8pm: Good food and friends can turn a stressful day of classes and assignments into a relaxing and enjoyable experience. It's all about balance, you have to hit the books hard to get the best marks possible, but doing that all the time can run you dry. I believe in working hard!
By Tom Neely