My name is Dougal, and I'm in my 3rd year of a Bachelor of Stage and Screen (Television) at CSU. Each day at University is rather different for a tv production student (also known as a 'proddie'), so there's not necessarily a typical day in my life. But here's one anyway.
—
7am: Rise and shine! It's time to get up! Yeah… just five more minutes. I know exactly how many times I like to press the snooze button on my alarm, and how long it takes me to get ready. Getting up, showering, having a quick bite to eat and having everything I need for the day takes over an hour and a half – I'm not a morning person if you can't tell.
8:30am: I meet up with a couple of my fellow proddies to walk to our first class. Since proddies spend most of their time in the studio throughout the day, and in the edit suites at night, walking in the sunlight is considered a luxury and very much appreciated.
We drop in to The Hub (a café at CSU) on the way to TV Land for our first coffee of the day. TV Land is a small group of buildings equipped with a tv studio, a warehouse full of costumes, props and set items, an acting studio, workshop spaces, an audio visual store, a sound Foley studio, edit suites, and other classrooms.
Having been caffeinated and feeling more awake and human, we continue to the studio.
8:49am: We're here with just a minute to spare. Yes, our call-time was 9am, but in the tv industry they run a tight ship and it's very important you keep to time. As we say in TV Land, 'Ten to nine is dead on time' and 'If you're on time, you're late'.
9am: The tv studio on the Wagga Wagga campus is alive and in full-swing. We're currently producing a television series called The John Jones Holiday Special, one episode a week for five weeks. For each episode, proddies are assigned a different crew role by the Executive Producers of the show. This particular week I am the Director's Assistant, or 'DA' (not to be confused with the Assistant Director – they're very different roles).
I set up my office next to the Director and the Vision Mixer in the control room. As a DA, my role is to ensure smooth running of the show once it begins. This means timing segments, counting down, standing-by cameras and other cues. Basically making sure everyone is on the same page. Talent could go off script, a shot might not be switched to, and a meteorite might hit the studio – no matter what happens you'll hear the DA continue to talk, getting everyone back on track.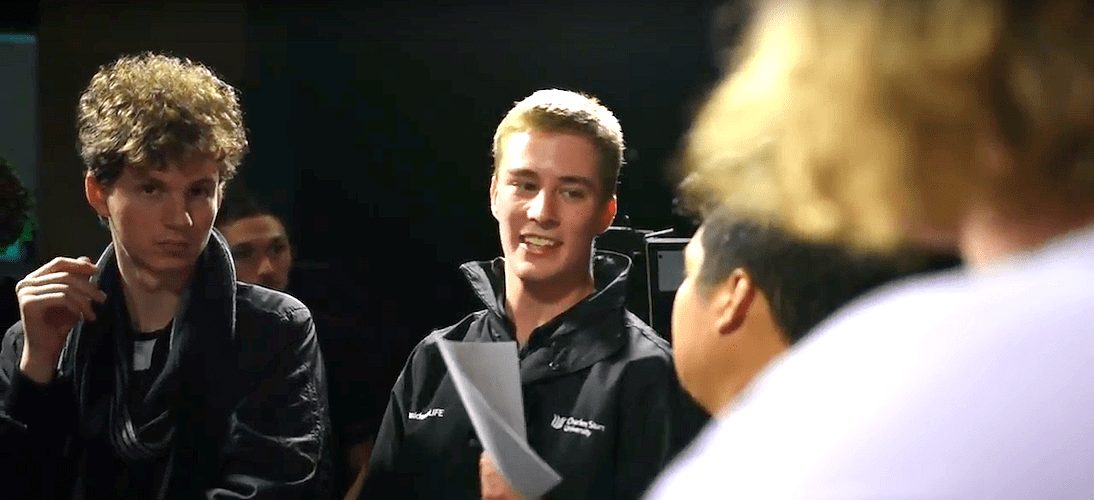 10am: The talent (actors) have just arrived. My role so far (ensuring the studio's ready for use) has been reasonably smooth sailing. Now it really begins. I negotiate when our first rehearsal will start with the Director and the Floor Manager, confirm all areas are on standby, "5, 4, 3, 2, 1 – CG, standby camera 2", I start my stopwatch, and away we go!
For each run of the show I refer to my technical script – a version of the shows' script that includes cues for everything: audio cues, camera shots, insert timings, and more.
We occasionally pause to iron out a few shots or to practice set changes, and eventually we get one full run-through complete! We make notes on what needs to be prepared before this week's episode goes live on Friday, do a couple more rehearsals, and then call it a day.
You can check out a general overview of what goes in to making a studio production in this video, which was made by a fellow tv production student.
12pm: It's our lunch break, and it couldn't have come sooner. Most of us head to The Crow Bar for a feed (and another coffee). Classic chicken snitty today, what else?
12:59pm: We're back in TV Land, but this time for a lecture. Our lectures tend to be rather discussion based (probably more like a workshop if anything). We go over the last rehearsal we did that day with fresh eyes to see if there was anything we missed before lunch.
3pm: Class finished early, which is fantastic for a few of us as we're now off to a location shoot. We grab another coffee, and make our way to the shoot. We're filming for I Still Love You, one of 14 short films we're making for one of our assessments this session. It's a reasonably quick shoot.
5:30pm: Strike and wrap! As I'm the Editor for this shoot, it's now up to me to ensure I have all the footage and audio that was recorded saved and backed up, ready to use in the future.
6pm: Back in my cottage, I cook a quick dinner of spaghetti bolognaise – perfect for the cooler weather, and comforting after a long, 'bitsy' day. After enjoying a quick break, it's back to the books.
For my electives I chose to do advertising. This is the 4th advertising subject I've undertaken. I use the extra time I gained from finishing the shoot early to continue my work on this week's module, which is all about digital and interactive media.
8:30pm: It's been a busy day, so it's time to relax and have some fun. It's uni night in Wagga Wagga, and The Crow Bar is starting to warm up. I'm off to catch up with friends and have a good night at The Uni bar!
By Dougal Mordike