The annual Australian International Animation Festival (AIAF) 2017 is on in Wagga Wagga this weekend! The festival will feature world-class animation screenings and special seminars including some of the creations of our talented CSU animation and visual effects students.
Festival organiser and CSU lecturer Andrew Hagan said, "The Festival has been running for 14 years and is testament to a vibrant local creative community.
"We've seen major Australian film festivals come and go, but the AIAF has become an important international mainstay of animation that is artist-driven, independent, non-profit, and something we can all be very proud of.
"The event will feature more than 120 films selected from more than 4 000 submissions from 30 nations around the world in a range of styles, genres and techniques," Andrew said.
The AIAF is a non-profit venture whose mission is to bring the world's best animation to Australian audiences, so clear your schedule for the weekend!
"Our ethos is to bring incredible, diverse, inspiring, quality animation to as wide an audience as possible by presenting a true snapshot of the international animation scene on the big screen in Wagga Wagga," Andrew said.
"Our reward is attracting passionate animation enthusiasts in undoubtedly one of the most relaxed and informal animation festivals you'll find anywhere."
After the screening you'll also have the chance to meet many of the animators and ask them questions about their work.
A highlight this year is a free seminar on Saturday. Andrew will talk about 10 years of CSU animation and visual effects.
The work of two CSU graduates will screen in the Australian Showcase. The special guests are (left) Alice Markham, director of the stop-motion story Loss, and Mr Matt Barron, director of 3D film The Cloud Factory.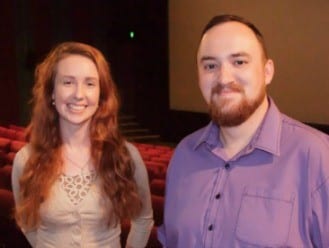 "Alice and Matt will discuss the similarities and differences in their filmmaking processes, share universal truths and offer expert tips for other filmmakers using highly-specialised techniques," Andrew said.
The 2017 AIAF will screen at Forum 6 Cinemas in Wagga Wagga from Friday 12 to Sunday 14 May. For more info head to new AIAF website or The Australian International Film Festival Facebook page.
Full story: CSU News