From nursing in a busy hospital, trekking to remote villages and immersing herself in the local culture, Bachelor of Nursing student Ms Catreena Kuhn reflects on her work placement in the Philippines.
Catreena is studying online and took part in the placement with the support of CSU Global. We caught up with Catreena to get all of the details of her trip.
We travelled to Bogo city on the island of Cebu in the Philippines where we teamed up with Projects Abroad. During the placement we spent a week working at Bogo Provincial Hospital and a week in the smaller surrounding villages.
The hospital is different to in Australia with extremely limited resources and very outdated facilities. There were even stray dogs and cats on occasion wandering through the hospital.
We travelled to surrounding villages to collect health data in the villages affected by Typhoon Yolande three years earlier.  We walked long distances in the heat through farms and tropical jungles. We also accompanied physiotherapists on house visits and ran a cooking class, teaching parents how to make healthy snacks.
My favourite day was when we did a medical mission in a remote village near Bogo.  We teamed up with the Philippines Army and screened the whole village (about 130 people).  I checked their vital signs during a consultation and sent them to see either the doctor, physiotherapist, pharmacist, optometrist or dentist, depending on their need.
During the placement we stayed with host families who were so welcoming and shared their home and culture with us. They cooked us delicious food for all of our meals.
It really stood out that despite there being such poverty, the Filipino people were so happy and welcoming.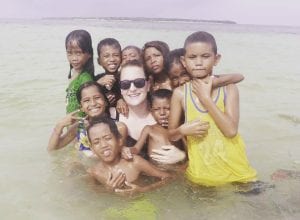 1. What stands out most about your experience in the Philippines?
That despite being in a third world country, we still encountered the same health problems that we have in Australia. The only difference was they often couldn't afford treatment for these conditions, something we take for granted here in Australia.
2. What was the highlight of your trip?
It's a toss-up between the cooking class at the day care centre, and the medical mission.  It was really satisfying to know that we had helped some people who may not have normally made it to seek medical treatment due to distance or cost.
3. How do you think it will add to your studies at CSU and work in Australia?
It gave me the chance to develop my nursing skills in a foreign environment – something I wouldn't experience in Australia.  It also taught me other ways to communicate more effectively with the language barrier.
I've gained a greater appreciation for the Australian healthcare system. It will also make me more understanding of patients I look after who may not be able to communicate very well.
4. What's the value of undertaking international study trip for your clinical placement?
It was a worthwhile experience and one I would definitely encourage other students to participate in. It's given me an appreciation for my life here in Australia and our healthcare system. It has improved my confidence in my nursing practice and hopefully help when applying for graduate nursing positions next year.
If you're interested in studying overseas then head to CSU Global to find out more.