By Steven Parker-Hill, Bachelor of Theology
I was blessed to have the opportunity to spend two weeks participating in active archaeological excavation in Northern Israel as part of the Bethsaida excavations project. I was able to work alongside fellow volunteers, scholars and experienced archaeologists from around the world. The trip was an international study experience through CSU Global which ran for two weeks as part of my Theology studies.
The ruins of Bethsaida represent several millennia of human history in the region, dating from the 10th century BC capital city of the biblical kingdom Geshur, to the Roman period fishing village identified in the Gospels.
In this season of the dig, we continued excavating a tunnel structure arising from a palace compound as well as the search for the Iron Age city gate buried beneath the Hellenistic-Roman town, the oldest of its kind to date. It was a privilege to contribute in a small way to a much larger process of historical enquiry, continuing work on this site that has been going for longer than 25 years.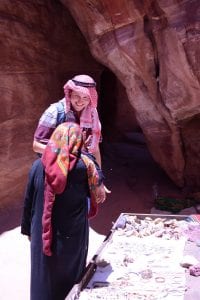 The unique experience involved digging and sifting large volumes of dirt and manually relocating rocks in record temperatures exceeding 40 degrees Celsius. My evenings consisted of sorting the pottery findings and attending lectures.
I also got to attend guided day trips from Nazareth and Jerusalem to well-known archaeological sites such as Tel Dan, Masada, Qumran and Megiddo. The trip also provided opportunities to interact with diverse cultures and lots of
wonderful people.
A particular insight came not from the learning component of the trip, but during a visit to the Israel Holocaust museum in Jerusalem called Yad Vashem. During my reflections on the atrocities committed throughout Europe during World War II, it struck me that one cannot help condemn not only those who carried out the genocide of the Jewish people, but also the silent majority that stood by to watch the pure evil being conducted.  It also struck me that with over 70 years having passed, even in Australia we witness refugee crises and yet we still take little or no action.
I hope that this reflection will not only encourage participating in international study programs but also compassion regarding a critical issue of modern injustice.