by Angus Morrissey
That mid-year break went quickly, didn't it? At least for me it did, as I spent my "break" recovering from glandular fever.
All too quickly, Session 2 is now upon us! But no, don't cry, this session is going to be your best yet!
"How?" you're probably thinking. Well, it's simple! From my successful experience studying my first session last session, I will give you four key ways to flourish in the session ahead.
1. Construct a table that sets out your assessments chronologically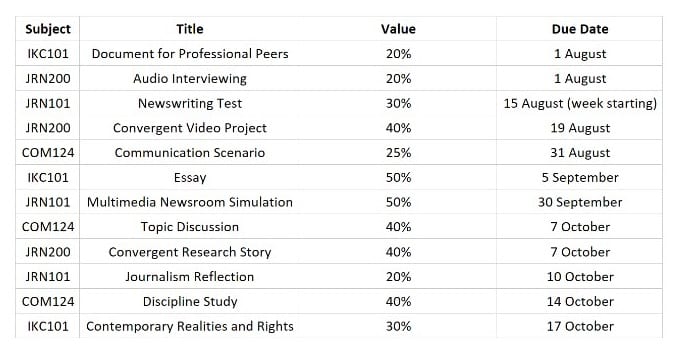 Create a table that charts your assessments for the session. I do this by including four headings:
Subject: what subject is the assessment relevant to? e.g. if you were doing first-year Paramedics, you would be required to complete tasks for BMS192 in this session
Title: include the assessment title provided to you by your Subject Coordinator, as this will give you an indication of the basis of the task. e.g. my second IKC101 assignment is an essay, so I will prepare myself for lots of writing
Value: how much do the respective assessment tasks contribute to your final mark for each subject? Incorporate this so you can focus on the weightier tasks
Due date: finally, take note of the last day for which each assignment can be submitted – this will assist you immensely with time management.
2. Get yourself in a daily rhythm
Maintaining regular patterns of study is crucial at university – keeping you focused and motivated to complete the multitude of tasks handed down by your merciless tutors. It's crucial that every day you are undertaking activities that are productive for your course, as it's extremely easy to fall behind during the session. It is vital that you stay on top of your game!
3. Give yourself adequate breaks
We've all gone through phases where we're tied to our desks, as we're incessantly trying to cram in as much information to our brains as possible.
While studying for long spells can be useful as it allows you to learn a wealth of information in a short amount of time, it is crucial you work consistently (not excessively) throughout the term to avoid stress.
Reward your hard work with plenty of breaks so you can sustain optimum levels of creativity and productivity throughout the session.
4. Consult your tutors if you encounter problems
From my short time at university, I can undoubtedly say I have benefited enormously from the selflessness of the teachers at CSU, who are always willing to help students achieve the best possible results.
Inevitably unless you're Einstein, you'll be confronted with difficulties while completing your degree. Therefore, don't hesitate to have a chat to your tutors or even the staff in the library, as CSU has a plethora of people and resources available that will help you excel in your degree.