Whether you're an online student with CSU, or an on campus student preparing to do some study at home, it's vital that you have the optimal learning environment. Getting your educational vibes on at home can be no small feat, but with a few simple steps, you can create the atmosphere you'll need to feel inspired and ready to study.
Survey the land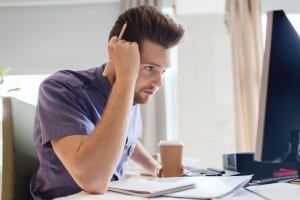 Know what you're working with. If you're just looking for a place to buckle down and do some reading or your assignments, you may not need a permanent study zone. However, it's good to know that you have a space to be studious when the time comes.
Look for opportunities to find a little privacy, away from the distractions of everyday life, as well as friends and family. Focus on finding ways to make your space – be it a bedroom, lounge or study – into a sanctuary where you can take some notes and expand your knowledge.
Optimise your space
If you're setting up a laptop or computer to study, make sure there's room for air to circulate around it, to prevent overheating and having the internal fans kick in. Find a chair where you can sit comfortably without slouching, and where you won't be distracted by external noise. The last one can be difficult, especially if you live with a partner, or you have kids in the next room.
In the worst-case scenario, you can invest in a pair of noise-cancelling headphones for when there's just too much ruckus.
For solid study time, why not make your own "do not disturb" sign for your door, or agree on a signal to let everyone know you need time to do uni work. That way, your family or housemates won't be as tempted to interrupt you.
If you come home from a long day, ready to snuggle down in your bed with your study notes, think again. By mixing the zones where you spend time relaxing and sleeping, with one of concentration and learning, some people find either their grades or their sleep can be compromised.
Think like an orange
…and by that we mean segment your day, especially if you're studying with CSU Online, and have to dedicate the necessary time to various subjects around home and work responsibilities. Block out your day, dedicating time when you are most alert to studying. Remember to give yourself space to take a breather and get some fresh air, too!
Cornell University's Psychology Department notes that taking breaks on the hour for at least 10 minutes is vital. In addition to your brain needing to have a rest, the same source reminds us that we also remember things better if we spread study out gradually.
With your brain responsible for 25 per cent of your body's glucose consumption, it is important to feed yourself well when you are studying. Why not use one of your 10-minute breaks to prepare something nutritious? Hint: chocolate, chips and instant noodles don't count!