So you've moved into on campus accommodation and you're just starting to settle into things. Or maybe you've lived on campus for a while now, but want to change up your campus room to give it more colour and feel more "you".
Never fear, whether you're looking to add pops of colour throughout your room or just give it a personal touch, making your room on campus feel more like home can be achieved easily and without a hefty price tag.
Photos!
Whether photographs of friends, family, or even pets, using photos will not only add colour and interest to your room but also give you a friendly reminder of home.
You can bring print out copies to put in standing frames or on your wall with blu-tack (or something similar that won't damage the walls), or purchase a digital photo frame to store hundreds of photos that display in a slideshow format, saving you valuable space.
Basic photo frames are available at stores like Kmart, starting from just a couple of dollars each!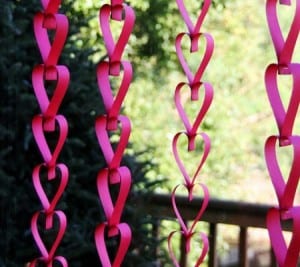 DIY
Probably one of the cheapest and most customisable ways to go about decorating your room is to make some decorations yourself!
Whether it's a collage of all the people and/or things that you love (think movies, TV shows, sports teams, etc.!), a garland of just about anything including pom poms and hearts, or an awesome painting that could have you rivalling Michelangelo, get out the glue and scissors and get started!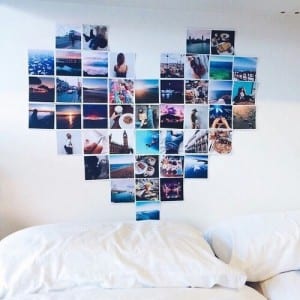 Wall collage: Mix it up with heart shapes, squares, diamonds, etc. To keep the cost at a minimum, use paper photos printed from home or the library rather than printing them on film paper at a store. Simply put up the photos in the shape that you want, perhaps using a pinboard as the base.
Collage letter: Use photos or colourful patterns to give your letter a unique look
Garlands: Create paper garlands in a variety of shapes or patterns. Check out online tutorials for some great tips! Remember garlands can be adjusted to suit your interests, so try sporting team logos, or spelling out your name.
Just remember that what you make will have to be able to removed at some point, so stick to blutack or pinboards (and avoid the nail guns) when hanging up your masterpieces in your campus room. Also remember to keep anything messy such as paints outside, as it can be hard to remove these types of stains.
Plants
Want an easy and inexpensive way to add interest and charm to your campus room? Plants are your answer!
If you're a newbie to the green thumb world, stick to plants such as succulents, which are easy to maintain and do not need to be watered frequently.
If you want a bit more excitement, try cacti, which come in all sorts of colours and shapes, Venus Fly Traps, or a small flowering pot plant. They are sure to add vibrancy to any room, especially when paired with colourful pots (yep, there's a DIY tutorial for that too!)
Make sure to read the care instructions that come with your plant. Alternatively, fake plants can also be purchased – they require no maintenance, and last a lifetime!
Ask your parents
Whether you're a commencing student in 2017, or a continuing student who wouldn't mind a trip back to mum and dad's, keep in mind that your parents may very well already have the items you're looking for to decorate (or re-decorate) your room!
Ask if they have any spare photo frames, decorative pieces or desk lights that you can fit neatly into your on campus room.
So whether you're looking to express your team colours or your own personal style, start decorating your dorm room today with these tips and you'll never break the bank!