Claire Munro has recently returned from a CSU Global international experience. Here, she shares some insights about environmental science and life in Cambodia.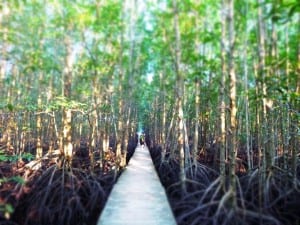 What made you decide to participate in a CSU Global program?
I love travel and was well due for seeing a new part of the world. I also thought it would be a cool way to see a country as part of an academic program. I am very near to the end of my degree and the trip sounded like a perfect way to see out my studies with CSU and gain an awesome international experience.
Tell us a bit about what activities and projects were involved in the program.
There was plenty available for students from environmental or science courses to get involved in. My favourite was the field work with the Cambodian university students, conducting fauna surveys in the jungle of the Cardamom Mountains. There were lots of opportunities to engage with locally operating NGOs about the on-ground conservation projects they conduct, as well as meeting with the local people who are involved with the programs. Being a participant in a mangrove regeneration in Koh Kong and visiting project sites to learn about and actively assist in the local conservation effort is really rewarding.
How did your experiences relate to your course?
The experience was very relatable to environmental science in a number of ways. Firstly, it was great to gain the experience of environmental management and issues outside of Australia, as this is a rare opportunity that not many people in the industry would otherwise obtain. There was plenty to learn about biodiversity, the ecosystems, the species diversity as well as the threats and management issues of environmental assets in Cambodia.
What was the lifestyle like in Cambodia?
There were so many cultural differences so it was great to immerse into the Cambodia way of life during the trip. There is obviously poverty and it's much more prevalent than in Australia, but it also fosters a great sense of community. Cambodian lifestyle is relaxed, friendly, family oriented, community spirited and industrious. The food is amazing and the people were wonderful.
What was the highlight of the trip?
The time spent in the jungle helping the PPU students was the highlight for me. It is not something I would ever have the opportunity to do outside of this experience. Up close and personal with some amazing fauna and roughing it under the stars in such an environmentally significant part of the world is a once-in-a-lifetime experience.
What were some of the big differences you noticed between Australia and Cambodia?
Cambodia is a developing country so there are a multitude of differences to experience. The roads are crazy and nothing like driving in Australia. There are a lot of poor people and street animals and that's not something we are used to seeing in Australia. The food is great and they eat a lot of rice! So if you are not a fan of rice… good luck!
What would you say to someone else thinking about adding a CSU Global experience to their degree?
Do it! It's the best decision I ever made. Trip of a lifetime. What do you have to lose?