Are you a 2nd or 3rd Year Education or Bachelor of Exercise Science student? Listen up!
CSU Global is offering an amazing three week program to 2nd and 3rd Year Education / Exercise Science students to spend three weeks in Samoa on a Rugby Union Sports Outreach program. The participants will assist in running rugby sports training clinics in local primary and secondary schools, along with touring regional schools and villages for an authentic cultural (and educational!) experience.
This fantastic opportunity is not only a great way to be exposed to the culture and diversity of beautiful Samoa, but can also put you ahead of the pack when it comes to entering the ever looming real-world, after graduation.
By participating in a CSU Global adventure you gain an array of skills and knowledge that are highly sought after by employers, whilst enhancing your CSU experience and degree (see – I told you it was a good idea!).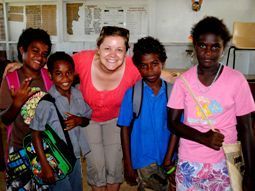 "The Samoa Rugby Union program was definitely one of the best experiences of my life so far" – Past participant
The program is running from the 1 – 22 November 2015, costs just $1300* and with applications closing 2 June, what are you waiting for?
Check out CSU Global for more information, or contact CSU Global Communications Officer, Alice Wood on CSUGlobal@csu.edu.au
See you in Samoa! 
*This cost is based on the provision of the $500 Vice Chancellor Travel Grant which is awarded to eligible undergraduate students