Just when you think life doesn't get any busier, with full-time work, building a home and studying a Masters degree, why not throw a baby in the mix to really challenge yourself… said no one ever!
For those who are thinking, 'that sounds crazy', mother of one and soon to be a proud new homeowner has had some great support from her cohort, awesome results in her study and has made fond memories with friends and family along the way.
Bianca has a Bachelor in Education – Primary which she completed at Charles Sturt's Wagga campus. After teaching in rural/regional schools for almost 10 years, she recognised the growing number of children in the classroom who needed additional learning support and a general lack of access to this type of support.
This encouraged her to pursue a Master of Speech and Language Pathology online, part-time at Charles Sturt. The degree would put her in the best position to assist students and upskill other teaching staff to provide much needed support in the classroom.
Bianca and her partner are also in the process of building a house. Being a custom design, there were many meetings with draftsmen about house plans with big decisions to be made. Not to mention the additional stresses of COVID-19 which has slowed down the build.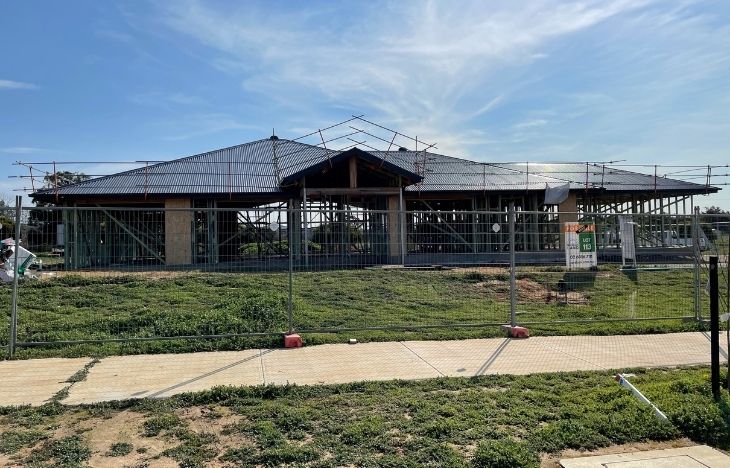 This year her daughter Willow was also born mid-session, but Bianca had a great support network around her to assist. Her lecturers were super supportive and gave extensions on assessments and exams where needed. Her tight-knit cohort based around Australia and overseas would problem solve together, share notes and even debrief after exams with a whine (and a cheeky wine to celebrate).
The mid-session break was non-existent, jumping straight into the next session with a newborn. One of her biggest challenges was juggling online lectures and tutorials with a baby demanding her attention.
"Sometimes the guilt would set in that I should be spending the time with my daughter instead of studying, so I would try and do it while she was sleeping or after she had gone to bed at night", Bianca said. 
Bianca's been lucky enough to have the best of both worlds. Being based in Albury and studying online, she's been able to use the library to borrow her textbooks, sit exams, easily attend her residential schools and speak to lecturers face-to-face – which is often easier than emailing or calling.
"I attended my res schools at Albury campus and they have been great for putting theory into practice and getting to meet others in my cohort face-to-face," Bianca said.
Bianca's advice for students starting in Session 1
Make good friends – attend orientation and build your network. Sharing resources and notes with your peers will be your best friend – but be prepared to give if you want to take!
Join sporting clubs and student groups – I'm still good friends with girls who I lived within a share house in Wagga while studying and playing netball for Charles Sturt.
Keep on top of everything – try not to fall behind, it's harder to catch up!
Set yourself a routine and stick to it. And have a dedicated study space where you won't get distracted.
Ask for help if you need it. 😊 Whether it is from your support network, cohort or lecturers, people are always happy to help if they can.
Remember, the world won't end if you fail – don't be too hard on yourself. Sometimes life gets busy, and you need to remember you only have to PASS! #p'sgetdegrees  
Bianca is on-track to graduate in 2022. Nothing (at this stage) is holding her back!
Good luck!