Study, work, repeat. That's the life of a university student. It's not an easy routine to put into place, nor is it ever consistent. But according to online nursing student, Madeleine Connell, there is real value in juggling work and study.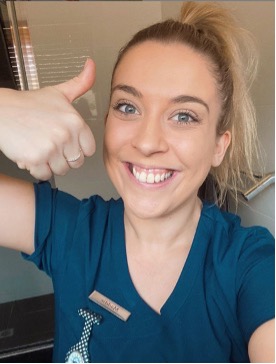 Madeleine agrees, "It can be daunting! But for me, working with NSW Health while studying opens up a window of opportunities and allows me to transition as a new graduate with ease."
Madeleine applied for her assistant nurse position through the NSW Health Portal which, like many job applications, required her to address key selection criteria.
Knowing about key selection criteria and how best to address them will surely boost your success as a candidate.
The '411' on key selection criteria
Selection criteria are a list of essential and desirable skills, experience, personal attributes and qualifications that employers look for in candidates to fulfil a certain role.
Typically, the number of individual criteria points will be between 4 to 6 and will be located at the bottom of a job advert. Selection criteria are used by recruiters to efficiently vet high numbers of job applicants.
To answer the selection criteria for her assistant nurse position, Madeleine says she looked carefully at what was listed against the core values of NSW Health and the job description.
In addition to this, Charles Sturt's Careers and Skills Hub recommends the STAR method. The STAR method is a really useful tool to help you prepare clear and concise responses – using real-life examples – when addressing selection criteria. Using the STAR method, you describe the situation, task, action and result to help shape your answers.
STAR: let's break it down
Let's say you are trying to answer this point from the key selection criteria included in a job application:
"A high level of written and oral communication skills"
Starting with the S for Situation, you need to identify and explain a relevant example for this point. Then using T for Task, you need to state your role in that example. These first two points of the STAR method are often blended together and could go like this:
"I have been able to build excellent written and oral communication skills whilst volunteering as an events coordinator for a local annual film festival for the last three years."
A in the STAR method stands for Action. Here, you need to outline steps and skills you used to perform the task.
In terms of our example, it could go like this:
"From the initial discussions with the event organisers and taking in their vision to producing an in-depth proposal for the event, briefing our volunteers, liaising with contractors and suppliers and coordinating different teams, communication skills were key to ensuring the event's success."
Finally, the R for Result is the part where you should summarise the outcomes of your actions. It is important to include measurable results if possible:
"I managed to get 5000 posters printed and distributed to all visitors within the week. By engaging a local company to do this, I saved the event coordinator and her team approximately $1800. I was asked to come back and assist with the coordination of the following year's film festival."
Using this strategy will ensure you're fully addressing the criteria and questions. Because work is different to an interview, the STAR method showcases situations you've encountered in the past so the recruiter can predict how you might respond in future scenarios.
Selection criteria can be just as important as your resume or cover letter, so invest time and effort in your responses.
For more information and tips, register for a free workshop hosted by the Careers and Skills Hub.