Charles Sturt is holding scholarship ceremonies to recognise the success of students and the generosity of donors.
Aside from last year, the ceremonies are held annually, giving students the chance to meet their donors face-to-face and show their appreciation.
Former lecturer, Jan White, has attended many scholarship ceremonies as a part of her long association with Charles Sturt. Following the passing of her beloved mother, Shelia, in 2002, Jan decided to fund the White Family Scholarship and White Family Prize in her name.
The White Family Scholarship is focused on continuing students studying a Bachelor of Education, either K-12 or Early Childhood & Primary. Similarly, the White Family Prize is awarded to third year students studying a Bachelor of Education (Early Childhood & Primary).
Jan's 26 year career at the Mitchell College of Advanced Education has significantly influenced not only her donorship but her contribution to up-and-coming teachers as well. With strong involvements in the establishment of the Mitchell Early Childcare Centre, Jan's dedication to her students is ongoing and inspiring.
"I love going to coffee with my scholarship and prize recipients as well as ex-students", Jan said.
Every year, Jan prides herself in the selection of her recipients. "I look for students who come from any sort of background and have an interest in young children."
"Last year, my White Family Scholarship was awarded to Isabelle Jackson. It was great to see Isabelle commence her teaching career in the English department of St Stanislaus College here in Bathurst," Jan said.
In an article about her new employment, Isabelle told the Western Advocate how, with the scholarship funds, she was "able to teach K to 12 casually around the Diocese… along with tutoring privately."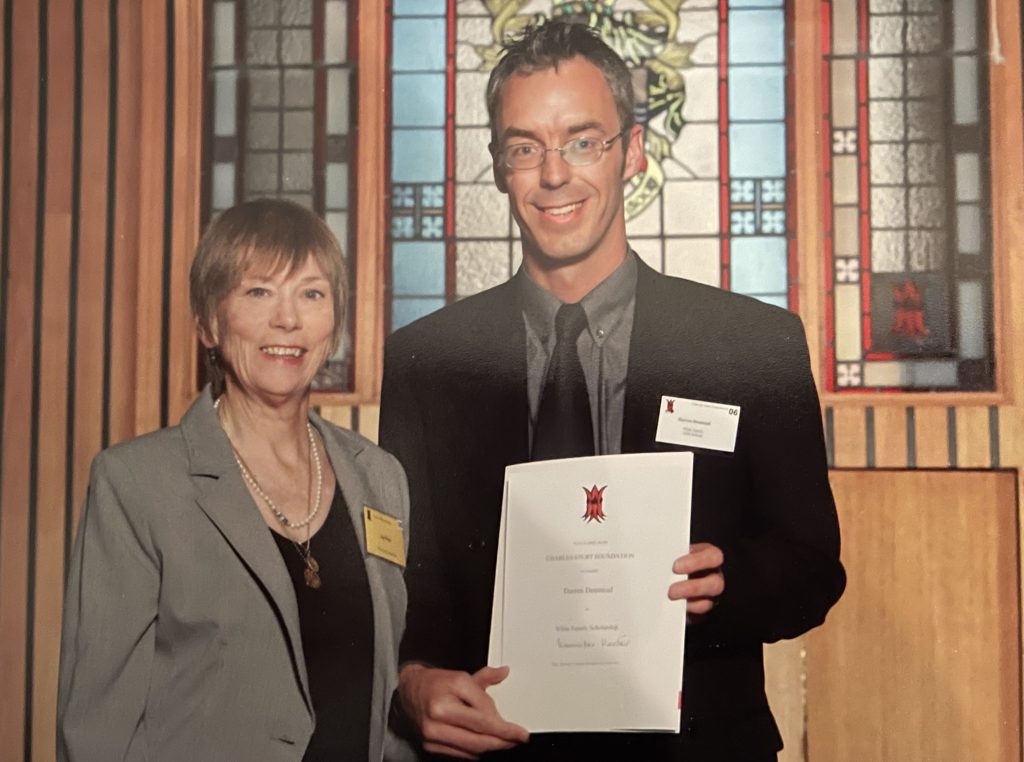 Darren Denmead is another of Jan's scholarship recipients, whom she has enjoyed watching become the Principal of West Bathurst Primary School.
After completing a degree in marketing, Darren returned to Charles Sturt as a mature aged student to study a Bachelor in Education (Early Childhood). Contributing to the annual donor booklet, Darren said receiving scholarships like the White Family Scholarship was his best Charles Sturt experience.
"Financially, the scholarships meant I could give up casual employment to supplement my income, which not only gave me more time to focus on studies, but also allowed me to spend more time with my family," Darren said.
"Jan gave me the best advice I ever received, which was to understand your own values and your beliefs and learn how to share those effectively with everyone you meet."