Jacinta Mangnall always imagined she'd become a high school teacher.
But a conversation with her dad about wanting a job where no two days are the same led her to study Paramedicine at Charles Sturt in Bathurst.
And after volunteering with homeless men at a local shelter as part of her study this year, Jacinta says she knows her decision was the right one.
"Having these interactions with people who … had a variety of disadvantages made me realise that I wanted to go into a career where I could help," Jacinta says.
Jacinta, 19, is one of many first year Paramedicine students who volunteered at the Uniting Safe Shelter in Bathurst, as part of the Paramedic Community Internship.
Due to COVID restrictions this year, the shelter in the centre of Bathurst could not operate its usual overnight accommodation service throughout winter. Instead, it transformed into a cafe where homeless men could come for food, drinks, bedding, clothing and company.
Paramedicine lecturer Alisha McFarlane says the internship teaches students to assist a wide variety of people.
"The students get exposure to a vulnerable population and learn different communication techniques," Alisha says.
"In second and third year, they go in the back of an ambulance, but so much of our job is about communication and interpersonal relationships. Predominantly, the patients we see are vulnerable."
Jacinta says speaking with a young man, who slept on the streets in a swag, helped her understand the obstacles some people face.
"For him, it was a lot harder to get basic things, like being able to apply for housing, being able to get a job, being able to afford basic things like food and water when the shelter wasn't open.
"It opened my eyes to the fact that I have a job, I am able to pay for my rent, and all those necessities, and I can have food and water at my own will."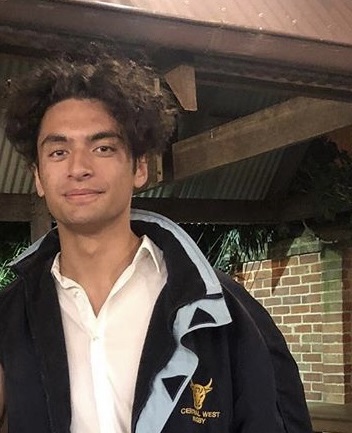 Student Maurice Otutaha, 18, says working at the cafe gave him confidence to chat with anyone.
"It was just a whole different group of people to people I would normally know," Maurice says.
"We just made them some food and a cup of tea and had a chat with them because they were a bit lonely.
"Sometimes there were people who came in and were really talkative. Other people might just make a comment here and there, so you try and get them to open up a bit and ask them about themselves and what they've done."
Maurice, who grew up in Bathurst, says volunteering also taught him a lot about his hometown.
"Everyone's the same deep down. These men were in a different position to what you or I are in, but they still think the same things, and need the same things, and they're just normal people."