Have you ever wondered what it would be like to study in another country?
Dana Maricic migrated from Croatia to Australia a few years ago and start life all over again. Without knowing the language, Dana chose to study at CSU and is now graduating with a Bachelor of Social Science. This is her story.
What was your initial experience of moving to a new country?
It was a total culture shock to be in an unfamiliar environment and not knowing English, I felt very isolated. You don't know what help is available because you don't know how to ask, especially when it comes to making friends.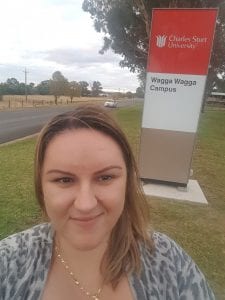 Did CSU help you transition as a refugee student?
When I started studying in 2014, I found myself in a very supportive environment. The lecturers were welcoming and understanding of the language barriers. They were especially accommodating to my full-time work while studying as they understood the need work to earn a living whilst having a desire to complete a qualification. This was the reason I was able to finish my degree.
What advice would you give to other students?
Keep a positive outlook. It's a second chance at life! Give yourself time to adjust and understand the environment that you're in. Every hardship has led you to this point, so give it your best shot.
Reach out to those around you. You don't have to go through it alone and there is a lot of support available. Even though I couldn't communicate with English, I had the help of interpreters, counsellors and support groups. They helped me accept what I had been through, heal and normalise the Australian life, so I could make the most of this new journey.
Say yes to every opportunity. Rather than neglecting chances with fear or reluctance, grab them at every corner because you never know where it may lead you.
What are your career aspirations?
I would like to do social work in a refugee community where I can share my experiences and assist people as they adjust into a new lifestyle. I can show them what they need to do, how to access language or migrant support services and assist the transition to work or study.
I'd specifically like to work with migrant women as there are many issues surrounding them, such as domestic violence, that have been neglected for a long time. An opportunity to make a difference in someone's life is a fantastic outcome from this degree.
I also hope to come back to CSU and complete a Masters degree in social work!